Whole roasted cauliflower topped with a spicy tomato masala sauce – the perfect vegetarian centerpiece for a dinner party or holiday meal.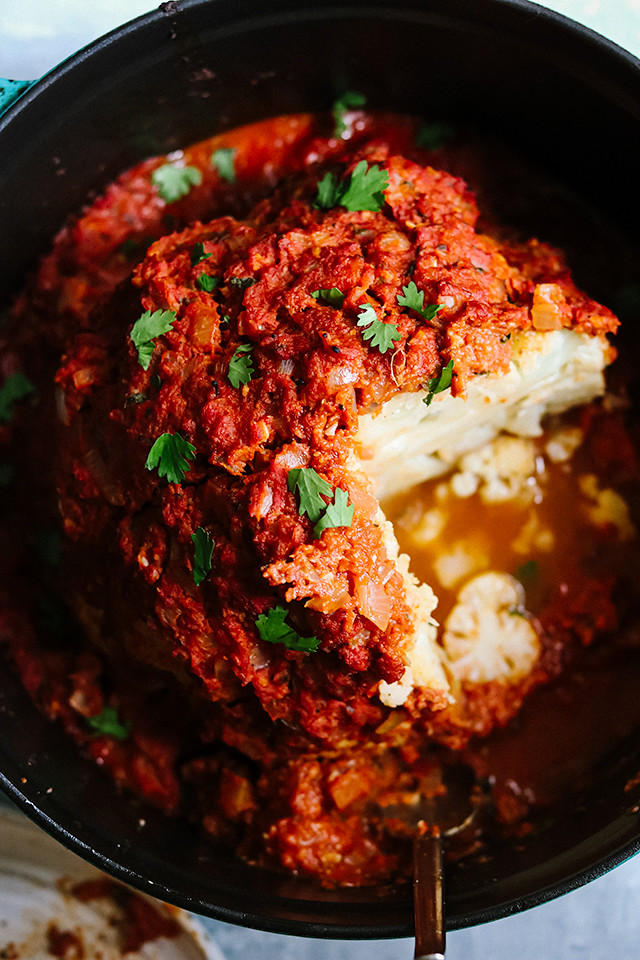 I feel like most people I know are doing completely non-traditional Christmas dinners this year.
Everything about this year has been completely insane so…..why not?!
If you're a longtime reader, you know that I usually host my husband's family on Christmas Eve and then my family on Christmas day (or vice versa) and do all of the cooking! They are all quite picky and sticklers for tradition, so I usually do a different pasta dish with a bunch of sides for both days.
This year, since we couldn't fully quarantine due to work (I literally have ten patients of unknown COVID status to see in clinic today), it will just be the three of us so I am going completely rogue on the holiday eats.
Which means Indian food on Christmas Eve and homemade pizza on Christmas Day!!
If you too are going the non-traditional route, then maybe you'll consider making this showstopper of a whole-roasted cauliflower as a vegetarian entree?? It's based on an Indian dish called gobi musallam. The cauliflower is usually parboiled, then smothered in a buttery makhani sauce and baked so the sauce forms a really flavorful crust on the outside of the cauliflower, coating every crevice.
Here I've simplified things by skipping the parboiling step and doing a long slow roast of the (un-dressed) cauliflower in a covered Dutch oven before dousing it in the rich tomato sauce. This allows you to just dirty one pot, though it does take a bit longer overall. The tomato sauce is also a bit healthier than the traditional makhani sauce. It avoids the globs of butter and heavy cream, instead using lots of warm spices and almond flour for richness. We loved eating this over a bowl of hot basmati rice, but naan would be great as well for scooping up all the bits of sauce from the pan.
Whole Roasted Cauliflower with Spicy Tomato Masala Sauce
Whole roasted cauliflower topped with a spicy tomato masala sauce - the perfect vegetarian centerpiece for a dinner party or holiday meal.
Ingredients
1 large head of cauliflower (about 2.25 lb)
canola oil
salt and black pepper, to taste
4 tbsp unsalted butter
2 large onions, diced
1.75-inch piece of ginger, peeled and grated
6 garlic cloves, minced
28 oz canned crushed tomatoes
½ cup almond flour
½ tsp ground cinnamon
1 tbsp kasoori methi (dried fenugreek leaves)
¼ tsp ground cloves
1 tsp kasmiri chili powder
cilantro, to garnish
Instructions
Heat oven to 350F.
Remove the leaves and the bottom of the cauliflower. Slice off a small layer of the bottom so that the cauliflower has a nice base to sit on. Rub the cauliflower with oil, trying to get it into all of the crevices. Season with salt and black pepper. Place in a lidded Dutch oven, covered, and bake for 45 minutes.
While the cauliflower is cooking, melt the butter in a large pan over medium heat. Once it is starting to bubble, add the onions and saute for 10 minutes, or until tender and golden. Add in the ginger and garlic. Saute for 1-2 minutes, or until fragrant. Add in the tomatoes along with ½ cup water. Simmer for 5 minutes, then add the ground almonds, cinnamon, kasoori methi, cloves, chili powder, and 1 tsp salt. Simmer for another 5 minutes and then remove from the heat.
After 45 minutes, remove the pot with the cauliflower from the oven. Pour the sauce over the cauliflower and return it to the oven to bake uncovered for another 20 minutes.
Serve warm.