Pumpkin and cheese stuffed tortellini and kale get tossed in a decadent pumpkin alfredo sauce making for an indulgent but delicious fall meal.
Disclosure: This post was sponsored by DairyPure Milk. As always, my thoughts and opinions are my own.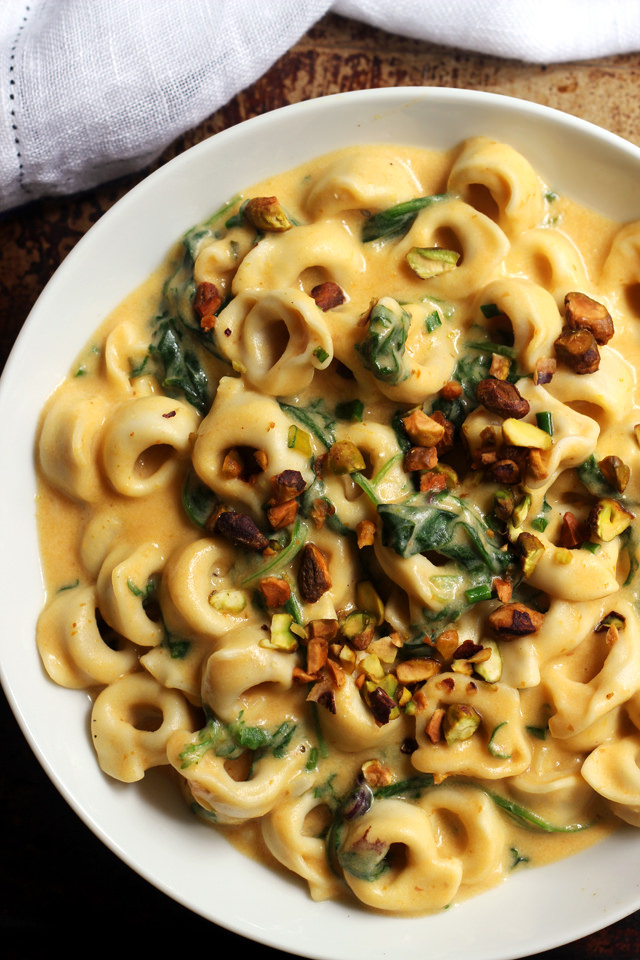 There are times when it's really a best life choice to ignore your cravings. For instance, when passing by the Reese's aisle of the convenience store on your way to buying toothpaste. GOOD JOB.
And then there are times when resistance is not only futile, but pointless! Why should we be the only thing standing between ourselves and creamy pasta weeknight dinner eternal happiness?!?!
Never again.
I swear ever since the first cold spell hit, all I've craved is carb on cream on PUMPKIN dinner action. It doesn't help that tomorrow is NYC Marathon Sunday, and what kind of a New Yorker would I be if I didn't carb load in solidarity with all those brave souls taking on the notoriously difficult 26.2?!
I don't even want to fathom it.
The best thing about this beyond decadent alfredo is that it's really not as rich as it seems, so even those of us whose main physical activity recently consists of flipping through index cards can feel good about eating it. The alfredo sauce is 1 part light cream to 2 parts vegetable broth to a WHOLE lot of pumpkin, yet tastes like it's every part full fat indulgence.
I can't get enough of stuffed pastas, so I tossed it with pumpkin tortellini and baby kale, but it would also be great with linguine, pappardelle, or fettuccine!
Or you could just drink it from the pan. I pass no judgment.
Good quality dairy is really a priority in a dish like this, which is why I reached for DairyPure light cream! All DairyPure milk is tested for antibiotics and is guaranteed to be artificial growth hormone free. It is continually quality tested to ensure purity and deliciousness, and as such it only comes from cows that are fed a healthy diet.

Pumpkin Tortellini with Pumpkin Alfredo Sauce
Pumpkin and cheese stuffed tortellini and kale get tossed in a decadent pumpkin alfredo sauce making for an indulgent but delicious fall meal.
Ingredients
2 lb pumpkin (or cheese!) tortellini
5 oz baby kale
2 cups vegetable broth
1 cup light cream
3 tbsp all purpose flour
2 tbsp butter
3 cloves garlic, minced
¾ cup pumpkin puree
¾ cup grated parmigiano reggiano
¼ cup minced chives
salt and black pepper, to taste
¼ cup toasted pistachios, chopped
Instructions
Bring a large pot of salted water to a boil. Cook the tortellini according to package instructions. Add the baby kale to the pot in the last minute or so of cooking. Drain and set aside.
Meanwhile, in a medium bowl, whisk together the light cream, vegetable broth, and flour. Set aside.
In a large skillet, melt the butter over medium heat. Add the garlic to the pan and saute for 30 seconds or until fragrant. Pour the milk mixture into the pan along with the pumpkin, parmigiano reggiano, and chives, Bring to a low simmer, allowing to bubble until slightly thickened. Remove from the heat and season to taste with salt and black pepper.
Toss the tortellini and baby kale with the pumpkin alfredo sauce. Serve garnished with pistachios.
Nutrition Information
Serving size:
⅙th of recipe