An easy side dish of roasted butternut squash with sweet corn salsa, feta, and pumpkin seeds.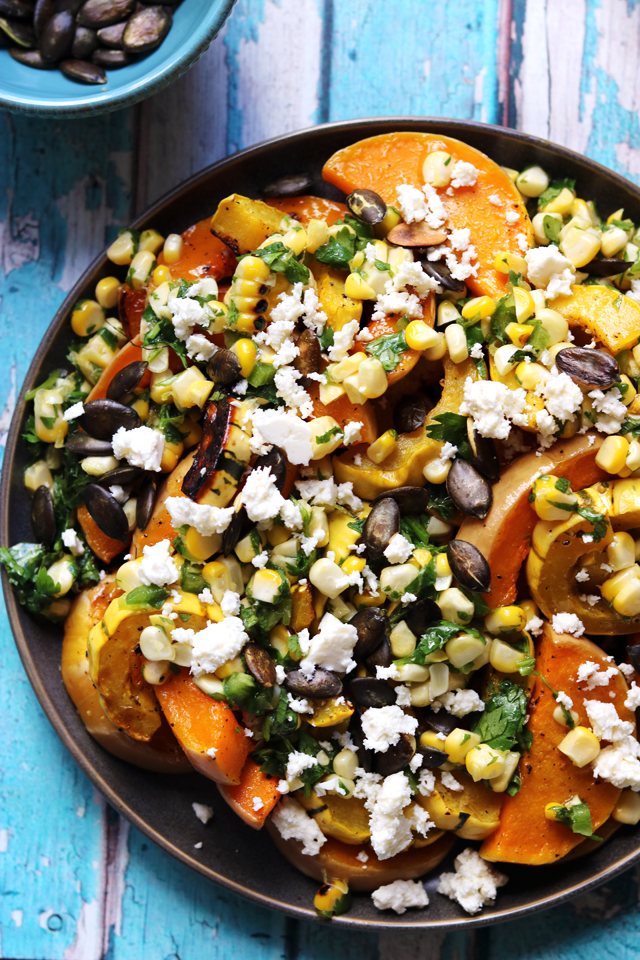 So, I have this kid, right?
And she LIIIVVEESSS on quesadillas.
Mostly the cheese only kind. That kid can sniff out a schmear of refried beans better than a security dog can sniff out heroin.
I'm not entirely mad about this because that means I, too, get to eat quesadillas on a more-than-regular basis BUT the place where I really struggle is in finding a side dish to go with them.
Rice seems a little too heavy and I just haven't had much success in finding (easy, not effort-intensive) vegetable side dishes that have a Mexican and/or tex-mex feel to them.
Until now!
This recipe is from Ottolenghi's Simple cookbook and pairs roasted butternut squash with a lime-y sweet corn salsa, toasted pepitas, and crumbled feta cheese (though in retrospect, crumbled queso fresco would be a little bit more on topic). It has a bit of a southwestern feel to it what with the lime dressing, cilantro, and bits of jalapeno in every bite. And, as the book's title would suggest, it is absolutely SIMPLE to prepare. The whole dish comes together in the time it takes for the squash to roast (so, 25 minutes) and a fair amount of that is hands off time.
We eat a lot of quesadillas, but I suspect it would also be great as a side to burritos or tacos…or maybe even as a filling for those! Add some black beans and I think you've also got a pretty great lunch salad on your hands.
roasted butternut squash with sweet corn salsa, feta, and pepitas
An easy side dish of roasted butternut squash with sweet corn salsa, feta, and pumpkin seeds.
Ingredients
1 very large butternut squash, halved lengthwise and cut into wedges
5 tbsp olive oil
salt and black pepper, to taste
2 ears of corn, husks removed
1 large jalapeno or red chili pepper, seeded and diced
3 limes, zested and then juiced to get ¼ cup
½ cup cilantro, minced
¼ cup mint, shredded
3 tbsp pepitas, toasted
2 oz feta, crumbled
Instructions
Heat oven to 450F.
Toss the butternut squash with 2 tbsp olive oil, ½ tsp salt, and black pepper. Spread on a parchment-lined baking sheet in a single layer. Roast for 25 minutes or until fork-tender and golden. Remove from the oven to cool.
Place a grill pan or cast-iron skillet over high heat. Add the corn to the skillet and cook until charred all over, turning constantly. Remove from the heat and allow to cool slightly. Once cool enough to touch, cut the kernels off the cobs and place in a bowl. Toss with the chili pepper, lime zest, lime juice, remaining 3 tbsp olive oil, salt, cilantro, and mint. Taste for seasoning and then set aside.
To serve, arrange the squash on a serving platter or among plates. Top with the corn salsa, pumpkin seeds, and feta. Serve warm or at room temperature.