Whether you're celebrating Chinese New Year or just craving a take-out favorite, these spiced up vegetarian dan dan noodles will hit the spot.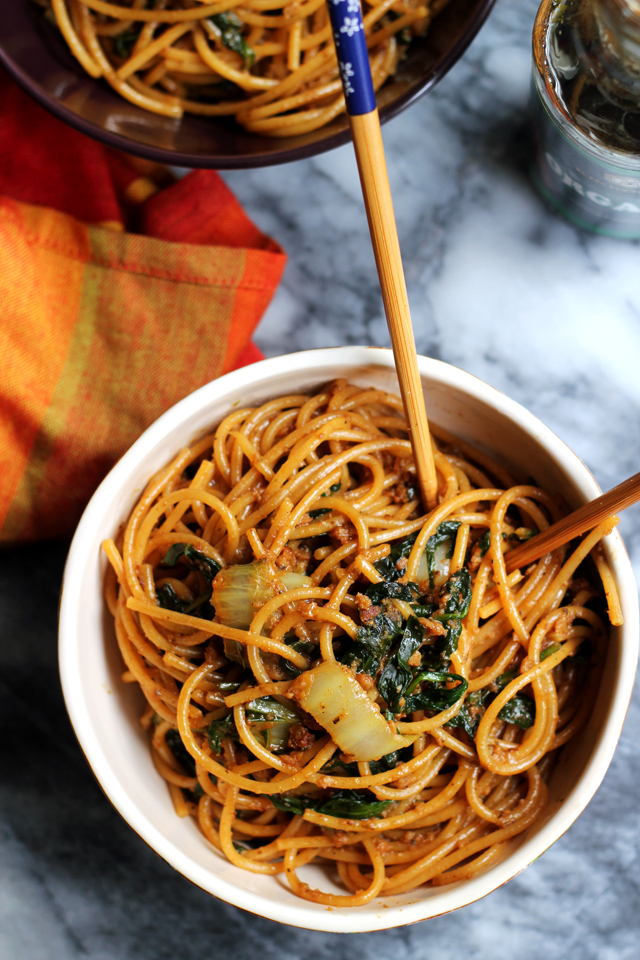 Haaaapppyyyy nneeewww yeeeaarrrr!!!!
Things just got weird.
No, I don't have internal medicine-rotation-induced amnesia (though sometimes it does feel that way, like when I'm trying to remember anything about anything)…
…it's CHINESE NEW YEAR!
AKA any excuse to eat all the dumplings, all things spicy noodles, all the mooncakes, and all of my favorite Chinese red bean or sesame paste-infused sweets == I'M THERE.
Join me?
Everything that's traditionally eaten on Chinese New Year is actually done so for a reason – mostly to bring luck and prosperity and joy in the new year and today we're celebrating with my twist on one of these dishes: longevity noodles!
Longevity noodles are basically what the name implies – really really (really) long noodles that are supposed to endow upon those that consume them a really really (really) long life. As far as I could find, there is really no specific way to prepare them, so I made them in the style of my favorite spicy Chinese noodle dish – dan dan noodles. Which is pretty much what I eat when I want to set my mouth on fire. In the best possible way.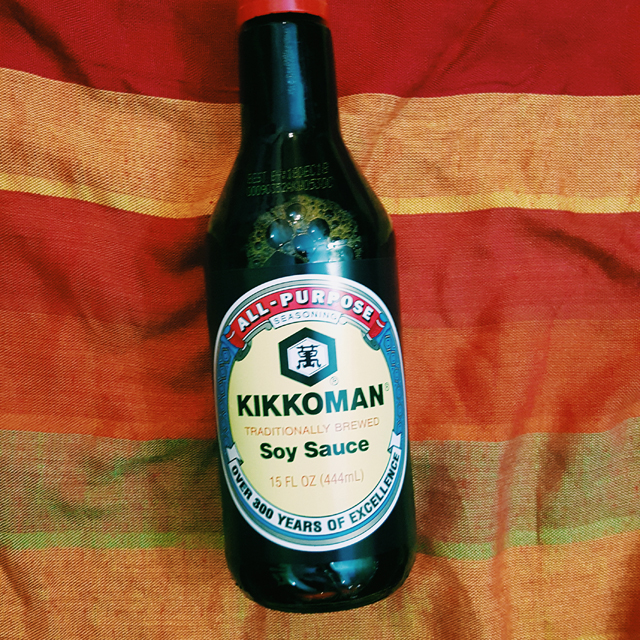 Dan dan noodles are usually made with meat BUT since that's not how we fly around here, I used vegetarian "beefy" crumbles instead and paired them with a sweet spicy salty savory all around awesome sauce along with loads of leafy greens, which are also supposed to bring a long life to those who eat them. Double the bang for your good luck buck – you just can't go wrong.
Though I'm sure it's totally not traditional, I made the sauce with a mixture of sesame oil, chili oil, honey, and Kikkoman soy sauce, which shouldn't require anyone to make an extra trip to the grocery store. Kikkoman soy sauce is my favorite of all the soy sauces out there for a lot of reasons, but mainly because it's traditionally brewed and aged for several months to develop its characteristic rich, yet mellow flavor, umami-infused aroma, and deep dark hue. It's a great browning sauce no matter what you're cooking up and I frequently reach for it in lieu of salt because of the great flavor it adds.

Fiery Vegetarian Dan Dan Noodles
Whether you're celebrating Chinese New Year or just craving a take-out favorite, these spiced up vegetarian dan dan noodles will hit the spot.
Ingredients
1 lb whole wheat spaghetti
2 tbsp sesame oil, divided
11 oz plant protein "beefy" crumbles
4 cloves garlic, minced
1 large bunch bok choy, coarsely chopped
5 oz baby spinach
5 tbsp soy sauce
2 tbsp honey
2 tbsp chili oil, plus more to taste
Instructions
Bring a large pot of salted water to a boil. Cook pasta according to package directions, until al dente. Set aside.
Meanwhile, in a large wok heat 1 tbsp of sesame oil over medium-high heat. Add the "beef" crumbles to the wok and saute for 5-6 minutes, or until starting to get crispy. Stir in the garlic and saute 1-2 minutes, or until fragrant. Add the greens to the pan and saute until wilted. Stir in the soy sauce, honey, and chili oil, to taste.
When the pasta is done cooking, toss it into the wok with the vegetables. Serve warm with extra chili oil on the side.
Notes
An Eats Well With Others Original
Nutrition Information
Serving size:
⅙th of recipe
I was selected for this opportunity as a member of Clever Girls and the content and opinions expressed here are all my own.