Vegetarian chipotle tofu, plantain, and refried bean tortas: upping the veggie sandwich game one bite at a time.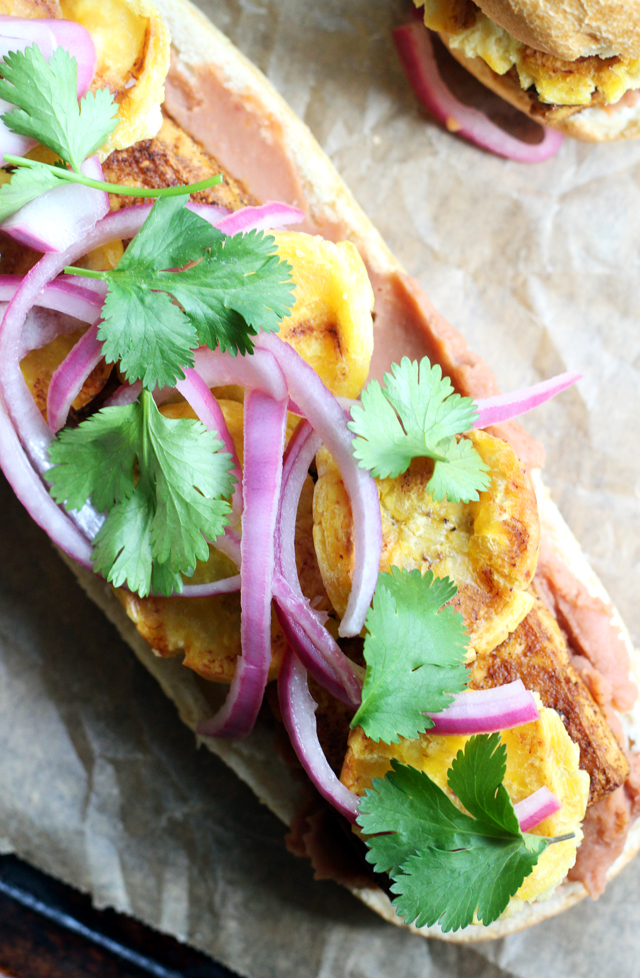 All it takes is one trip to your local deli to know that the vegetarian sandwich market is desperate at best. Whoever thought that throwing undressed raw veggies between two slices of bread without even a hint of seasoning (or even salt!) was a good idea…WHY?!?!? Also, we're fighting.
Veggie sandwiches have way more potential than that if you ask me, and I'm here to prove it with these chipotle tofu, plantain, and refried bean tortas! Absolutely bursting with flavor, these are THE sandwich that you need in your life, whether you're trying to find a vegetarian 'wich for your upcoming Superbowl party or just trying to figure out what to make for lunch.
A torta is a traditional Mexican sandwich that is typically stuffed with lots of meat and garnished with tomatoes, jalapenos, avocado, and onion. It is considered to be "street food" and is frequently served at mass events like football matches, parades, and outdoor concerts.
With these, I've kept the big, bold Mexican flavor profile but replaced the animal protein with refried beans, fried plantains, and Nasoya Chipotle TofuBaked! The Nasoya Chipotle TofuBaked requires just a few minutes on the stove to heat it through, but otherwise it is already cooked and seasoned to spicy perfection. The fried plantains also come together quickly, making these sandwiches perfect for when you want to feed lots of people with minimal effort.
While you can finish off the sandwiches with any toppings you want, I chose to garnish them with quick pickled onion slices, cilantro, and a garlicky mojo sauce, though pickled jalapenos, hot sauce, and queso fresco would also be great here.
Check out the full recipe on Nasoya's website!