Perfect for a vegetarian Thanksgiving meal, these curried root vegetable pot pies are filled with rich spicy flavor and a cheesy vegetable filling, all encased in flaky buttery pie crust.
Disclosure: This is a sponsored post written by me on behalf of Sargento. All opinions are 100% mine.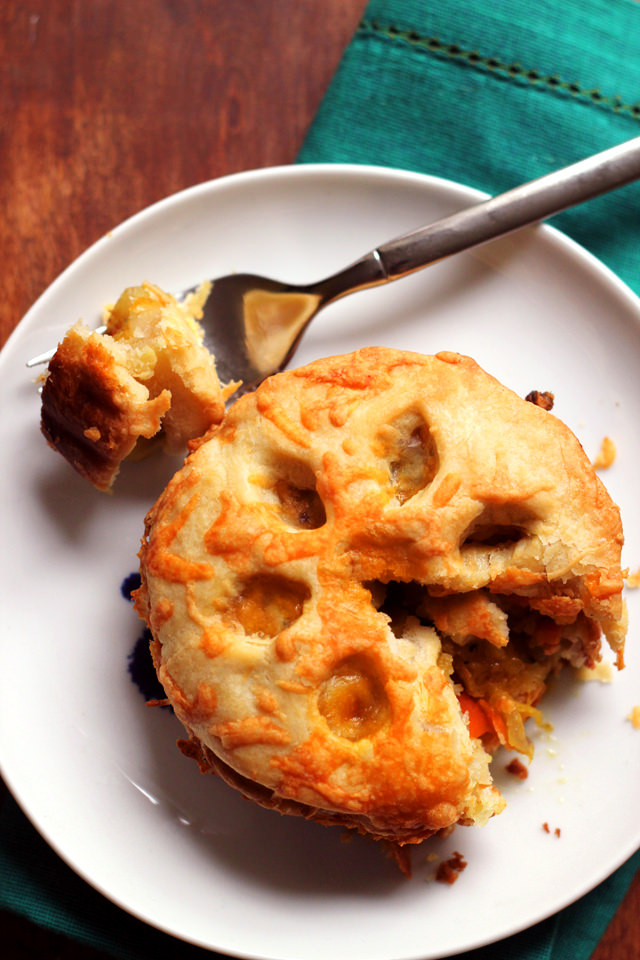 So you're having a vegetarian over for Thanksgiving.
DON'T FREAK OUT.
Despite what my brother would have you believe, this is not the end of the world. Not even close.
Rather, it's an opportunity.
To try new things, push ourselves outside our cozy Thanksgiving box, and eat the world through vegetable-colored glasses. Really, it's gonna be great.
I've now been the lone vegetarian at four consecutive Thanksgiving celebrations, so let me share with you a few tips and tricks I've gleaned along the way.
(1) Chicken broth is not now, not ever, and never shall be vegetarian. Never never.
(2) Neither is bacon.
(3) The serving tongs that you used to transfer the turkey from the roasting pan to the serving platter? Maybe don't also use them to serve the only vegetarian item on the table. Just a thought.
(4) Side dishes are great, but if you really want to make the vegetarian in your midst feel included instead of an inconvenience, make him/her their own entree. Who knows, they might just reward you by bringing the best pie you've ever tasted. Hint hint.
And oh look! I just happen to have THE.BEST. vegetarian Thanksgiving entree to recommend to you. Funny how life always seems to work itself out.
These little pot pies are not only totes adorbs, but they're also MAJOR in the delicious department. Filled with rich curry flavor and roasted root vegetable heartiness, they are the epitome of all things fall and so holiday-perfect, I can hardly take it.
Except I can. For dinner tonight. Please and thank you.
I made these little pot pies extra comfort-filled by stuffing them with Sargento's Off the Block Cheddar Jack shredded cheese. I love how the sharp flavors in this blend soften the spice of the curry and melt into the filling so that every bite is filled with ooey gooey awesomeness.
Sargento has a ton of other great Shredded Natural Cheese varieties, and they want to know what your favorite way is to use them to make your holiday recipes even more special! To that end, they are hosting a recipe contest on Facebook where, if you enter an original recipe and photo that uses Sargento Shredded Cheese along with an explanation of why using real, fresh-tasting ingredients (like Sargento Cheese!) matters to you, you will have a chance to win $2,000 toward kitchen supplies and ingredients for the perfect holiday meal, along with a year's supply of Sargento Shredded Natural Cheese. Check out Sargento on Facebook for more details and be sure to follow Sargento on Pinterest for more cheese-filled holiday inspiration!

Curried Root Vegetable Pot Pies
Perfect for a vegetarian Thanksgiving meal, these curried root vegetable pot pies are filled with rich spicy flavor and a cheesy vegetable filling, all encased in flaky buttery pie crust.
Ingredients
2 cups all purpose flour
½ tsp salt
¾ cup + 1½ tbsp cold unsalted butter, diced
4-5 tbsp ice cold water
2 tbsp olive oil
1 tsp Madras curry powder
2 tsp black mustard seeds
½ tsp ground cardamom
1 Vidalia onion, coarsely chopped
1 jalapeno, seeded and finely chopped
1 medium russet potato, peeled and cut into ½-inch dice
1 medium carrot, peeled and cut into ½-inch dice
1 medium parsnip, peeled and cut into ½-inch dice
1 cup vegetable broth
1 delicata squash, seeded, peeled, and cut into ½-inch dice
¼ tsp sugar
2 cups Sargento Cheddar Jack grated cheese
salt and black pepper, to taste
Instructions
In the bowl of a food processor, pulse together the flour and salt. Add in the cold butter and pulse until the butter is broken down to the size of small peas. Slowly add in the water, a tablespoon at a time, until the dough comes together. Gather the dough into a ball and flatten into a disc. Cover with plastic wrap and refrigerate for at least 30 minutes or overnight.
Heat oven to 400F.
Meanwhile, make the filling. In a large saucepan, heat 2 tbsp olive oil over medium-high heat. Add the curry powder, mustard seeds, and cardamom to the pan. Cook for 1 minute, stirring constantly, or until mustard seeds begin to pop. Stir in the onion and jalapeno. Cook for 4-5 minutes, or until translucent, stirring frequently. Mix in the potato, carrot, and parsnip, stirring to coat in the spices. Pour in the broth. Lower the heat to medium and then cover and cook for 5 minutes. Stir in the squash and sugar. Season to taste with salt and black pepper. Simmer, covered, for 10 minutes, or until squash is tender and most of the liquid has evaporated. If the mixture is totally dry, add in a few tablespoons of water. Remove from the heat.
Spray a mini pie pan or large muffin tin with cooking spray. On a lightly floured surface, roll out the pastry dough until it is 1/16-inch thick. Cut out 4-6 circles, depending on the size of your tins, 5½-6 inches in diameter. Press the circles down into the tins. Reroll out the dough and cut out the same number of circles, this time an inch or so smaller, to form the tops.
Stir 1 cup of the cheese into the filling. Divide the filling among the pie crusts (you might have extra filling!). Place the second rounds of pie dough on top and press to seal. Sprinkle the tops with the remaining cheese. Place in the oven and bake for 20-30 minutes, or until golden brown. Let rest for 5 minutes before serving.
Notes
Adapted from
Plenty More: Vibrant Vegetable Cooking from London's Ottolenghi
 Fore more savory pie inspiration, check out these: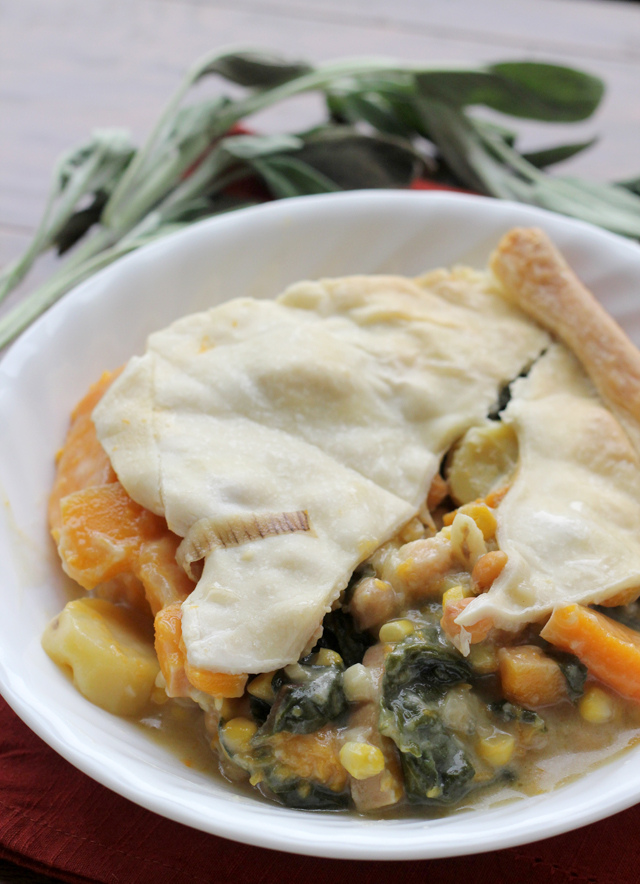 Winter Squash Pot Pie with Swiss Chard and Chickpeas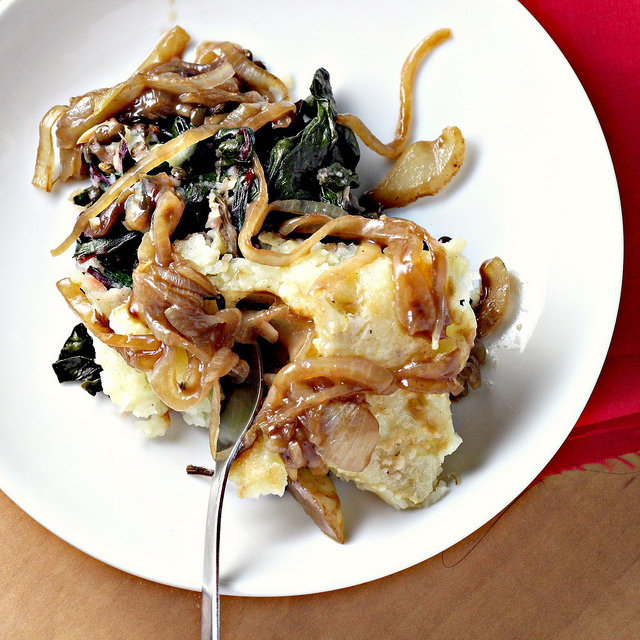 Shepherd's Pie with Chard-Lentil Filling and Caramelized Onion Gravy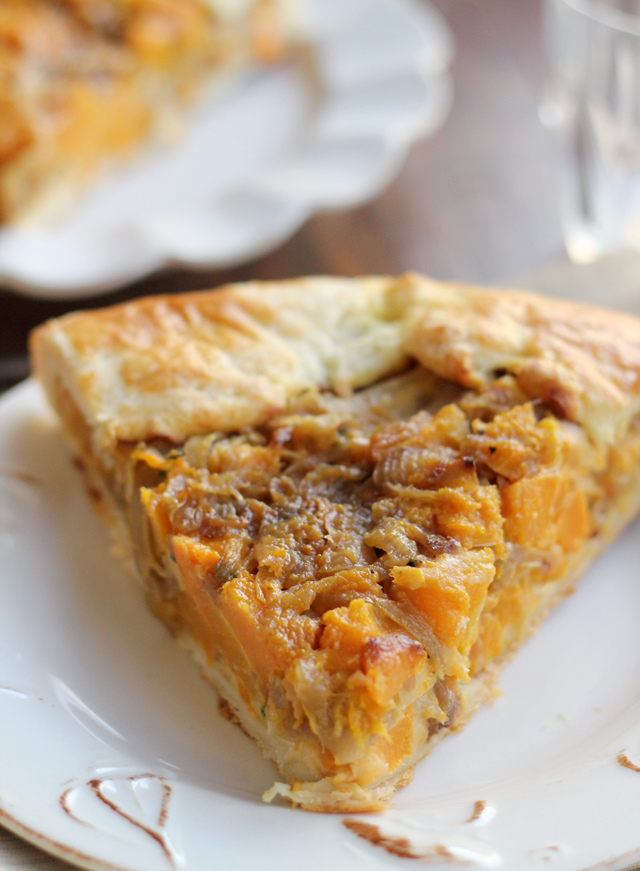 Butternut Squash and Caramelized Onion Galette
From Around the Web:
Three Bean Chili Polenta Pot Pie from Girl Versus Dough
Winter Greens Galette from The Yellow House
Salt and Vinegar Potato Galette from My Name is Yeh
Ricotta Pie from Cinnamon Spice and Everything Nice
Roasted Potato Galette with Cheddar and Chives from Joy the Baker