Filled with butternut squash, potatoes and swiss chard, and covered with a puff pastry crust, this vegetarian pot pie hits all the right comfort food notes!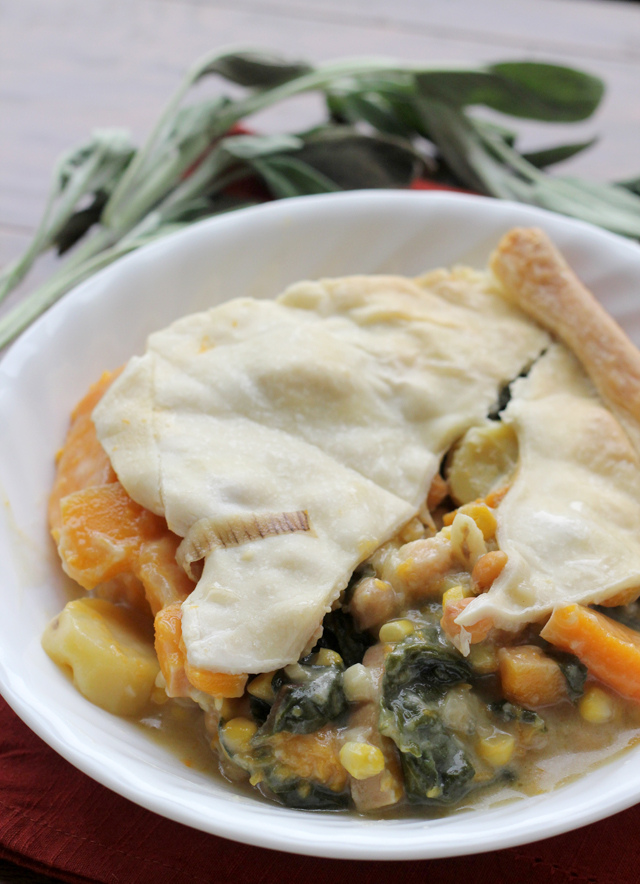 For someone who's supposed to be on a wedding diet, I've sure been eating a lot of butter.
#PieWeekProblems
Okay so maybe I'm not really on a wedding diet because I'm pretty sure people who are super serious about dieting don't make three pies in seven days. And eat them.
(Unless you're my fiance, but I'm secretly trying to make him gain ten pounds so that I look smaller in comparison without actually having to do anything. I'm devious, and I know it.)
But the butter situation has been serious. I won't even tell you how many pounds of it I started out the weekend with and how many I have now. These lips are sealed.
Unless you come bearing pie. I always have room for one more slice.
I feel like this pie is kind of #PieWeek cheating because it's savory (and, in the scheme of holiday meals, it's actually not that bad for you).
I've done two other versions of vegetarian pot pie before and while those two were deeeelicious and totally comfort-full, this one feels more Thanskgiving-y somehow? It must be the puff pastry (that stuff just brings out the turkey day in me), although I'm sure all that orange veggie love doesn't hurt. If you're still on the hunt for a vegetarian entree to serve at your holiday feast, then this.is.it.
And it's also my entry into Week 3 of the 12 Weeks of Winter Squash! What have YOU been orange veg-ifying? (PS – did you enter my crazy awesome $500 AMAZON GIFT CARD GIVEAWAY yesterday?? Go do it. Then come back and enter today's giveaway. K thanks.)

As if a WHOLE WEEK OF PIE wasn't a prize enough, all of us ladies who are taking part in #PieWeek will also be hosting some amazing giveaways. Today, we have teamed up with King Arthur Flour (my flour brand of choice…I don't allow any others into my apartment)  and Cabot (mmmm cheese/yogurt/butter) to provide TWO winners with gift packs that will make pie-making way less stressful and even more delicious.
See the widget below for details on how to enter!
Looking for more Pie Week recipes?
Brown Butter Apple Custard Pie from The Baker Chick.
Bourbon Apple Hand Pies from Nutmeg Nanny
Pumpkin Pie Croutons from Chocolate and Carrots
Mini Pumpkin Pies from Dessert for Two
Winter Squash Pot Pie with Chickpeas and Swiss Chard from Eats Well With Others
Fancy Holiday Chocolate Pecan Pie from Keep It Sweet Desserts
Chocolate Pecan Tart from Bake or Break
Apple Cherry Galette with Kettle Chip Crumble from Country Cleaver
One year ago…Hot Buttered Rum Apple Pie
Two years ago…Avocado Nutella Swirl Muffins, Swiss Chard, Chickpea and Tamarind Stew
Three years ago…Sun-Dried Tomato and Thyme Risotto, Pasta with Tomato-Blue Cheese Sauce
Four years ago…Picadillo
Winter Squash Pot Pie with Swiss Chard and Chickpeas
Filled with butternut squash, potatoes and swiss chard, and covered with a puff pastry crust, this vegetarian pot pie hits all the right comfort food notes!
Ingredients
4 cups vegetable broth
1 small butternut squash or delicata squash, unpeeled, chopped
1 lb fingerling potatoes, unpeeled, cut into 1-inch chunks
1 large bunch red Swiss chard, stems removed, leaves coarsely chopped
1 tsp salt
1½ cups frozen corn
1½ cups cooked chickpeas
¼ cup olive oil
1 onion, quartered and thinly sliced
⅓ cup all purpose flour
4 cloves garlic, minced
1 cup milk
1 sheet frozen puff pastry, thawed
Instructions
Bring the broth, 4 cups of water, squash, potatoes, and salt to a boil in a large pot. Cover, reduce the heat to medium and simmer for 5 minutes. Add in the swiss chard leaves and corn. Cook for three minutes more. Drain the vegetables, reserving the broth. Stir the chickpeas into the vegetables.
Add oil to the same pot and heat over medium-high heat. Add in the onions and saute for 7 minutes, or until beginning to brown. Add in the flour and garlic and cook, stirring constantly, for 1 minute. Slowly pour 4 cups of the reserved broth into the pot. Cook until the sauce thickens, 5-7 minutes, stirring constantly. Stir in the milk. Stir the sauce into the veggies and season to taste with salt and black pepper. Allow to cool slightly.
Pour the filling into a 9x13-inch baking pan. Gently roll out the puff pastry to the size of the baking dish and place over the filling, pressing around the edges to seal. Score four diagonal lines into the puff pastry.
Bake at 375 for 45-60 minutes, or until the top of the crust is golden brown. Allow to cool for 10 minutes before serving.
Notes
Adapted from
Vegetarian Times
Nutrition Information
Serving size:
⅛th of recipe