Celebrate Pi Day this year with a big slice of this salted caramel peanut pie! With it's salty buttery crust and sweet caramel filling, it is the perfect sweet and salty mix.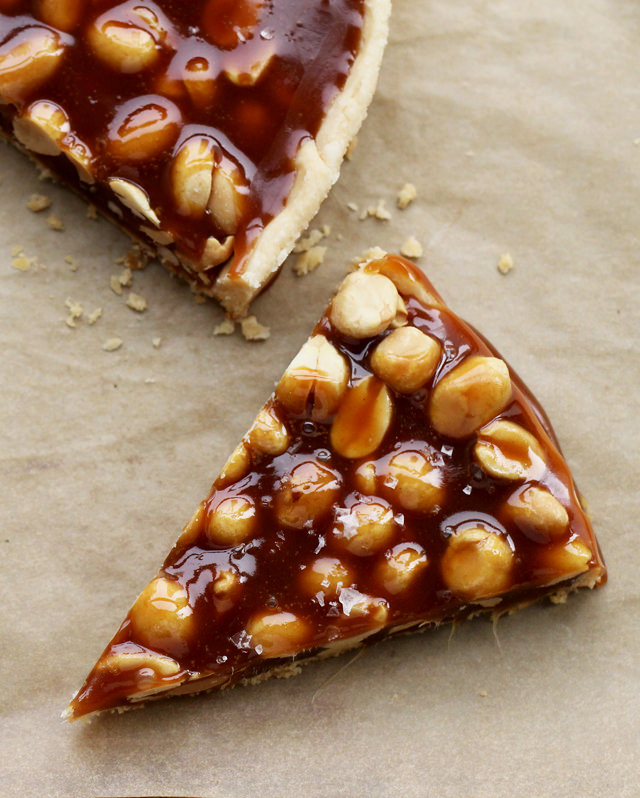 Whoever decided that Pi Day is not an official, national, get-the-day-off-from-work kind of holiday has obviously never made a pie.
Not that they're sOoOoOoOo hard, but between the chilling, the blind baking, the cooling, and the baking again?
And all the intermittent cursing/pulling out of hair that inevitably comes when pie doughs rip, fillings spill, and burnt sugar on your oven floor causes your fire alarm to go off?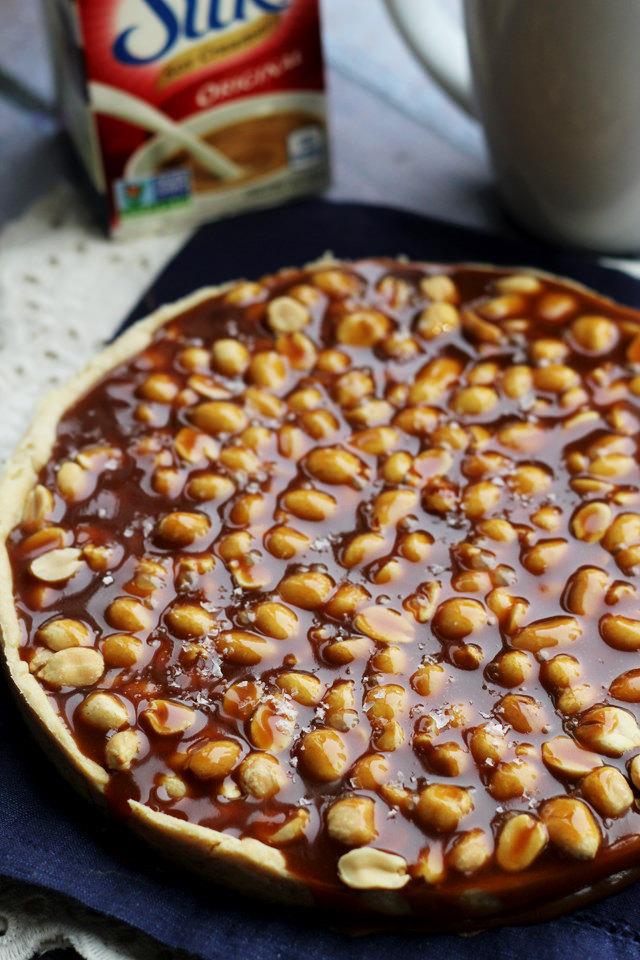 That's pretty much a 24 hour ingredients-to-table kind of situation.
And this, my friends, is why vacation days were invented.
Because if there is one thing you don't want to miss out on this Pi Day, it's this pie!
Picture a PayDay but with creamier caramel, nuttier peanuts, and a buttery shortbread crust. And that is this. It's a glorious thing.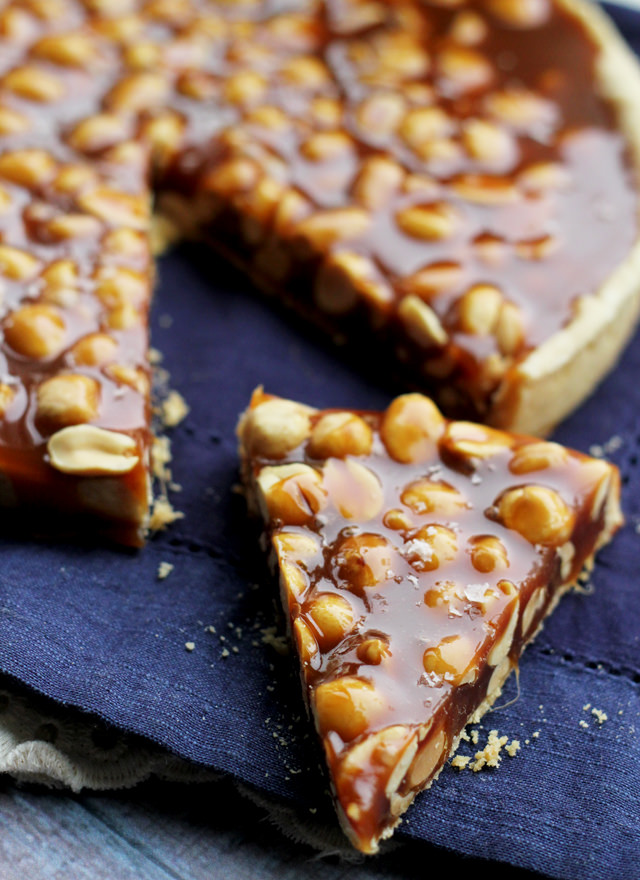 This pie isn't all sugar and peanuts, though. Within it's layer of sultry deep dark caramel, it has a teeny tiny secret…and that is that instead of being made with heavy cream, it was made with Original Silk Soy Creamer!
Not that anyone could tell the difference, because Silk's creamers are pretty creamy to begin with. But I love that I can feel better eating spoonful after spoonful of this luscious filling, knowing that it's a little bit better for me than your run-of-the-mill caramel.
Even though I ingest my fair share of dairy, I love incorporating Silk's plant-based products into my diet. Silk Almondmilk has a great creamy flavor and texture, while their Vanilla Soymilk tastes like dessert to me, and these are both frequent flyers in my refrigerator.
If you're interested in incorporating more Silk into your life, you should sign up for their newsletter! Not only will you receive a coupon for $.75 off any Silk half gallon, but you will also get more coupons delivered straight to your inbox, as well as information about Silk sweepstakes and promotions, and monthly chances to win a year's supply of Silk! You can sign up here, and also remember to follow Silk on facebook to keep up with the latest goings-on with Silk products!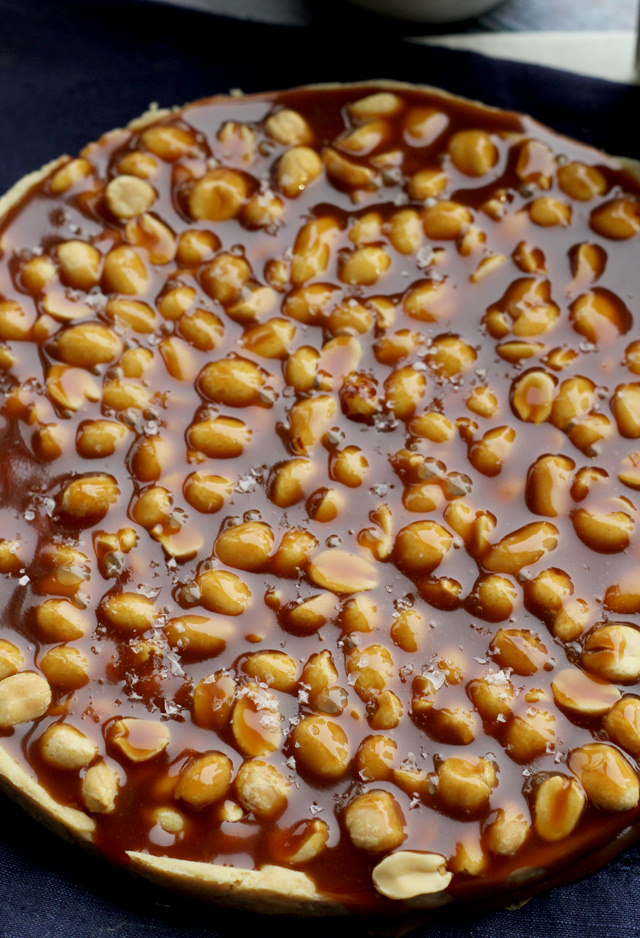 Salted Caramel Peanut Pie
Celebrate pi day this year with a big slice of this salted caramel peanut pie! With it's salty buttery crust and sweet caramel filling, it is the perfect sweet and salty mix.
Ingredients
For the pie crust
1 cup + 1½ tbsp all purpose flour, divided
½ tsp salt
4 oz cold unsalted butter, cut into ¼-inch cubes
2 tbsp ice water
For the caramel
½ cup glucose or corn syrup
1¼ cups sugar
1.5 oz (3 tbsp) unsalted butter, cut into small cubes
1 cup + 1½ tbsp original Silk soy milk creamer, warm
6.5 oz peanuts, toasted
sea salt, for sprinkling
Instructions
Place ½ cup of the flour and the salt in the bowl of a stand mixer fitted with a paddle attachment, mixing briefly to combine. Add in the butter a little bit at a time with the mixer on low, mixing until all the butter has been added. Increase the speed to medium-low and mix for 1 more minute. Scrape down the sides of the bowl and add in the remaining flour, mixing until just combined. Add in the water and mix until the dough starts to come together.
Pat the dough into a 7-inch disk and wrap in plastic wrap. Refrigerate for at least one hour or overnight.
Preheat the oven to 325. Roll out the dough to an 11-inch round. Use it to line a either an 8-inch tart ring or an 8-inch tart pan, on a parchment-lined baking sheet. Top with a sheet of parchment paper and then either baking beans, pie weights or raw rice, filling the tart ring or pan. Bake for 20 minutes. Rotate the pan and then bake for another 20 minutes. Remove the parchment and pie weights, and then bake for 15 minutes more. Set on a wire rack to cool.
In the meantime, make the caramel. Put the glucose in a large pot and bring to a boil over high heat. Reduce the heat to medium-high and add the sugar in thirds, mixing after each addition. Cook until the sugar has dissolved and reached an amber color, at about 350F/177C, reduce the heat to medium. Stir in the butter, stirring to melt. Immediately add in the creamer, stirring continuously. Continue cooking until the mixture reaches 248F/120C. Remove from the heat. Strain the caramel through a fine-meshed strainer.
Pour the peanuts into the tart shell. Pour the caramel over the peanuts while still warm, filling the tart shell. Sprinkle with sea salt. Let cool before serving.
Notes
Adapted from
Bouchon Bakery
Made with this
tart ring
, and this
glucose
.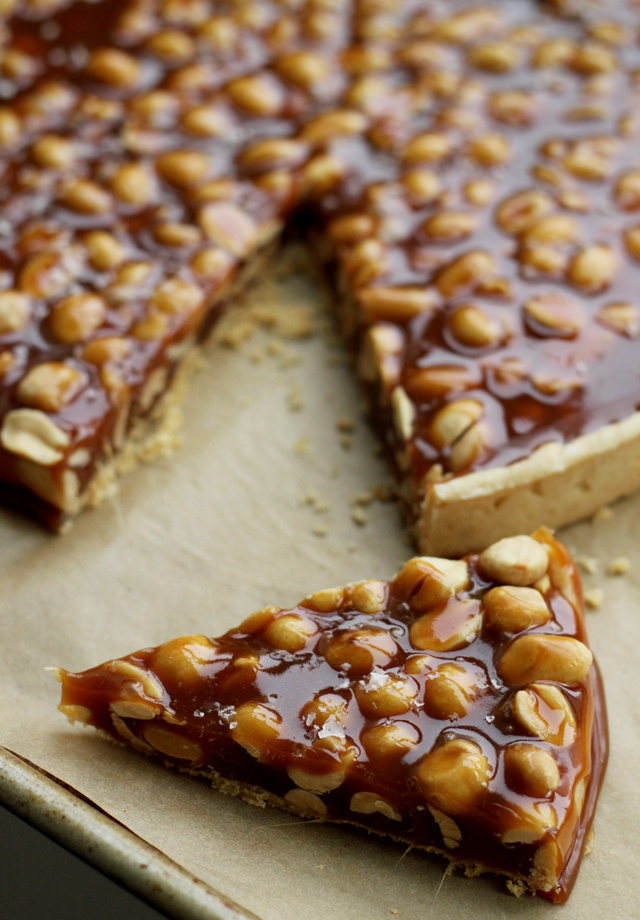 This is a sponsored conversation written by me on behalf of Silk. The opinions and text are all mine.