A simple but delicious side dish of crispy smashed potatoes topped with fried onions and fresh parsley.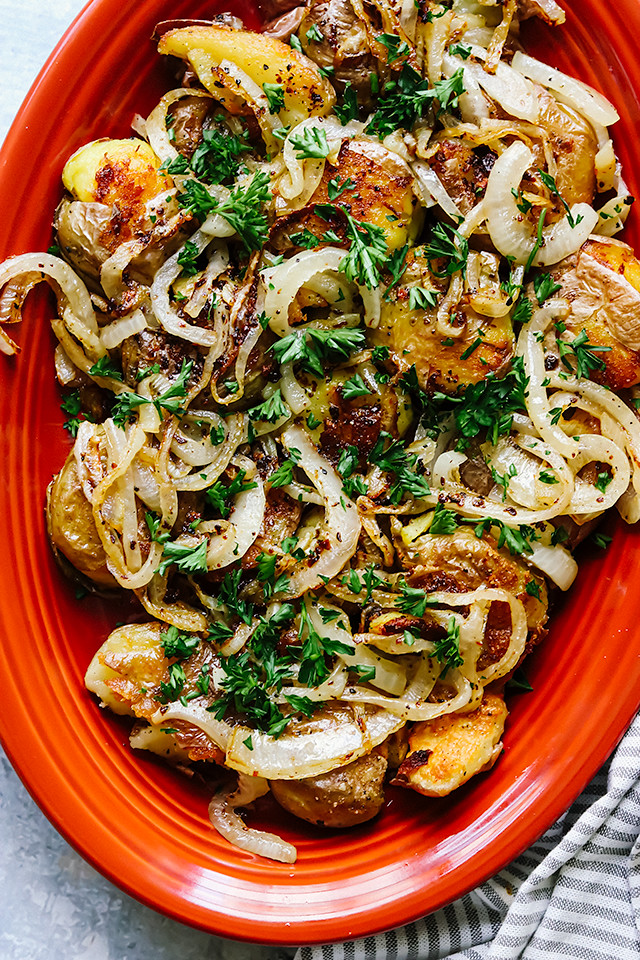 I'm going to say something really controversial right now.
Maybe this stems from the fact that my mother regularly served mashed potatoes made from a box when I was growing up…but yeah, I could totally live without eating a mashed potato ever again and be totally fine.
Wouldn't bat an eye or feel like there was some potato-sized hole in my life AT ALL.
Crispy, golden, fried, perfectly spiced potatoes on the other hand?
Give me a platter and don't expect there to be any leftovers when I'm done with them. Seriously. Is there anything more perfect in this world?
Oh yeah, it's these potatoes that are also topped with crispy fried onions and spicy pepper flakes. Yeah, for sure not sharing those.
These potatoes capitalize on the technique of smashing potatoes, which is basically when you steam or boil small potatoes until tender, then smash them with your hand or a cup to create as much surface area as possible while still maintaining the integrity of the potato.
And then…you fry them. This is where the magic happens and all of that extra surface area that you've created gets crisp and golden and utterly perfect.
These would be great as a Thanksgiving side dish, but I've been known to eat them on a regular old not-special weeknight and not be mad about it.
Crispy Smashed Potatoes with Fried Onion and Parsley
A simple but delicious side dish of crispy smashed potatoes topped with fried onions and fresh parsley.
Ingredients
kosher salt
1.25 lb new potatoes (1-2 inches in diameter) or fingerling potatoes
⅓ cup olive oil
freshly ground black pepper
2 tbsp unsalted butter
½ small yellow onion, thinly sliced
1 tsp aleppo pepper
flaky sea salt
¼ cup chopped parsley
Instructions
Bring 2 inches of salted water to a boil in a large pot lined with a steamer basket. Add in the potatoes and season to taste with salt. Cover and steam for 8-10 minutes, or until the potatoes are tender (make sure to check with a fork before taking them out!).
Remove the potatoes from the pot and let them cool slightly. Once cool enough to touch, squash them using the bottom of a cup or your hand, just until the insides are exposed but not so much that they start to fall apart.
Heat the olive oil in a large skillet over medium-high heat. Add the potatoes in a single layer. Season to taste with salt and black pepper. Cook for 5 minutes per side, or until browned and crispy.
Remove the potatoes to a serving platter, leaving as much oil in the pan as possible. Return the pan to medium-high heat. Add the butter to the skillet and let it melt. Add in the onion rings and season to taste with salt and black pepper. Cook until golden and starting to crisp, stirring occasionally.
Remove from the heat and add in the aleppo pepper. Pour the onions and any remaining butter/oil from the pan over the potatoes. Top with sea salt and parsley.