A creamy and decadent pumpkin spice latte cheesecake filled with warm spices and a hint of espresso flavor.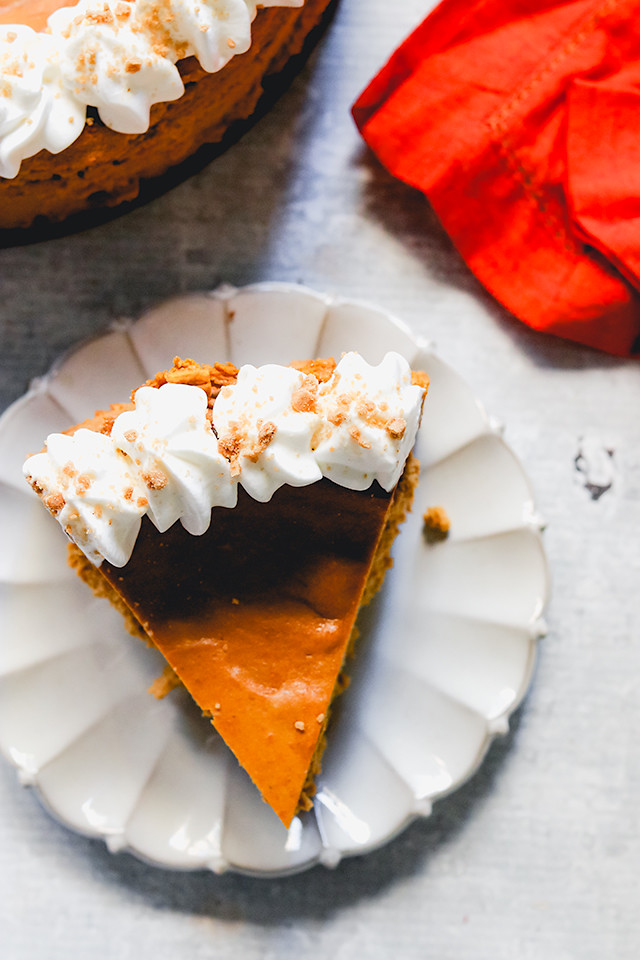 This was my election weekend stress baking project!
The world may be a mess but at least we have pumpkin spice latte cheesecake to get us through, was my thinking.
And WHOA was it super necessary as I continued to stress eat it all this week while watching coronavirus case numbers skyrocket, both around the country and in NYC.
It looks like we're headed for another lockdown, which makes me think I should buy more cheesecake ingredients. Hmmmmm.
I think we can all agree that there will be nothing "traditional" or "normal" about this year's holiday season, and so I am completely embracing that and going rogue with pumpkin cheesecake in lieu of pumpkin pie this year.
We will most likely be staying home on turkey day (and not eating ANY turkey – yes, I'm finally getting that vegetarian Thanksgiving I've always wanted, just not under ideal circumstances) unless it's some insanely warm day and we can see our family outside. It's sad, especially for Remy, but what would be even sadder is accidentally killing or completely debilitating one of her relatives by accidentally getting them sick. So, yeah, we're choosing to play it safe.
On that bright note, I bet you're really in the mood for some cheesecake now.
Let do this!
This pumpkin spice latte cheesecake starts with a gingersnap cookie crust that is made from a simple mix of crushed gingersnap cookies and butter. You can use graham crackers, vanilla wafers, or even Oreos here if gingersnaps are not your thing. This is a simple press-in crust that you prebake to firm it up prior to adding the pumpkin filling.
Next is the cheesecake itself, which is made of a heck of a lot of cream cheese, pumpkin, all the fall spices, and bit of instant espresso powder. I use Medaglia d'Oro, which I can find easily at my local supermarket, but King Arthur also makes a version that would work here too. It adds a barely noticeable hint of coffee flavor, but really just serves to bring out the warmth of the other spices.
Most cheesecake recipes have you bake them in a water bath, which I tried exactly one time and it was such a mess that I vowed to never do it again. Instead, I bake the cheesecake for an hour and then let it slowly cool in the oven with the heat turned off and the door cracked open with a wooden spoon for another hour. Allowing it to very slowly cool like this prevents it from sinking too quickly, which is when the cracks usually form.
Any imperfections can be covered up with a layer of homemade whipped cream and sprinkled with leftover gingersnap crumbs.
Pumpkin Spice Latte Cheesecake
A creamy and decadent pumpkin spice latte cheesecake filled with warm spices and a hint of espresso flavor.
Yield:
1 10-inch cheesecake
Ingredients
For the crust
2 cups finely ground gingersnap cookies
6 tbsp unsalted butter, melted
For the filling
2.25 lb cream cheese, room temperature
1½ cups dark brown sugar
28 oz canned pumpkin puree
1 tbsp + 1 tsp ground espresso
1 tsp ground cinnamon
1 tsp kosher salt
4 large eggs, room temperature
2 large egg yolks, room temperature
To garnish
whipped cream
gingersnap crumbs
Instructions
For the crust
Heat oven to 350F.
In a medium bowl, combine the gingersnap crumbs with the butter and mix to combine. Pour into a 10-inch springform pan and press into the bottom of the pan as compact and tightly as possible. Place into the oven and bake for 10 minutes. Remove from the oven and set aside.
For the filling
Combine the cream cheese and brown sugar in the bowl of a stand mixer fitted with the paddle attachment. Cream together until smooth and fluffy, about 4 minutes on medium-high speed, scraping down the sides of the bowl as needed. Add in the pumpkin, espresso, cinnamon, and salt. Mix on medium-low speed until well combined, about 3 minutes.
Add in the eggs and egg yolks one at a time, beating well after each addition.
Place the springform pan with the par-baked crust in it onto a large baking sheet. Pour the filling on top of the prepared crust. Place in the oven and bake for one hour. Turn the oven off, leaving the cheesecake in the oven, and place a wooden spoon in the door to crack it open. Let it rest in the oven like this for 1 hour.
Remove from the oven and refrigerate for at least 3 hours before serving. Garnish with whipped cream and gingersnap crumbs as desired.