This is such a super cozy vegetarian lentil minestrone. It is one of those meals that is SO simple but SO delicious – and good for you, too!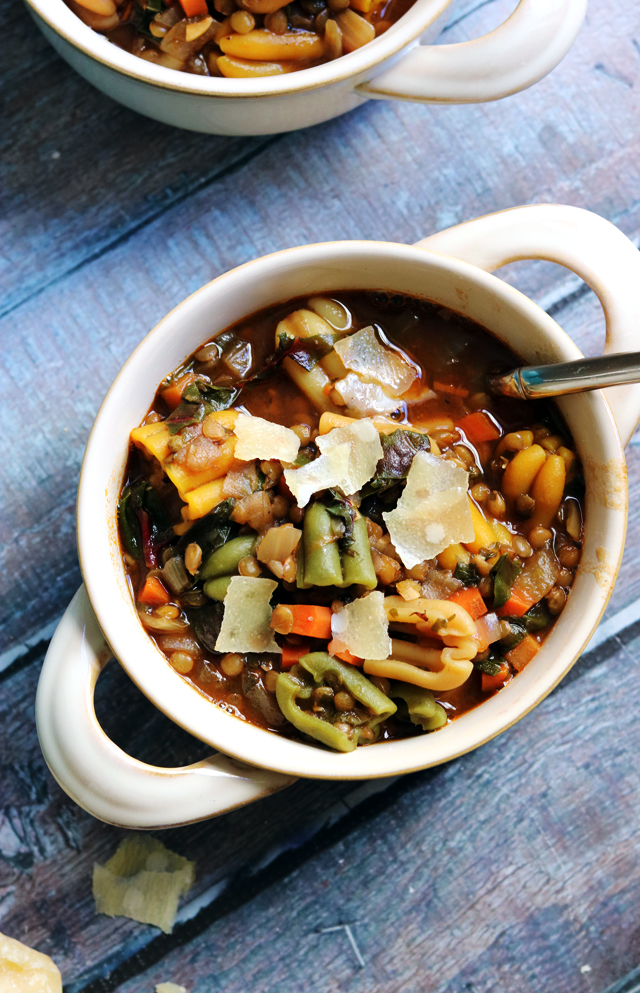 A warm hug in soup form! I guess we're fall official now, so this is totally legit.
(80 degree temps this past weekend notwithstanding.)
Don't be mad but I've been waiting to share this with you since LAST YEAR. I made it towards the end of winter/early spring. Asparagus was just coming into season and everyone was all FAVAS! ARTICHOKES! GREEN THINGS! SALADS!!!!!!!
It just felt like too big of a distraction. I mean, it's really hard to get excited about LENTIL SOUP when you can be eating something that's not a root vegetable for the first time in months, am I right?
Anyways, I really think it says a lot about a recipe when you're still excited to write about it and can basically still taste it on your lips almost six months later.
This soup is jam-packed with so many good things – lentils, greens, carrots, onions, aromatics, and PASTA. It's healthy and hearty and a total feel-good food.
The whole recipe comes together in about 40 minutes, thirty of which is hands off simmer time. And it's alllllmooosssttt a one pot meal if you don't count the pot you have to use to cook the pasta beforehand. I used cute pumpkin-shaped pasta that I got from Trader Joe's but really any small bite-sized pasta shape will do.
Another best thing about this soup is that it actually tastes better after an overnight or two in the fridge, so make it ahead of time and don't feel the least bit bad about it. Serve it with crusty bread on the side for dipping and a generous amount of parmesan shavings on top for fun.
Super Cozy Vegetarian Lentil Minestrone
This is such a super cozy vegetarian lentil minestrone. It is one of those meals that is SO simple but SO delicious - and good for you, too!
Ingredients
2 tbsp olive oil
2 cups minced onion
2 tbsp tomato paste
¼ cup chopped parsley
4 garlic cloves, minced
3 carrots, diced
salt and black pepper, to taste
1 cup French green lentils
2 bay leaves
8 parsley branches
6 thyme sprigs
9 cups vegetable broth
1 bunch swiss chard, stems removed and leaves thinly sliced
12 oz pasta, cooked
shavings of parmesan cheese, to garnish
Instructions
Heat the oil in a large soup pot and then add the onion. Saute over high heat until lightly browned and golden, about 10 minutes. Add in the tomato paste, parsley, garlic, carrots, and 2 tsp salt. Cook for an additional 3 minutes, stirring frequently. Add in the lentils, bay leaves, parsley branches, thyme sprigs, and broth. Bring to a boil over high heat, then lower and simmer, partially covered, for 30 minutes. Stir in the chard in the last 5 minutes of cooking. Season to taste with salt and black pepper. Remove the parsley branches, thyme sprigs, and bay leaves.
Just before serving, add the cooked pasta to the soup. Heat through and serve topped with a grind of black pepper and parmesan cheese.