This pasta with burst cherry tomato sauce is ideal summer eating. It's filled with bright, fresh flavors and an addictive fried caper breadcrumb topping.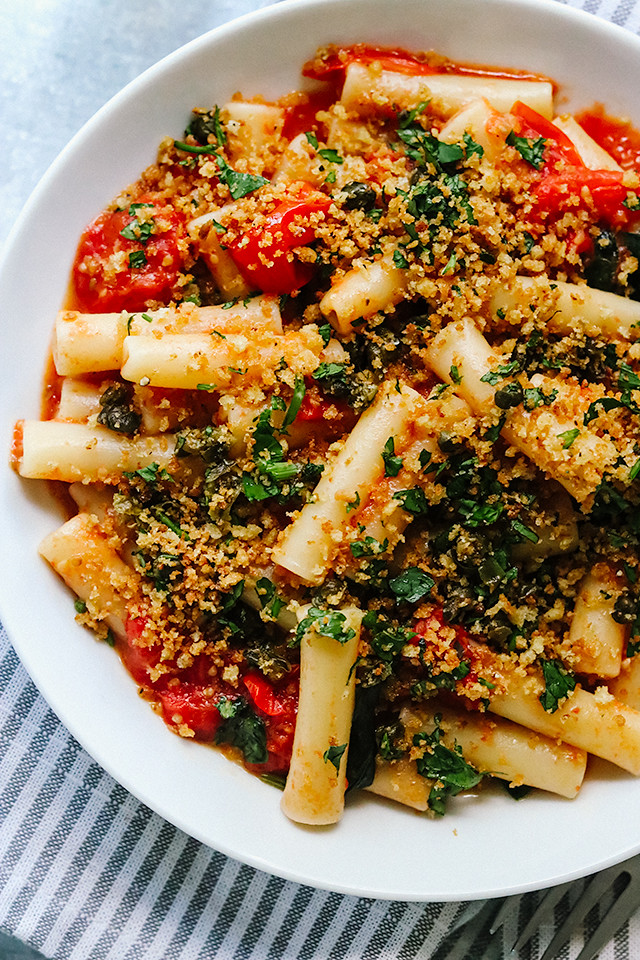 The usual fate of my cooking magazines goes a little something like this:
Receive magazine. Magazine sits on my bookshelf for five+ years. Eventually, a decade later, I'll maybe cook something from it.
It's bad. I'm trying to be better about it. In part because I'm sure there are a ton of recipe gems hidden away that I could have been cooking for the past ten years. Think of all that wasted time!! I feel especially bad about neglecting my Cook's Illustrated magazines because I know how much time and energy they spend testing the recipes to discover the perfect strategy for making a specific dish.
All that to say, I've set a record! For myself. No one else is tracking the time it takes for them to go from receiving a cooking magazine to actually cooking a recipe from it.
Well this took THREE DAYS delivery to table and once you look at it you'll understand way. It SCREAMS summer eating. The pasta is sauced with a simple mix of cherry tomatoes, anchovies, salt, red pepper flakes, basil, and (my personal favorite) buttah. As if that weren't fabulous enough it then gets topped with a crispy breadcrumb and fried caper topping.
Honestly, I can't think of anything more addictive. But I'm possibly biased since I LITERALLY CANNOT STOP EATING IT.
Pasta with Burst Cherry Tomato Sauce and Fried Caper Crumbs
This pasta with burst cherry tomato sauce is ideal summer eating. It's filled with bright, fresh flavors and an addictive fried caper breadcrumb topping.
Ingredients
For the topping
2 tbsp olive oil
¼ cup capers, rinsed and dried
1 anchovy fillet, rinsed, minced
½ cup panko bread crumbs
⅛ tsp kosher salt
⅛ tsp black pepper
¼ cup minced parsley
For the pasta
¼ cup olive oil
2 garlic cloves, thinly sliced
2 anchovy fillets, rinsed and minced
2 lb cherry tomatoes
1½ tsp kosher salt, plus salt for pasta water
¼ tsp sugar
¼ tsp red pepper flakes
1 lb ziti
2 tbsp unsalted butter
1 cup fresh basil, torn if large
Instructions
For the crumb topping
Heat the oil in a large skillet over medium heat. Once hot, add the capers and the anchovy. Cook, stirring often, until the capers are crispy and shrunken. Remove the capers from the pan to a paper towel-lined plate using a slotted spoon, leaving as much oil in the pan as possible. Return the skillet to medium heat. Add the panko, salt, and black pepper to the pan. Cook, stirring constantly, until the panko is golden and crispy, about 4-5 minutes. Transfer to a medium bowl and stir in the parsley and caper mixture. Set aside.
For the pasta
Bring a large pot of salted water to a boil.
While the water is coming to a boil, heat the oil, garlic, and anchovies in a large pan over medium heat. Cook until the garlic is lightly browned, about 4-5 minutes. Add the tomatoes, salt, sugar, and red pepper flakes to the pan. Stir to combine. Cover the pan and increase the heat to medium-high. Cook for 10-15 minutes without stirring, or until the tomatoes have started to break down into a sauce.
Meanwhile, cook the pasta to desired consistency. Drain, reserving ½ cup pasta cooking water. Return the pasta to the pot. Remove from the heat. Stir the butter and tomato mixture into the pasta until it starts to form a light sauce. Add reserved pasta water as needed to get sauce to desired consistency. Stir in the basil and season to taste with salt and black peppers. Serve topped with the crumb topping, adding it just before serving.