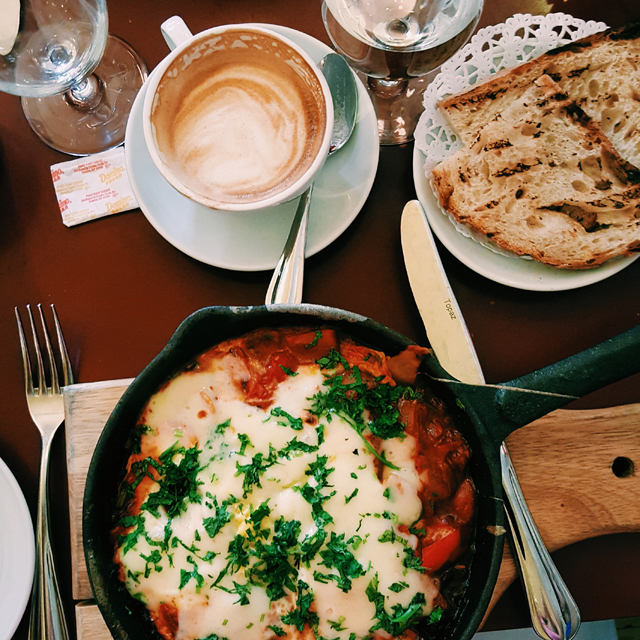 1. I've said it once, and I'll probably say it another gazillion times…THERE IS NOTHING BETTER THAN SUNDAY BRUNCH!! Can we do this every day?
2. But especially if freshly made croissants are involved. I mean, really. We aren't heathens.
3. Thesis writing has definitely come to a head. THE STRESS IS UNREAL. I just need to make it through the next week, learn to write a Future Directions section, and then sleep until my defense.
4. And by "sleep" I mean, learn how to use Powerpoint, which I apparently have a very limited grasp of.
5. Someone had better send cookies.
6. Preeetttyyy sure this fig salad is a LIFE: MUST. And this banana split vegan smoothie bowl looks like a breakfast birthday party (the best kind).
7. Against my better judgment, our CSA has officially entered FALL! Don't worry, we still got tomatoes, which I suspect will be turned into ciabatta pizzas this week because EASY. But the rest was all potatoes! cabbage! broccoli! kale! What would you do with these? I'm thinking a lot of hashes, perhaps a stir fry or two?
8. Who watched the VMAs?! We somehow managed to turn it on EXACTLY as T. Swizzle was giving the award to Kanye, so I watched it for exactly five minutes and then peaced out. Only to be woken up by the.boy shouting about Kanye "running for president".
9. To that I say "oy vey".
10. (But at least he'd be better than Trump.)