These confetti cookies are pretty much a perfect cookie party on a plate!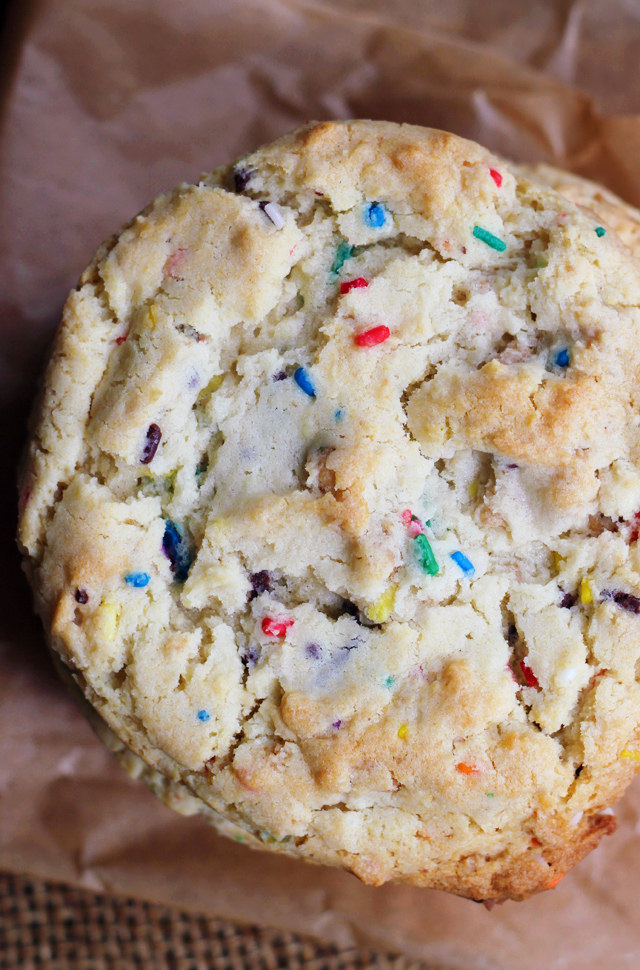 Ohhhhhh boy.
You're wondering if that's a really zoomed in cookie shot, or if the cookie really is as large as your face.
What if I told you….it's almost certainly LARGER than you're face.
You can pinch yourself. This is real life.
Ay carumba, these cookies!
They are large, in charge, and full of sprinkly whimsical FUN.
Oh, and chewy in all the best ways. So exactly how I like my cookies.
They are from the Momofuku Milk Bar Cookbook
, which basically takes the wonderful (<—literally) creations from the eponymously named bakery and makes them makeable AT HOME. Dangerous? Yes. Daring? Yes. MUST HAVES? YES!!
I have to say this is one of the more doable recipes in the book, so I'm glad I started with it. It was really incredibly easy, though the trick is definitely to remember that you HAVE to chill the cookies overnight after pre-forming them into dough balls. It sounds onerous at first, but then you realize that in the morning you won't have to scoop any cookie dough. Just pop in the oven and go.
And by "go" I mean lock yourself in the closet with the whole batch and eat your way out. (Not speaking from experience or anything. Ahem.)
In fact, I did share these, and the proof is in the fact that these are my submission for this month's Leftovers Club!! I was paired with the lovely Hetal of the blog Pretty Polymath. She sent me some fabulous nutty chocolatey bars, so of course I had to send her something equally as delicious. Hope you enjoyed them, Hetal!
Confetti Cookies
These confetti cookies are pretty much a perfect cookie party on a plate!
Ingredients
For the birthday cake crumbs
½ cup (100 g) sugar
1½ tbsp (25 g) light brown sugar
¾ cup (90 g) cake flour
½ tsp (2 g) baking powder
½ tsp (2 g) salt
2 tbsp (20 g) rainbow sprinkles
¼ cup (40 g) vegetable oil
1 tbsp (12 g) vanilla extract
For the cookies
32 tbsp (450 g) butter, room temperature
3 cups (600 g) sugar
2 tbsp (50 g) corn syrup
2 large eggs
4 tsp (16 g) vanilla extract
5 cups (800 g) flour
1⅓ cup (100 g) milk powder
4 tsp (18 g) cream of tartar
2 tsp (12 g) baking soda
2½ tsp (10 g) kosher salt
½ cup (80 g) rainbow sprinkles
Instructions
To make the birthday crumbs, heat the oven to 300F/150C.
In the bowl of a stand mixer fitted with the paddle attachment, mix together the sugar, brown sugar, cake flour, baking powder, salt, and rainbow sprinkles on low speed until well combined.
Add in the oil and vanilla and mix again to distribute. Mix until the mixture forms small clusters. Spread the clusters on a parchment-lined baking sheet. Bake for 20 minutes, breaking up them halfway through.
Let cool completely before using.
To make the cookies, combine the butter, sugar, and corn syrup in the bowl of a stand mixer fitted with the paddle attachment. Cream together until light and fluffy, 2-3 minutes on medium-high speed. Scrape down the bowl and mix in the eggs and vanilla. Beat for 7-8 minutes.
Reduce the mixer speed to low and add in the flour, milk powder, cream of tartar, baking soda, salt, and sprinkles. Mix until dough just comes together. Scrape down the bowl. On low speed add in the birthday cake crumbs and mix for 30 seconds.
Using a ⅓-cup measure, portion out the cookie dough on a parchment-lined baking pan. Pat the cookie dough balls so that they are flat on top. Wrap the baking sheet in plastic wrap and refrigerate for at least an hour or overnight.
Heat oven to 350F/180C.
Arrange the chilled cookie dough balls 4 inches apart on a parchment-lined baking sheet. Bake for 18 minutes. They should be lightly browned around the edges. Cool completely on the sheet pans before transferring to a plate or container.
Notes
Recipe from
Momofuku Milk Bar Cookbook
Never too many sprinkles: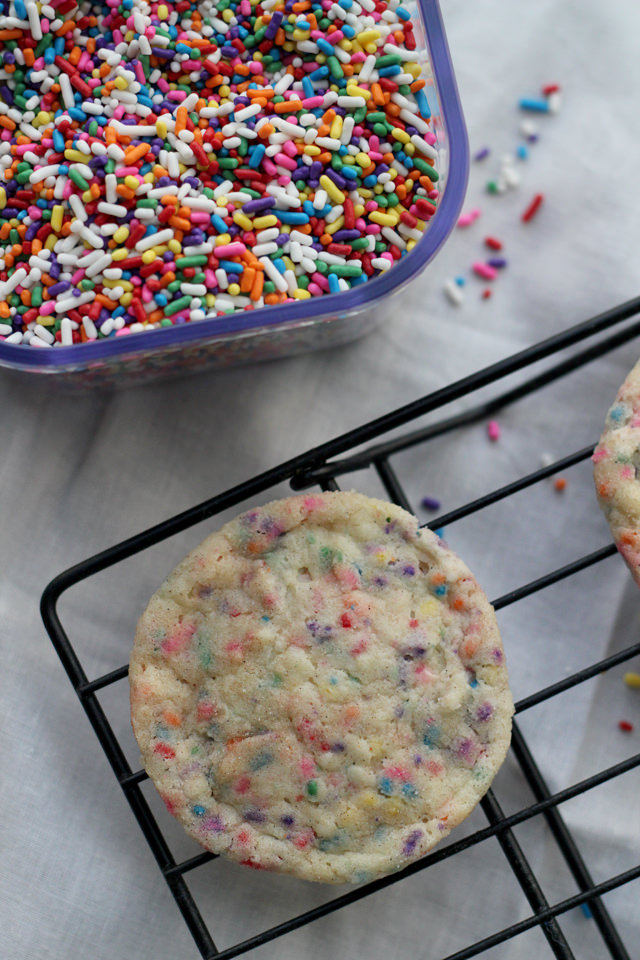 Soft and Chewy Snickerdoodle Sprinkle Cookies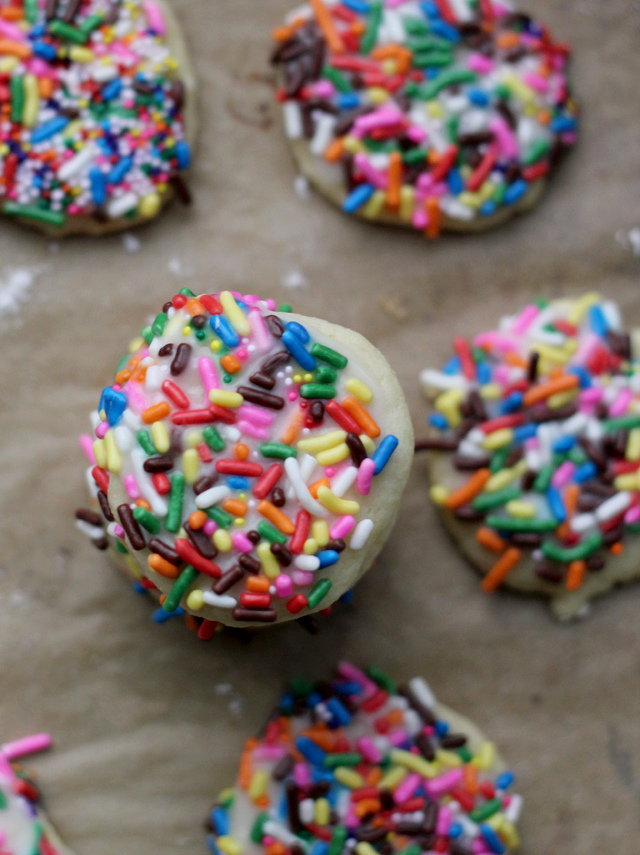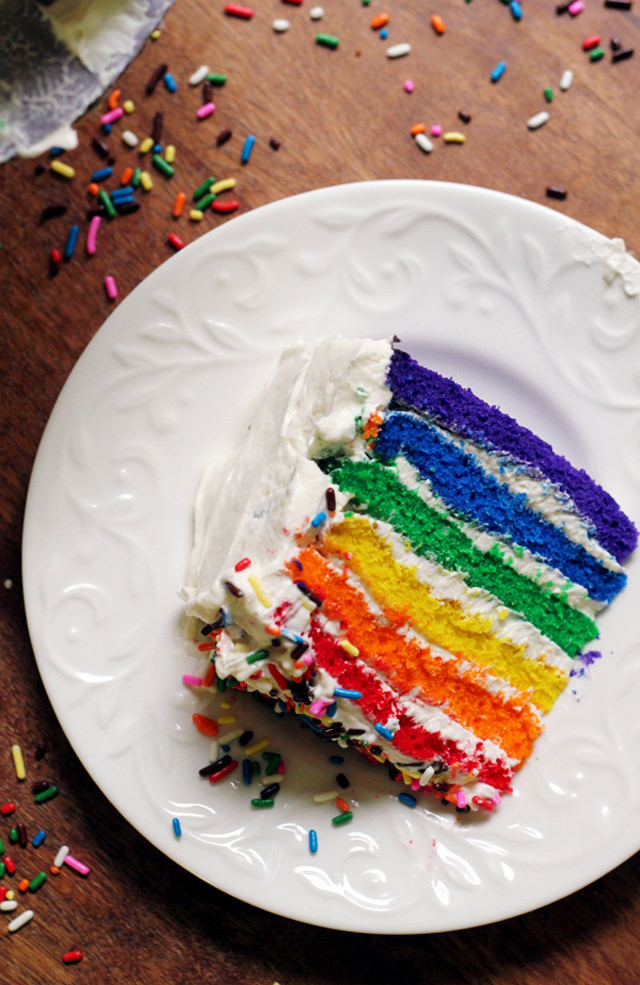 From Around the Web:
Pink and White Layered Sprinkle Cake with Macarons from Raspberri Cupcakes
Triple Chocolate Sprinkle Birthday Cookies from Sweetapolita
Funfetti Cake Batter Popsicles from A Cozy Kitchen
Strawberry Buttermilk Sprinkle Donuts from How Sweet It Is
Meyer Lemon Sprinkle Cookies from Keep It Sweet