End of summer comfort is what this sandwich is all about! Get this eggplant parmesan grilled cheese with chili tomato jam into your dinner rotation while you still can.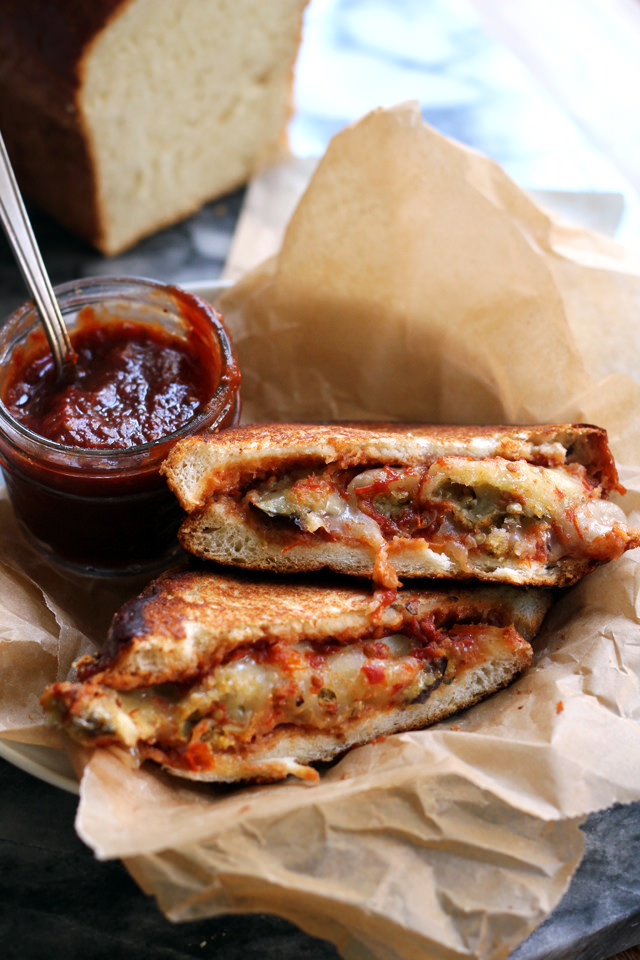 After this week, my updated list of summer goals includes:
Fill a tub with chili tomato jam.
Bathe in it.
Eat my way out (with the help of some eggplant parmesan grilled cheese sandwich scoops).
Rinse, refill, repeat.
On the bright side, imagine how good I would smell!
Seriously, though. Dove Cucumber & Green Tea Deodorant – you've got competition.
On the downside…..THERE IS NO DOWNSIDE.
Just love, light, and tomato chili jam. Everything is up!!
I actually have no idea where I'm getting all of this optimism from because I am STRESSED STRESSED STRESSED. My thesis defense is in a little less than a month and the actual written portion has to be sent to my committee members in just under two weeks. TWO WEEKS.
Hold me.
Buuuuuttt there are eggplant parm grilled cheese sandwiches in this world!! With chili tomato jam on them!!
So everything will be a-okay.
(And if you try to tell me otherwise, I may bite you. Consider yourself warned.)
The real key to these sandwiches is to make the chili tomato jam ahead of time. It really doesn't take SO long to simmer away on the stove, but when I'm craving grilled cheese, I want it yesterday. There is no time to wait for tomatoes to heat up and break down and thicken.
After that, it's all easy peasy all the way. The eggplant fries take exactly 20 minutes to throw together and cook. And they are marvelous. Truly. Crispy on the outside, tender on the inside, and without even a drop of oil! Magic. You could eat them on their own, but everything is better when stuffed between two layers of melty cheese, the butteriest brioche you can get your hands on, and sweet spicy tomato-y jam.
That's what I call science.
If only I could write a whole thesis chapter just on these. If. Only.
Eggplant Parmesan Grilled Cheese with Chili Tomato Jam
End of summer comfort is what this sandwich is all about! Get this eggplant parmesan grilled cheese with chili tomato jam into your dinner rotation while you still can.
Ingredients
For the chili tomato jam
2 pints cherry tomatoes, whole
1 lb plum tomatoes, coarsely chopped
½ cup balsamic vinegar
¼ cup honey
1½ tsp red pepper flakes
½ tsp paprika
For the eggplant parmesan
1 medium eggplant, cut into ¼ inch thick 'fries'
1 cup flour
4 eggs, lightly beaten
1½ cup panko breadcrumbs
½ cup grated parmigiano reggiano
2 tsp oregano
salt and black pepper, to taste
For the sandwiches
12 slices of bread
12 slices mozzarella cheese
butter, for greasing the pan
Instructions
For the jam place the cherry tomatoes, plum tomatoes, balsamic vinegar, honey, red pepper flakes, and paprika in a large pot. Simmer for 30 minuets, or until the tomatoes are broken down and mixture is jammy. Puree with an immersion blender or in a food processor. Refrigerate until ready to use.
For the eggplant, heat oven to 425. Line a baking sheet with parchment paper.
Place the flour and eggs in separate, shallow bowls. In a third bowl, stir together the panko, parmesan cheese, and oregano. Season breadcrumbs with salt and black pepper, to taste. Dip the eggplant sticks in the flour, then coat with the egg, and finally dredge in the breadcrumbs. Place on the prepared baking sheet. Repeat with remaining eggplant.
Bake for 15 minutes, turning once after 10 minutes.
To make the grilled cheese, slather each slice of bread with tomato jam and top with a slice of mozzarella. Divide the eggplant parm fries among half of the bread slices and top with remaining bread, cheese and jam side down.
Lightly grease a nonstick skillet with butter. Heat over medium-high heat. Add the sandwiches to the pan, as many as can fit. Place a heavy pan on top of the sandwiches to weigh them down. Cook for 2-3 minutes per side or until bread is toasty and cheese is melted. Serve warm.
Grilled cheese every day!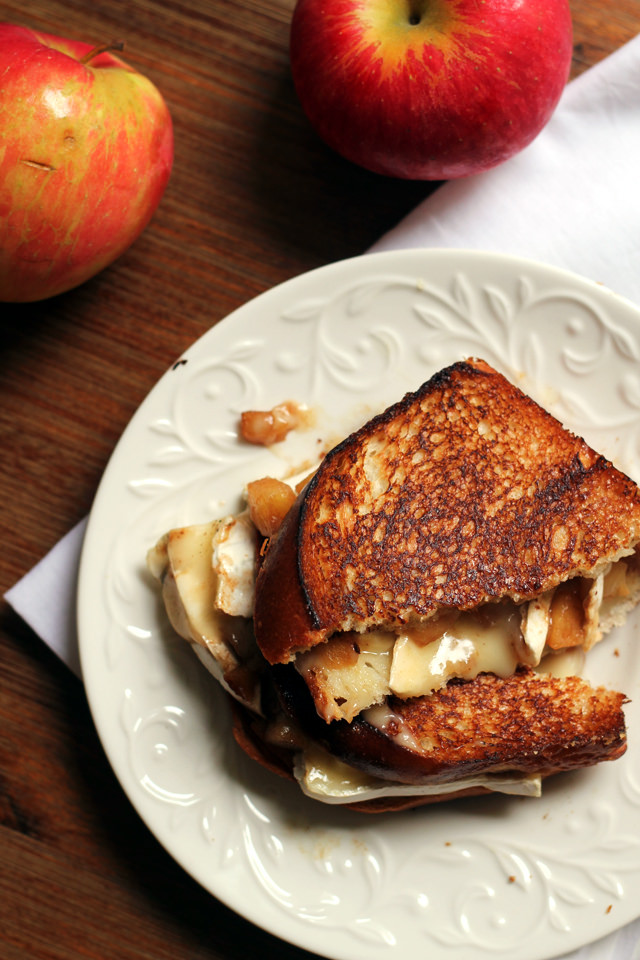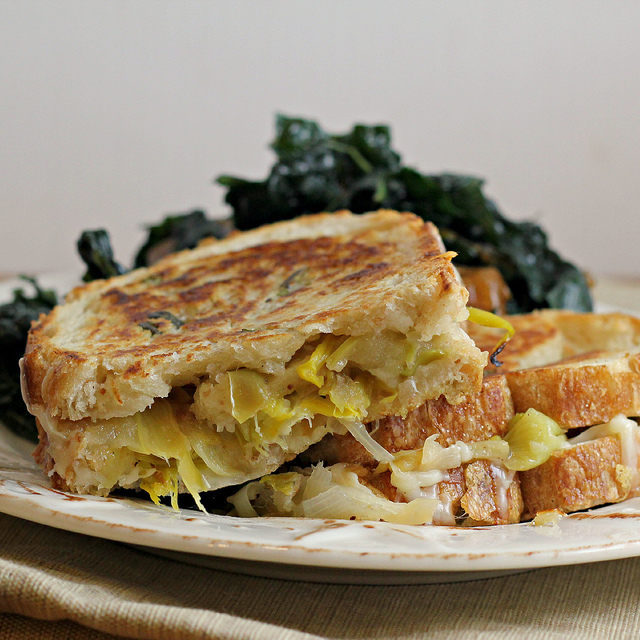 Apple, Leek, and Gruyere Grilled Cheese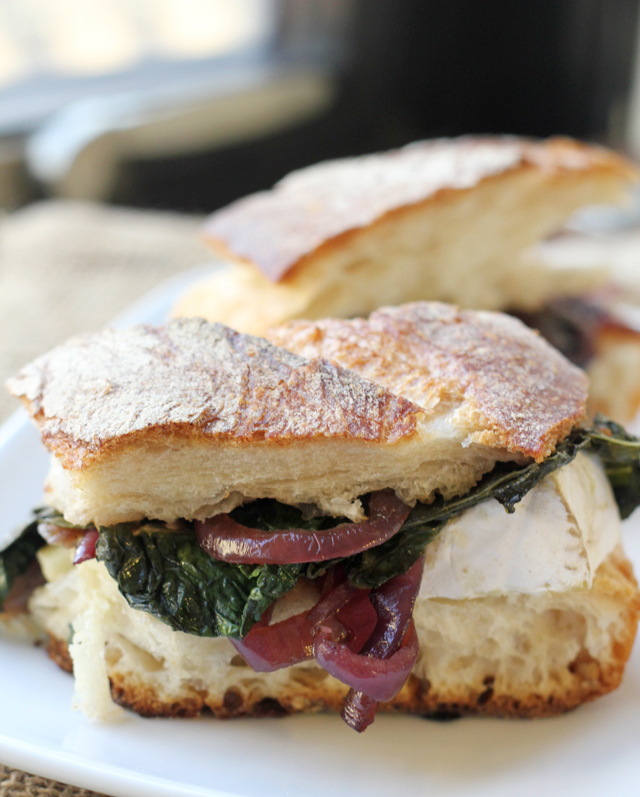 Kale, Caramelized Onion, and Brie Grilled Cheese
From Around the Web:
Avocado Grilled Cheese with Herbed Goat Cheese and Garlic from Well Plated
Tomato Jam and Mozzarella Panini from Cookie + Kate
Fried Green Tomato and Pimiento Cheese Sandwich from Buns In My Oven
Tomato and Fried Provolone Sandwich from Smitten Kitchen
Kimchi Grilled Cheese from Kitchen Konfidence