Ramen noodles are cooked in an easy peanut-miso broth and topped with spicy tofu cubes, sweet roasted kabocha, and earthy wild mushrooms.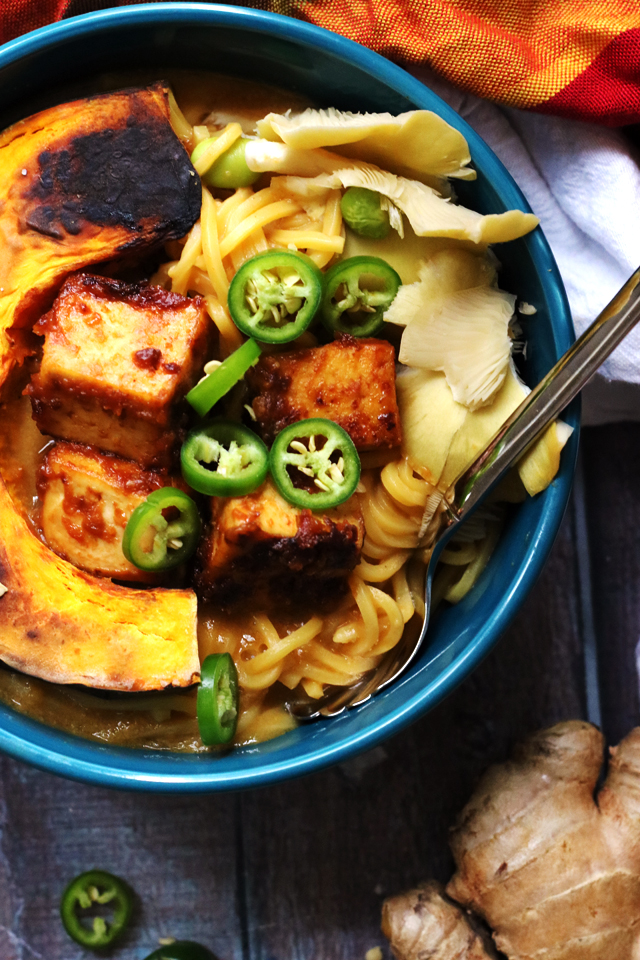 Mushrooms and I are just getting to know each other after 31 years of me not letting them co-habitate with any other food on my plate (or in my refrigerator, even!!).
I'd always thought they were downright detestable, but then I had a most perfect morel at a restaurant a few weeks ago and thought to myself, "hey, why don't you just give mushrooms a chance!?"
Apparently I've been living my whole life not liking your run-of-the-mill slimy supermarket mushrooms (buttons, bellas, etc), but the fancier wild child varieties????
I COULD HAVE BEEN LOVING THEM ALL THIS TIME.
Not that I'm mad about it or anything.
Hmmph.
After spending my whole life thinking that I was destined to be mushroom-averse indefinitely, these are certainly uncharted waters.
I don't know what to do, where to go.
Like, that corner of the supermarket that houses the 'shrooms and I are TOTAL STRANGERS.
Never met before.
(I still can't get over it.)
And as a vegetarian, you wouldn't believe how many doors this opens for me.
I would estimate 60% of vegetarian menu options include mushrooms in some way, shape, or form.
With all of the earthy, meaty, totally satisfying umami flavor that they add to whatever they touch, who can blame them!
Soooooo glad I'm making this realization now. Better late than never?
My friends over at Pompeian Olive Oil are always trying to keep me on my toes with what's #TrendingInTheKitchen so when they challenged me to make a delicious heartwarming hearty VEGAN meal and include my favorite fungi?
I was equal parts terrified and excited.
Terrified because I have almost never cooked mushrooms in my home before and what if I didn't do it right?!
And excited because I immediately realized that a big bowl of ramen was basically the answer to all of my life's questions, AND WHO DOES NOT GET EXCITED ABOUT RAMEN.
So I whipped up a big batch of spicy miso paste for mega tasty broth flavoring.
Showered a kabocha squash with Pompeian Extra Virgin Olive Oil Cooking Spray raindrops and then roasted it to caramelized perfection.
Shallow fried large tofu chunks with an extra dollop of miso paste added in at the end for crispiness and flavor infusion.
Simmered aforementioned spicy miso broth with the noodles until they were chewy and tender, and then slipped my new mushroomy friends in at the last minute to let them get soft and infuse a little bit of their earthy juju into the mix.
And then we slurped it!! As nature intended.
I have been using Pompeian's Organic Extra Virgin Olive Oil Spray in my cooking all over the place lately and I love it! It's literally just Pompeian's Organic Extra Virgin Olive Oil in spray form. No propellants, no artificial additives….just the amazing premium oil that Pompeian is known for. It's great for giving veggies a nice olive oil sheen prior to roasting, but I bet it would also be tasty as a light dressing for pasta and salads.

Peanut-Miso Ramen Noodles with Spicy Tofu, Kabocha, and Wild Mushrooms
Ramen noodles are cooked in an easy peanut-miso broth and topped with spicy tofu cubes, sweet roasted kabocha, and earthy wild mushrooms.
Ingredients
For the spicy miso paste
1 yellow onion
½ cup red miso
½ cup white miso
3 tbsp gochujang
6 cloves garlic
2 tbsp minced ginger
3 tbsp mirin
For the noodles
Pompeian Organic Extra Virgin Olive Oil Cooking Spray
2 lb kabocha squash, seeded, skin removed, and cut into half-moon slices
salt and black pepper, to taste
1 lb extra firm sprouted tofu, cut into 1-inch cubes
1 tbsp toasted sesame oil
4 cups vegetable broth
4 cups water
¼ cup peanut butters
8 oz mixed wild mushrooms
10 oz frozen shelled edamame
1 lb ramen or lo mein noodles
jalapeno or serrano chile peppers, thinly sliced, to garnish
Instructions
To make the miso paste, combine all of the ingredients together in a food processor and then pulse until a thick paste forms. Set aside.
Meanwhile, heat oven to 450F. Line a baking sheet with parchment paper and arrange the kabocha slices on it in an even layer. Spray with the Pompeian Organic Extra Virgin Olive Oil Cooking Spray and season to taste with salt and black pepper. Place in the oven and roast until fork-tender, about 25-30 minutes.
Meanwhile, fry the tofu. Heat the sesame oil in a large nonstick pot or wok over high heat. Pat the tofu dry. Once the pan is hot, add the tofu. Saute, turning the cubes every few minutes, until the sides of the tofu have browned and are firm. Add ½ cup of the miso paste to the pan with the tofu and saute again until the tofu is coated with it and it starts to crisp up. Remove from the heat and set aside.
Wipe out that same pot and add the vegetable broth and water to it. Bring to a boil. Once boiling, stir in the rest of the miso paste and the peanut butter. Return to a boil and lower to a simmer. Allow to simmer for 5 minutes. then stir in the wild mushrooms, edamame, and noodles. Return heat to a simmer and cook until noodles are tender and edamame is cooked through, about 5-8 minutes. Season to taste with salt, black pepper, and gochujang.
Divide the noodle mixture and broth among serving bowls. Top with the roasted kabocha wedges and tofu. Sprinkle the hot peppers over the top and serve warm.
Notes
An Eats Well With Others Original
Disclosure: This post was sponsored by Pompeian. As always, my thoughts and opinions are my own. Thank you for supporting the brands that keep me inspired in the kitchen.