Crispy fried gnocchi and summer tomato panzanella salad – so much fresh flavor packed into each bite!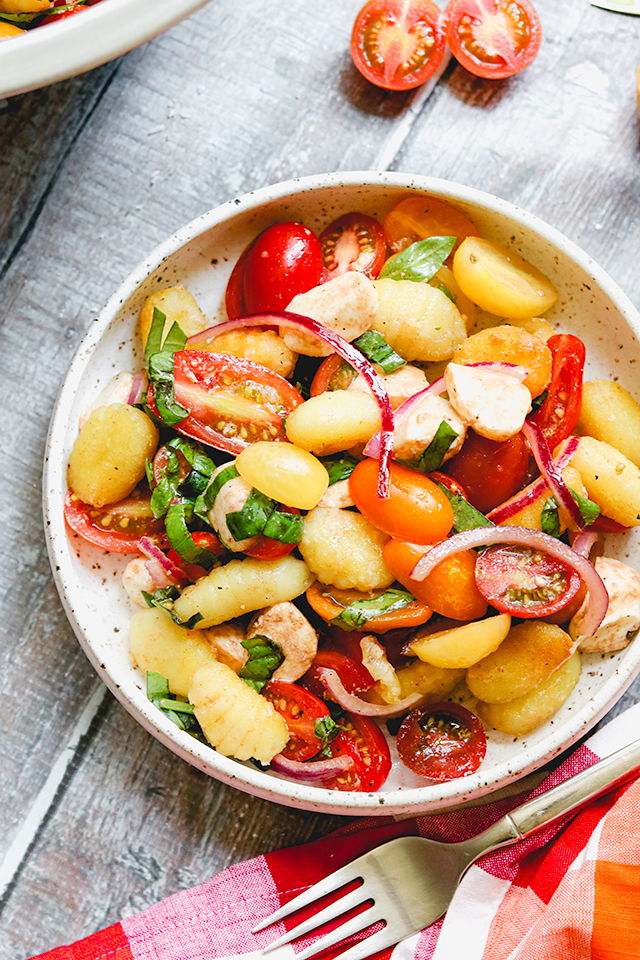 Meet your new summer bestie.
The can't get enough of it, summer essential, can be made in ten minutes with a baby sitting at your feet, OMG why didn't I think of this sooner crispy gnocchi and tomato panzanella.
I'm in love, can you tell?
Panzanella is a classic Italian salad that uses stale bread cubes to soak up all of the flavors of summer. Paired with seasonal tomatoes, fresh sliced onions, glugs (but, actually) of olive oil, vinegar, and bright herbs the crispy bread softens slightly under the weight of all that juiciness making for a vibrant and fairly perfect no-cook meal.
I don't know about you, but I never have stale bread around (we are card-carrying members of carb addicts anonymous) so I did a happy double take when I saw Hetty McKinnon's latest contribution to the New York Times cooking website, which substitutes fried gnocchi for the bread, and promptly ran to the store for the ingredients. Well, this is just about genius in that it takes a meal that requires some degree of foresight to a spur-of-the-moment dish and, honestly, I think I prefer the gnocchi to the bread anyway.
My Italian ancestors are rolling over in their graves somewhere on a Sicilian hillside, but let me repeat: FRIED GNOCCHI.
I rest my case.
While we do have to turn on our stovetops to make this, it is (a) only for ten minutes and (b) worth it. With just a little bit of olive oil to glaze the pan, the gnocchi crisp up in the best way leaving you with that perfect crunch-on-the-outside, pillow-on-the-inside texture. 
Toss the tomatoes with thinly sliced red onion, more olive oil, balsamic vinegar, fresh mozzarella, and salt while the gnocchi are cooking to allow the flavors to meld slightly. I used cherry tomatoes because that's what I had on hand, but sliced heirlooms or anything fresh from the garden will do. Finish the dish with handfuls of fresh herbs and you have yourself a meal.
One word of caution that this really is best slightly warm or at room temperature the day that you make it. The gnocchi are not as great after a stint in the fridge (I learned this the hard way), so only fry up what you need for one meal. 
Crispy Gnocchi and Tomato Panzanella Salad
Crispy fried gnocchi and summer tomato panzanella salad - so much fresh flavor packed into each bite!
Ingredients
6 tbsp olive oil
1 (17 oz) package shelf-stable gnocchi
1½ lb cherry or grape tomatoes, halved
½ red onion, thinly sliced
8 oz baby mozzarella, halved
1 tbsp balsamic vinegar
salt, to taste
handful of basil, thinly sliced
Instructions
Heat a large cast-iron or nonstick skillet over medium-high heat. Once hot, add ¼ cup of olive oil to the pan. Add the gnocchi to a pan in a single layer and cook for 8-10 minutes, tossing every 1.5-2 minutes, or until crispy on all sides.
Meanwhile, in a large bowl combine the tomatoes, red onion, mozzarella, balsamic vinegar, 1 tsp salt, and remaining 2 tbsp olive oil. Gently toss to combine.
Once the gnocchi are cooked and crispy, add them to the bowl with the tomato mixture along with the basil. Toss again and serve immediately.