Add a little bit of health into your grilled cheese with this kale, caramelized onion and brie version.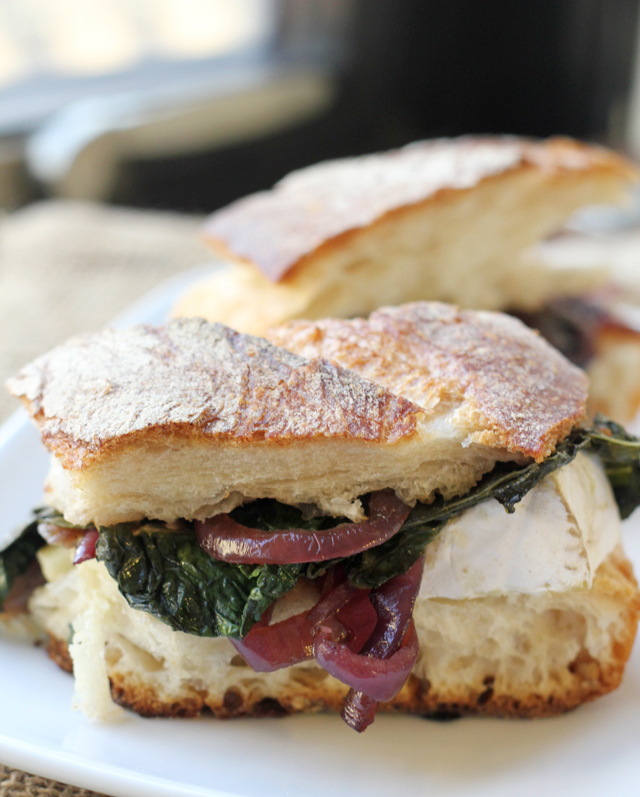 Bandwidth is kind of like that little black dress you have in your closet that's a size too small and just.barely zippers but not so much that you can actually comfortably inhale in it, but you still keep it anyway because someday (that elusive someday!!!) it will fit again.
Except, only on opposite day.
And unless you are my hosting company who, yesterday, when I called to complain about my site being down because its bandwidth was exceeded, accused me of getting "too much traffic" and seemed pretty incredulous when I agreed to pay five dollars  more each month for more imaginary space rather than have my site be down until November 1st.
What can I say, I live on the edge sometimes.
I mean, I may be totally off my rocker here, but…shouldn't this be a cause for celebration?
And, because I am most certainly not above rewarding myself with food. Cheese party? Grilled cheese party?
We're doing this.
Did you guys know that October is American Cheese Month? And if so, why did I not get the memo?!
American Cheese is so much more than that weird synthetic orange-yellow stuff your mom used to serve you. It actually refers to any cheese made in America, which is SO.MUCH.CHEESE.
As I'm sure you guys are aware by now, Whole Foods Market is totally into celebrating local producers of all things edible and they are highlighting five cheeses this month that were crafted by their very own Certified Cheese Professionals (aka CCPs aka howdoIgetthatjob?!?) and American cheesemakers, and are currently being sold in stores nationwide.
I was given the chance to create a cheese plate with three of these five cheeses and I also totally grilled cheese one of them up. To show you how versatile it is. And because brie.grilled.cheese.yes.
I shouldn't really call it brie, though, because it was actually the Mt Tam cheese by Cowgirl Creamery, which is kind of brie-like in all of its triple cream glory. And it melts kind of perfectly into this kale caramelized onion sandwich. I'm just saying, if you're not into eating cheese plain (re: The.Boy), then this is for sure the way to go.
I also got to try the Asiago Fresca from SAXON Creamery, which was almost Parmesan-y in flavor but with a more meltable, elastic texture; and the Bonne Bouche from Vermont Creamery with its geotrichum rind (no idea what that means but apparently it's super cool) and smoky flavor from being ripened in ash (sounds weird, but makes for one fabulous goat cheese). The two that I did not get to sink my teeth into this go-around (but that you can bet I'll be seeking out imminently) were the Humboldt Fog from Cypress Grove Chevre and Gran Queso from EMMI Roth USA.
Now that I've made you jealous (and hungry) with all this cheese talk, I should let you know that Whole Foods has been so gracious to allow me to give away a $50 gift card to one of you guys so that you can make the cheese plate of YOUR dreams!! To enter, all you have to do is leave a comment telling me what your favorite cheese is. Winner will be announced next Wednesday, November 6th! Good luck!
Disclaimer: While I received cheese and a gift card from Whole Foods to develop recipes and create this post, my thoughts and opinions are my own!
One year ago…Broccoli and Cauliflower Quinoa Salad with Avocado and Goat Cheese, Autumn Ratatouille
Four years ago…Spicy Chicken Coconut Curry
Kale, Caramelized Onion and Brie Grilled Cheese
Add a little bit of health into your grilled cheese with this kale, caramelized onion and brie version.
Ingredients
1 tbsp olive oil
2 medium red onions, cut into ½-inch thick slices
freshly ground black pepper and salt, to taste
1 bunch lacinato kale, stems removed
1 tsp red wine vinegar
8 slices bread
4 oz brie
Instructions
Preheat the oven to 350.
Heat the olive oil in a large nonstick skillet over medium heat. Add in the onion slices, a pinch of pepper, and a pinch of salt. Saute for 10 minutes, or until the onion is tender and browned, stirring frequently. Add in the kale leaves and stir until wilted. Remove from the heat and stir in the red wine vinegar. Season to taste with salt and pepper.
Divide the brie evenly among half of the bread slices. Top with the kale/onion mixture and the remaining bread. Heat in the oven until brie is melted, about 5 minutes.