Remember when I told you about my blueberry pie hangover that could be cured by nothing more or less than at least six blueberry buckwheat pancakes and 8 oz of tequila cardamom-vanilla rhubarb compote?
This right here is the culprit.
(It's dangerous.  Salivate with caution.)
I made it for Father's Day since the one dessert my family can agree to unanimously adore is pie.
(But only if it's not too lemony or lime-y or citrus-y and has not a single nut to its ingredient list.  Even the 1 tbsp of lemon juice in this pie gave me pause.  But I forged ahead anyway.
You can't make good pie without at least a hint of citrus.  That's a fact.  It's written in stone somewhere.  I swear it.)
They may be just plain wrong misguided about other things (like molten lava cakes and eating lemon curd out of the jar with a measuring cup) but at least they are sensible about pie.  Hallelujah.
When you're looking for a good dessert recipe, Martha Stewart is an excellent woman to turn to.  I've made her cupcakes, cookies, and now pies and I have never been anything less than wholeheartedly satisfied if not unabashedly stuffed to the brim after not being able to stop at one.
She is also number 4 on Gourmet's list of 50 Women Game-Changers in food.  And for good reason.  She is an icon.  A Renaissance woman.  A household name.
The kind of woman who has every hair in place even in the midst of a federal prison while wearing an orange jumpsuit.  Seriously.
As someone who can barely hold it together long enough to fold her laundry at least 36 hours after it comes out of the dryer.  I kinda sorta want to be her.
But I'll settle for baking like her.  Because this pie is good enough to forgive the clean laundry that sits in my basket for a week (or more) at a time.  It tastes like fresh air and a warm summer breeze.  It is sweet without being too sweet.  It is blueberry addiction at its finest.
**Do you want an Eats Well With Others treat delivered straight to your door?  And donate money to cancer research in the process?  Check out Lauren's blog for her bake sale to beat cancer! I've donated my carrot cake cookies, which, trust me, are worth a bid!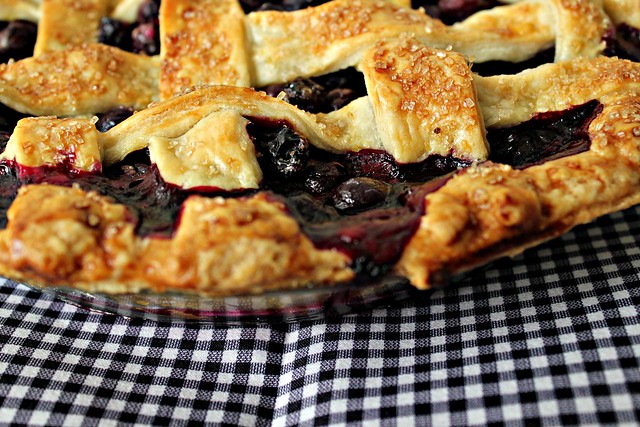 Pate Brisee
Makes enough for one 9-inch double crust or two 9-inch single pies, adapted from Martha Stewart's Pies and Tarts
2 1/2 cups AP flour
1 tsp salt
2 tsp sugar
1 cup (2 sticks) cold unsalted butter, cut into small pieces
1/4-1/2 cup ice water
1. Whisk together flour, salt, and sugar  in a bowl.  Add butter and quickly cut in with a pastry blender or your fingers until mixture resembles coarse meal with some larger pieces remaining.  Drizzle 1/4 cup water over mixture.  Mix with a fork until mixture just begins to hold together.  If dough is too dry, add 1/4 cup more water, 1 tbsp at a time, and mix with a fork.
2. Divide dough in half onto two pieces of plastic wrap.  Gather into two balls, wrap loosely in plastic, and press each into a disk using a rolling pin.  Refrigerate until firm, well wrapped in plastic, 1 hour or up to 1 day.  Dough can be frozen up to 3 months.  Thaw before using.
Lattice-Top Blueberry Pie
Makes one 9-inch pie, adapted from Martha Stewart's Pies and Tarts
AP flour for dusting
Pate Brisee
2 lb fresh blueberries, picked over and rinsed
1/2 cup granulated sugar
1/4 cup cornstarch
1/2 tsp ground cinnamon
1 tbsp fresh lemon juice
1 large egg yolk, for egg wash
1 tbsp heavy cream, for egg wash
Fine sanding sugar, for sprinkling
1. Preheat oven to 400.  On a lightly floured surface, roll out 1 disk of dough to a 13-inch round, about 1/8-inch thick.  Fit dough into a 9-inch pie plate.
2. In a large bowl, toss together berries, sugar, cornstarch, cinnamon, and lemon juice until combined.  Pour mixture into pie plate, piling in center.
3. On a lightly floured surface, roll out remaining disk of dough as in step 1.  To make lattice, cut dough into ten 1-inch-wide strips.  Lightly brush edge of dough in pie plate with water.  Carefully arrange dough strips on top, weaving to form a lattice.  Trim dough to a 1-inch overhang.  Fold edges under as desired and crimp with a fork.  In a small bowl, whisk together egg yolk and cream for egg wash.  Brush on top of dough strips and edge of pie shell.  Generously sprinkle with sanding sugar.  Refrigerate or freeze pie until firm, about 30 minutes.
4. Transfer pie plate to a parchment-lined rimmed baking sheet and bake until crust begins to brown, about 20 minutes.  Reduce heat to 350.  Continue baking until crust is deep golden brown and juices bubble, 55 minutes more.  If crust browns too quickly, tent pie with foil.  Transfer pie to wire rack.  Let cool completely, at least 3 hours before serving.
Looking for more fruity desserts?  Check out these recipes:
Blueberry White Chocolate Bread Pudding with Amaretto Cream Sauce
Cranberry Blueberry Pie
Peach-Blueberry Pie
Strawberry Hazelnut Chocolate Crisp
You are reading this post on Eats Well With Others at https://joanne-eatswellwithothers.com. Excerpts and links may be used, provided that full and clear credit is given to the author and or owner of Eats Well With Others. All rights reserved by Joanne Bruno.