This spicy vegetarian enchilada bake replaces tortillas with carrot rice, making for a low carb, but delicious meal filled with beans, corn, veggies, and spices to fill you up without weighing you down.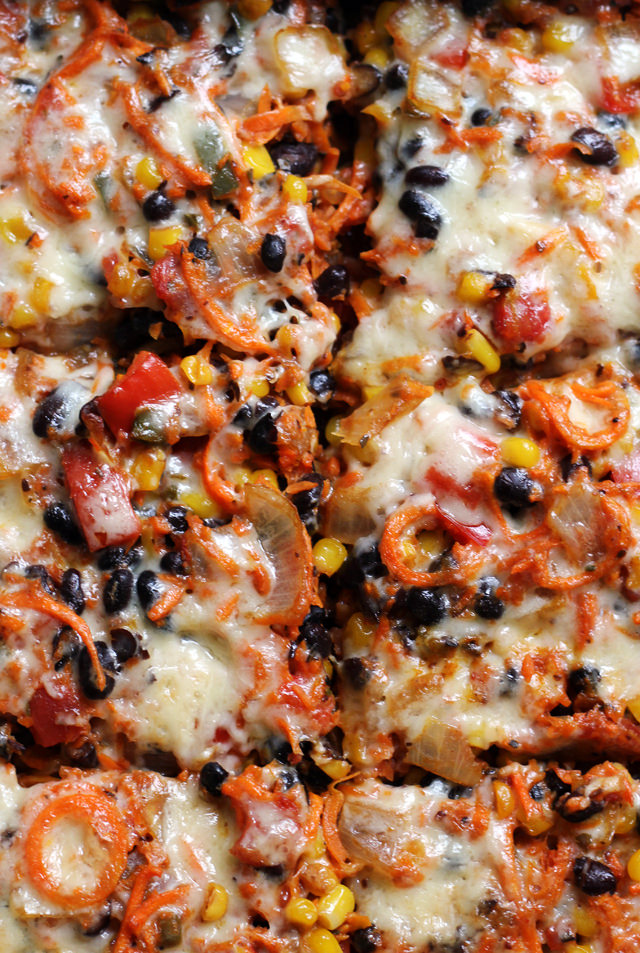 I think I got a little overly emotionally involved with the Oscars this year.
Just enough so that watching Birdman win Best Picture made me want to throw my television out the window and renounce pop culture for all of time.
But not so much that I would ever actually do such a thing and risk missing reruns of Vanderpump Rules. I mean, I think we all want to see whose life Stassi is going to trash up next, #amIright?
Let's dish: who did you love?! who did you hate?! who made you fling electronic devices across the room?!
My major take homes were: Jennifer Lopez is eternally hot, Kerry Washington is my soulmate, and Lady Gaga can SING.
But if I ever hear the song Everything is Awesome again, there is going to be a throwdown.
Tegan and Sara – I'm sorry, but…no. Just, no.
I know a lot of people host these all-out crazy Oscars parties, which sound like the perfect excuse to eat, drink, and be merry on what would otherwise be a boring weeknight, but for me it was all about my couch, my PJs, a glass of something a little bit sparkly, and my spiralizer.
YES. My spiralizer.
You see, my good friend Ali's cookbook
 – Inspiralized
, which is all about how to turn spiralized veggies into healthy, creative, and satisfying meals comes out TODAY.
As in THIS SECOND.
I was lucky enough to receive an advance copy a few weeks ago (because we're besties like that), and I can't put it down! It's that good.
Ali was the person who originally convinced me that I NEEDED to add a spiralizer to my life (and my wedding registry). I was always commenting on how crazy delicious her recipes looked and she was all like, "JOANNE! You are a vegetarian! You love vegetables! Just get a spiralizer already!!"
She was right. It was a necessity.
And now, also because of her, I've gone on a spiralized recipe SPREE.
Who can blame me when there are a gazillion recipes from her cookbook that I want to make – Spicy Butternut Squash Nachos, Arugula, Olive, and Onion Sweet Potato Pizza Stacks, and Jicama-Stuffed Peppers with Asiago, to name a few. While the cookbook is not exclusively vegetarian, many of the recipes are OR can be adapted to be – and they are all veggie-heavy, which I LOVE!
It was near impossible to choose what to make first, but I guess you have to start somewhere, so I dove in with this Vegetarian Carrot Enchilada Bake. Filled with all the fun spicy flavor that you'd expect from a plate of enchiladas, but made lighter with carrot rice in place of the tortillas, this cheesy casserole is BIG on comfort, but not on calories. I love that it tastes indulgent, but is actually pretty high on the health spectrum, so I can have a mega plate of it three times a day and not feel guilty. Which I've been doing like it's my job.
I couldn't possibly keep all this spiralized love to myself, so Ali has been sweet enough to allow me to GIVE AWAY a copy of the Inspiralized
cookbook to one lucky reader! USE THE WIDGET BELOW TO ENTER!
Vegetarian Carrot Enchilada Bake #GIVEAWAY
This spicy vegetarian enchilada bake replaces tortillas with carrot rice, making for a low carb, but delicious meal filled with beans, corn, veggies, and spices to fill you up without weighing you down.
Ingredients
1 tbsp olive oil
1 tsp minced garlic
1 medium white onion, diced
1 red bell pepper, diced
1¾ cups or 1 (14 oz) can cooked black beans
1 jalapeno, minced
10 oz frozen corn
2 tsp ground cumin
1 tbsp chili powder
2 tsp minced fresh cilantro
salt and black pepper, to taste
1 tbsp fresh lime juice
1 (14 oz) can crushed tomatoes
3 large carrots, peeled, spiralized with BLADE C, then riced in a food processor
8 oz pepper jack cheese, grated
Instructions
Heat oven to 375F. Coat a 9x13-inch baking pan with cooking spray.
Heat the olive oil in a large pan over medium heat. When the oil is shimmering, add the garlic, onion, and bell pepper. Cook for 2-3 minutes, stirring frequently, or until the onion is translucent. Stir in the beans, jalapeno, corn, cumin, oregano, chili powder, and cilantro, cooking just until corn is heated through. Season to taste with salt, black pepper, and lime juice. Toss to combine and cook for 2-3 minutes, or until the flavors meld together. Stir in the tomatoes and carrot rice and cook for another 2 minutes to warm through. Transfer to the prepared casserole dish.
Sprinkle the cheese over the top of the casserole. Cover with foil and bake for 15 minutes, or until the carrot rice is cooked through. Uncover and bake for 5-10 minutes more or until the cheese is melted and begins to brown and bubble. Serve warm.
Notes
Barely adapted from
Inspiralized: Turn Vegetables into Healthy, Creative, Satisfying Meals
Nutrition Information
Serving size:
1½ heaping cups
 More healthy Tex-Mex!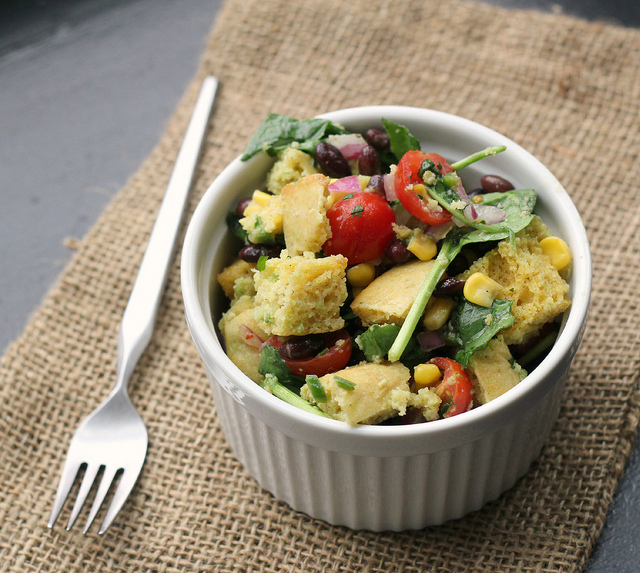 Cornbread and Black Bean Panzanella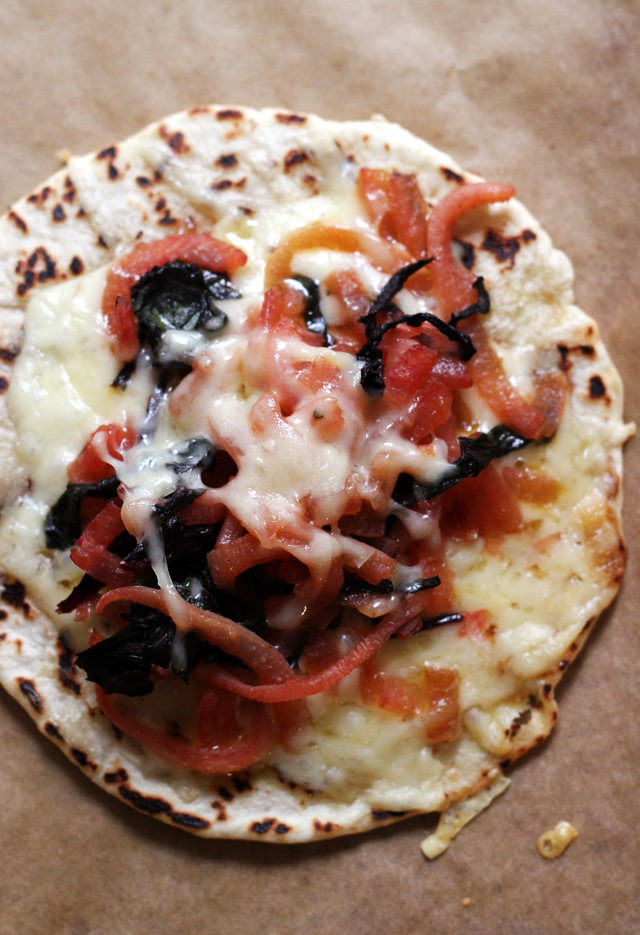 Winter Vegetable Tostadas with Gruyere and Fontina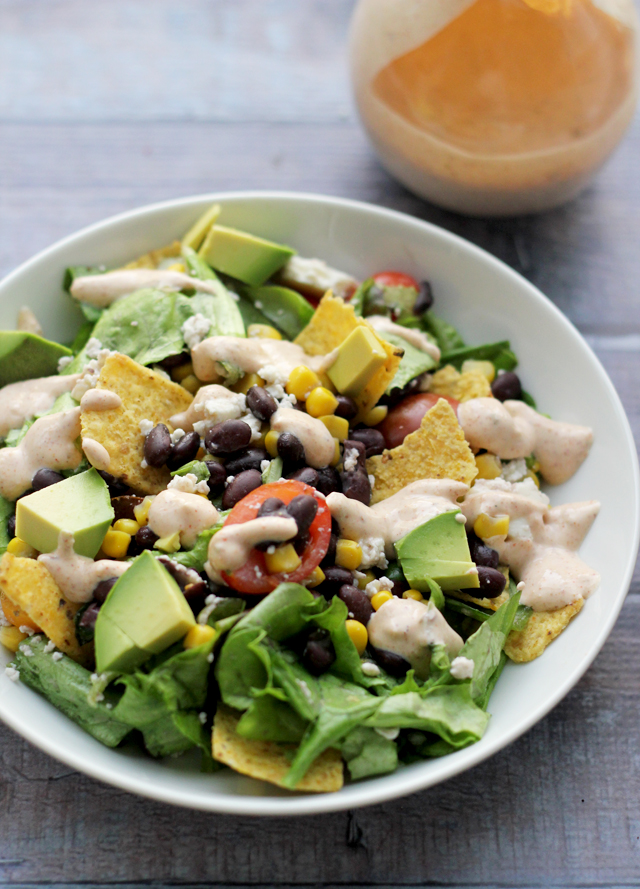 From Around the Web:
Mexican Frittata from The Fauxmartha
Mexican Corn and Poblano Soup from Annie's Eats
Mexican Chocolate Breakfast Shake from Oh My Veggies
Mexican Corn Quinoa Salad from Jeanette's Healthy Living
Mexican Egg and Sweet Potato Breakfast Scramble from Taste and Tell