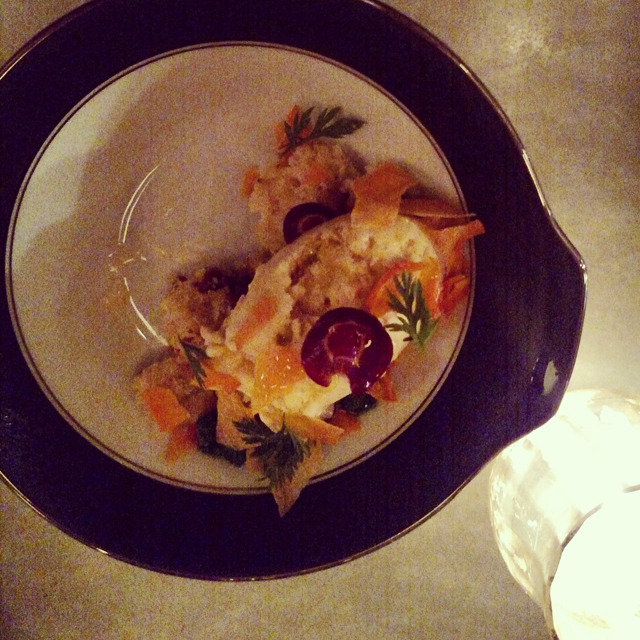 1. Today is my birthday!
2. I have to be honest, I'm just not that into it. I didn't even make myself a birthday cake this year. It has nothing to do with getting older, I think it's just that there is so much pressure for it to be the BEST day…it's just overwhelming and, honestly, kind of stressful.
3. I much prefer it when it is other people's birthdays and I get to ply them with sugar and butter and some sort of multi-layered confection.
4. On Saturday, our wedding caterer invited us to the soft opening of her new restaurant, Mr. Nilsson, in Long Island City. SOOOOOO good. Most of the food has a Scandiavian twist to it, so there's a lot of (perfectly cooked) fish, but also tons of veggies. You can opt for either the four course or eight course tasting menu, but whatever you do GET DESSERT. Not surprisingly, that was my favorite part of the meal – spiced brown butter cake topped with burnt honey ice cream, carrot slices and parsley ice. A little out there but MAJOR in the delicious department.
5. We fiiiinnaaalllyyy wrote out our wedding thank you's. It only took multiple bottles of wine.
6. The next time I suggest having some sort of life event that requires thank you cards…hit me.
7. Seriously. Hit me.
8. This weekend….I'M GOING TO DISNEY!! This might also be contributing to my birthday ennui…I mean, who can care about a birthday when there is DISNEY on the horizon.
9. Not to mention, Florida and sun and maxi dresses and did I mention SUN. I'm not sure I even remember what that is.
10. The.Boy and I are only going for four days, so blogging will continue as usual, but make sure to follow me on Instagram if you want to see what shenanigans we get up to!