A unique spin on classic fried green tomatoes, these fried green tomato burgers give them an Asian twist with a miso-dressed mizuna and sweet potato salad!
Disclosure: This post was sponsored by Blue Apron. As always, my thoughts and opinions are my own. Keep reading to find out how you can get an AWESOME discount on your first order!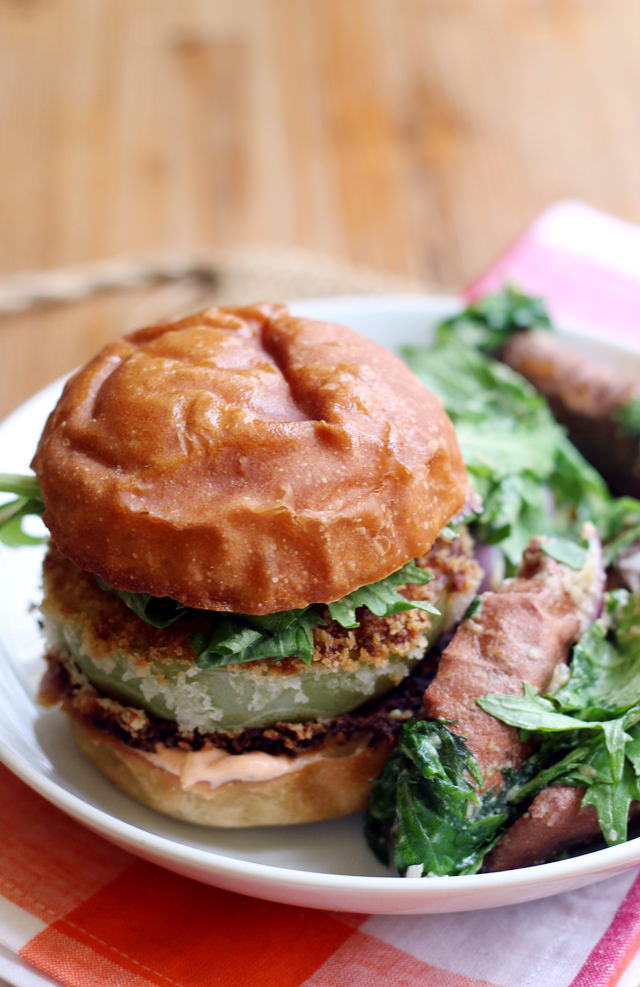 Just taking the phrase "veggie burger" to all sorts of literal levels.
And LOVING IT.
No biggie.
Yes, I realize tomatoes are fruits but these are green! So they must have a little bit of veggie in them. That just feels like science.
I think this is the first time ever that I've literally stuck a veggie in-between two slices of bread and called it a burger…but it won't be the last.
Mostly because I plan on getting my hands on green tomatoes all summer long and burger-frying them. They're crispy on the outside, juicy-tart-tangy on the inside, and just SO GOOD with the spicy Greek yogurt sauce and miso mizuna sweet potato salad. What a meal.
Always one for giving credit where it's due, I have to let you know that I did not come up with this genius idea on my own. I owe it all to Blue Apron!!!
They are also the only thing that kept the.boy and I from starving when we returned home from Italy because we had a severely empty fridge and absolutely no mojo to do something about it. And then a Blue Apron delivery was waiting for us when we got home and it was like all my dinner dreams came true. Such perfect timing.
I've talked a little bit about Blue Apron before (here and here), but let me refresh your memory. It is basically a grocery delivery service that provides you with everything you need to create fabulous, innovative, chef-designed recipes at home. They send you the ingredients and recipe instructions for either three (2-person plan) or two (Family plan) new recipes every week, and then you decide when to make them. The recipes change every week and are always filled with fun, seasonal ingredients. A lot of times I'll check out the options for the week, and they include ingredients or techniques that I've never heard of before, which always gets me excited for my next shipment. However, all of the recipes are approachable for any level of cooking ability so don't feel like you have to be a seasoned chef to order from them!
As I said earlier, there's both a 2-person and family (4-person) plan available. The 2-person plan comes with one delivery a week, each delivering three meals that serve two people, while with the family plan you can receive either one or two deliveries per week, each consisting of two meals. For the 2-person plan, you get to choose from 6 different recipes (3 meat/fish and 3 vegetarian), while for the family plan you can choose from 4. The prices for the two plans are $9.99 and $8.74, respectively, per person per meal and shipping is always free.
For the delivery, you can choose from a variety of delivery times – either during the day or after work. The ingredients are delivered in a refrigerated box, so even if they are delivered while you're not home, they will stay fresh. Blue Apron delivers all over the country and just launched in Texas!!
I have yet to come across a Blue Apron recipe that didn't make me drool, but these are few that I hope they repeat so I can get to try them: Blackened Queso De Freir Arepas, Summer Squash & Squash Blossom Quesadillas, and Palak Paneer.
Want to give Blue Apron a try for yourself? They are providing a special discount for the first 25 readers to get two free meals off their first Blue Apron order! Just use this link to order, and enjoy!
Fried Green Tomato Burgers with Miso-Dressed Sweet Potato Salad
A unique spin on classic fried green tomatoes, these fried green tomato burgers give them an Asian twist with a miso-dressed mizuna and sweet potato salad!
Ingredients
2 hamburger buns
½ cup plain Greek yogurt
2 oz mizuna greens
1 green tomato
1 red onion
¾ lb baby sweet potatoes
2 tbsp white miso paste
2 tsp sesame oil
olive oil, for drizzling
salt and black pepper, to taste
2 tsp sriracha
½ cup panko breadcrumbs
¼ cup all purpose flour
Instructions
Heat oven to 450F. Wash and dry the fresh produce. Halve the buns. Cut off and discard any large mizuna stems. Cut off the top and bottom of the green tomato; slice the remaining tomato in half to get two thick rounds. Peel, halve, and thinly slice the onion. Halve the sweet potatoes lengthwise. In a small bowl, combine the miso paste, sesame oil, and 1 tbsp of water.
Place the sweet potatoes on a sheet pan. Drizzle with olive oil and season with salt and black pepper, tossing to coat thoroughly. Arrange in a single even layer, skin sides down, and roast 28-30 minutes, or until tender. Transfer to a bowl. Toss with half the mizuna, half the onion, and half the miso dressing. Season with salt and black pepper, to taste.
While the sweet potatoes roast, in a small bowl, combine half of the yogurt with the sriracha. Season with salt and black pepper, to taste. In a separate medium bowl, combine the remaining yogurt and 2 tbsp of water. Season with salt and black pepper, to taste.
While the sweet potatoes continue to roast, place the flour and breadcrumbs in 2 separate, medium bowls. Season both with salt and pepper. Working one at a time, coat both sides of the tomato slices in the flour, shaking off any excess. Then, dip in the yogurt-water mixture, finally coating in the breadcrumbs. Transfer to a plate.
In a medium pan, heat a thin layer of oil on medium until hot. Add the breaded tomato slices and cook 3-4 minutes per side, or until the breadcrumbs are golden brown. Transfer to a paper towel-lined plate. Discard oil from the pan.
In the same pan, heat 2 tbsp of olive oil on medium heat until hot. Add the buns, cut side down, and toast 2-3 minutes, or until lightly browned. Transfer to a clean, dry work surface. Spread a layer of the sriracha-yogurt mixture onto the toasted bun tops and bottoms. In a bowl, combine the remaining mizuna and miso dressing. Toss to coat. Place a cooked tomato slice onto each toasted bun bottom. Top with the remaining dressed mizuna, some of the remaining onion, and a toasted bun top. Divide the finished burgers and dressed sweet potatoes between 2 plates.
Nutrition Information
Serving size:
½ of recipe