Turn potato salad into a main meal with this sumac-roasted sweet potato and farro salad bulked up with kale, ricotta salata, mint, hazelnuts, and pickled onions.
Disclosure: This post was sponsored by Blue Apron. As always, my thoughts and opinions are my own. Keep reading to find out how you can get an AWESOME discount on your first order!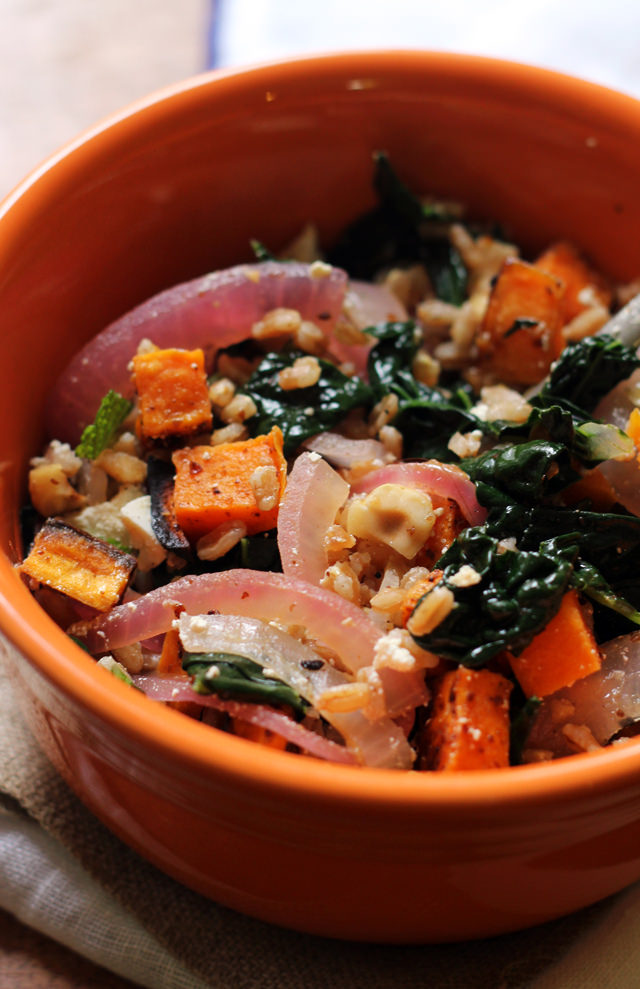 Can I tell you what the worst part of coming off a vacation high is?
(And yes, I am still talking about our vacation from almost three weeks ago. Bear with me.)
It's not returning to work or having to wake up at an unrealistically early time or even being thrown from 80 degrees and sunny into 40 with ALL THE WIND AND RAIN.
All of that I can handle.
But having to stare into an empty fridge and figure out how to make something out of nothing and call it dinner?
Let the hyperventilating ensue.
If there's one thing that really gets under my skin and into whatever nerve plexus controls ANXIETY, it's starting out the week feeling like I'm majorly behind in terms of meal prep.
But this vacation…was different. Probably because I made the Smartest Life Choice Ever (<– official, scientific term) and ordered a Blue Apron delivery to arrive the day after we got home. This meant that after my first day back at work, I returned home to find a box full of groceries, all perfectly portioned and ready to go to make three recipes that could all be prepared in under 40 minutes.
No stress about having to go grocery shopping and figure out what to make and actually make it. It was all done for me.
And it was all delicious.
Sometimes (rarely) I really have to pat myself on the back for winning at life. This was one of those times.
I actually had a really hard time deciding which of the three recipes to share with you. Between the Roasted Butternut Squash with Stewed White Beans, Gremolata & Brussels Sprouts, Poblano Chilaquiles, and this main squeeze salad, my taste buds were all over the place with excitement. A good problem to have, for sure, but still a problem.
Eventually I decided to go with this salad because it feels like the perfect bridge between winter and spring. I mean, it's a salad, so by nature it's a little bit on the lighter side, but it's filled with so many hearty ingredients (sweet potatoes! kale! farro!) and bold flavors (sumac! mint! ricotta salata!) that you can't help but feel satisfied after a big bowl of it no matter what the temperature is outside.
You guys might remember that I posted about the ins and outs and whats and whys of Blue Apron not too long ago, but here's a recap on why it's such a fabulous option for easy meal planning: Blue Apron is basically a grocery delivery service that allows you to create delicious, chef-designed recipes at home. Basically, they provide the ingredients and the recipes, and then you do the cooking. The selection of recipes that you can choose from changes every week, with each of them emphasizing seasonal ingredients and flavors. The recipes are not your run-of-the-mill boring food, but rather try to push you out of your cooking comfort zone, at least a little, while guiding you every step of the way so you don't feel totally overwhelmed.
You can choose either the 2-person plan or the family plan, which feeds a family of four. The 2-person plan comes with one delivery a week, each delivering three inventive meals that serve two people (although there are often enough leftovers for a lunch the next day!!), while with the family plan you can receive either one or two deliveries per week, each consisting of two meals. For the 2-person plan, you get to choose from 6 different recipes (3 meat/fish and 3 vegetarian), while for the family plan you can choose from 4. The prices for the two plans are $9.99 and $8.74, respectively, per person per meal and shipping is always free.
For the delivery, you can choose from a variety of delivery times – either during the day or after work. The ingredients are delivered in a refrigerated box, so even if they are delivered while you're not home, they will stay fresh. Blue Apron delivers to over 80% of the country (you can check here for the different delivery zones).
I actually felt that the recipes that I received were totally made for me and were filled with some of my favorite flavors and ingredients, but there are so many Blue Apron recipes that I hope come around again so that I get a chance to try them, such as the Greek Sweet and Sour Stew, Stir-Fried Black Rice with Miso-Roasted Carrots and Tokyo Turnips, and the Masoor Palak Dal with Curry-Spiced Cheese and Date Chutney. What I'm trying to say is, this was neither the first nor will it be the last time I use Blue Apron to get my meals on track. So stay tuned.
And if you want to try it yourself, the folks over at Blue Apron have offered that the first 50 READERS to order a delivery (using THIS LINK) will receive two free meals on their first order. Can't beat that!

Sumac-Roasted Sweet Potato and Farro Salad
Turn potato salad into a main meal with this sumac-roasted sweet potato and farro salad bulked up with kale, ricotta salata, mint, hazelnuts, and pickled onions.
Ingredients
¾ cup pearled farro
1 bunch lacinato kale
1 lb sweet potatoes
1 red onion
1 lemon
3-4 mint sprigs
2 oz ricotta salata
3 tbsp hazelnuts
olive oil, for drizzling
2 tsp ground sumac
2 tbsp red wine vinegar
2 tbsp sugar
salt and black pepper, to taste
Instructions
Heat oven to 450F.
Prepare the ingredients: wash and dry the fresh produce. Heat a large pot of salted water to boiling on high heat. Remove and discard the kale stems; roughly chop the leaves. Peel and large dice the sweet potatoes. Peel and thinly slice the onion. Quarter and deseed the lemon. Pick the mint leaves off the stems; discard the stems. Crumble the ricotta salata cheese. Roughly chop the hazelnuts.
Roast the sweet potatoes: Place the sweet potatoes on a parchment-lined sheet pan. Drizzle with olive oil and season with salt, pepper, and the sumac. Toss to coat. Arrange in a single, even layer and roast for 23-25 minutes, or until lightly browned and tender. Remove from the oven and set aside.
Cook the farro and add the kale: While the sweet potatoes roast, add the farro to the pot of boiling water. Cook for 14-16 minutes, or until tender. Remove from the heat. Drain and return to the pot. Stir in the kale and drizzle with olive oil. Stir to combine and season with salt and black pepper to taste. Set aside.
Pickle the onion: While the farro cooks, in a small pan, combine the onion, vinegar, sugar, and ½ cup of water. Cook on medium heat, occasionally swirling the pan, 4-6 minutes or until the sugar has dissolved and the liquid is slightly reduced. Transfer to a heatproof bowl and set aside.
Make the salad: To the pot of farro and kale, add the pickled onions (draining just before adding), roasted sweet potatoes, and the juice of all 4 lemon wedges. Toss to combine. Season with salt and black pepper to taste.
Divide the salad between 2 dishes. Garnish with the mint, ricotta salata, and hazelnuts.
 More main dish salads!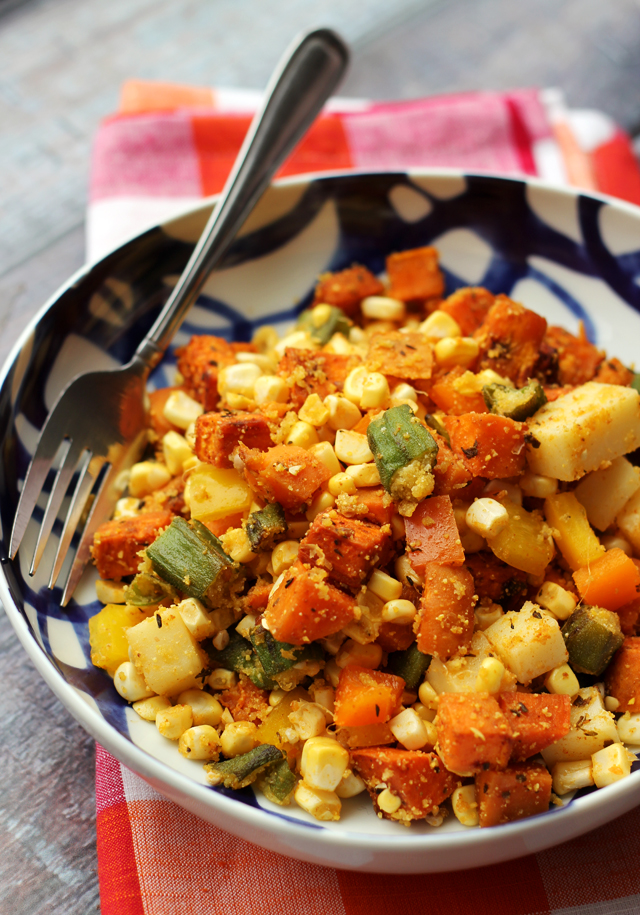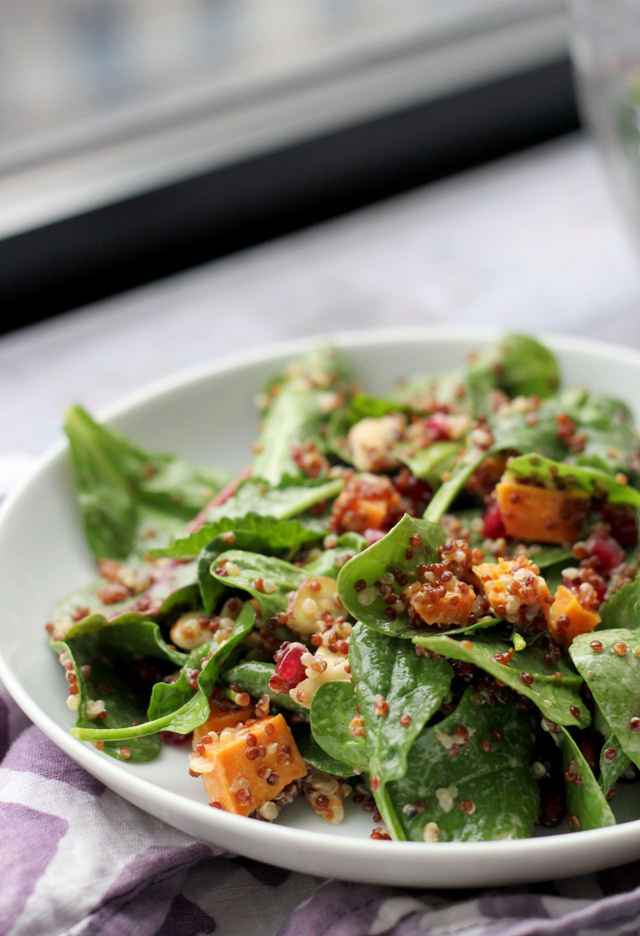 Crispy Quinoa and Power Greens Salad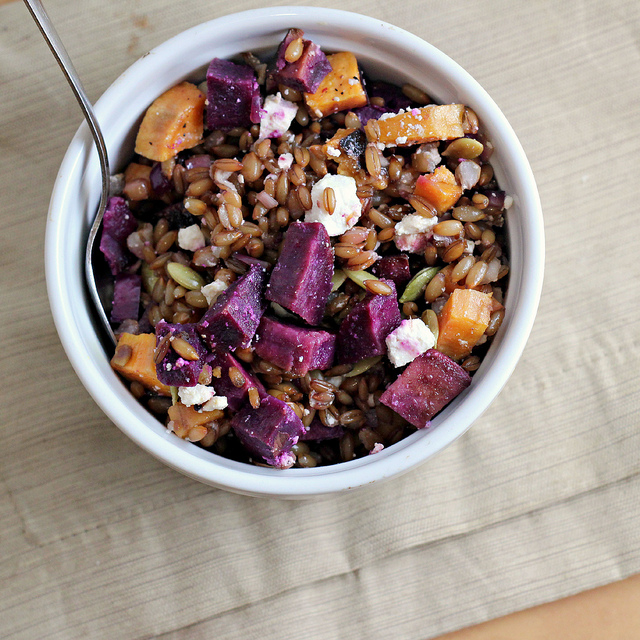 Sweet Potato Salad with Rye Berries, Pepitas, and Ricotta Salata
From Around the Web:
Southwestern Roasted Vegetable Quinoa Salad from Joyful Healthy Eats
Guacamole Greens Salad with Cilantro Lime Jalapeno Vinaigrette from Blogging Over Thyme
The Ultimate Vegan Taco Salad from Oh My Veggies
Italian Chopped Salad from Annie's Eats
Brussels Sprout Salad with Apples, Cranberries, and Aged Gouda from Pink Parsley