A rich paneer butter masala curry that will ensure you will never feel compelled to order take-out again!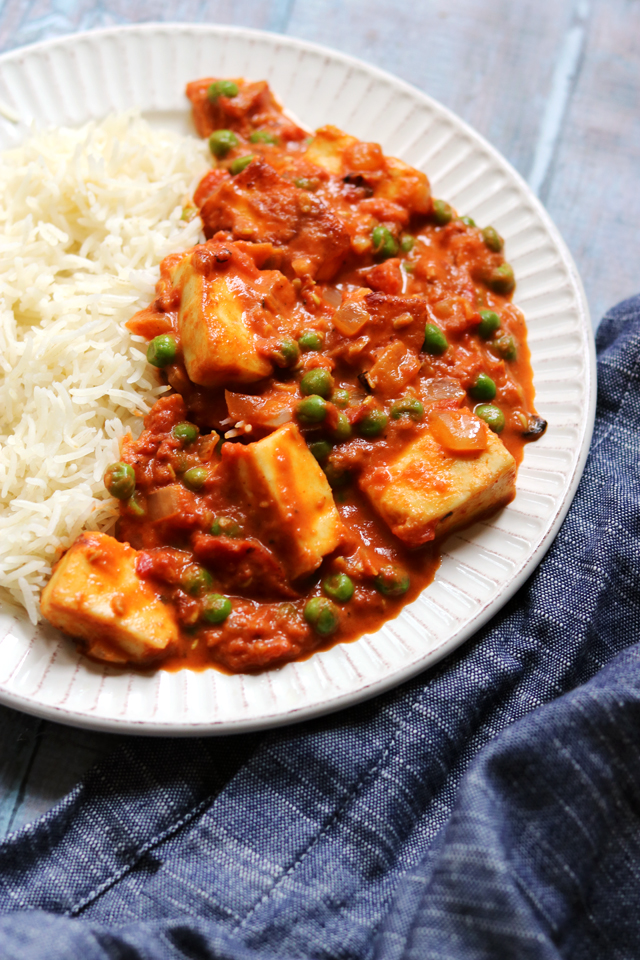 It's February!
My birthday month aka the month where I spend 28 days straight making all of my favorite food and forcing it down my family's (and your) throats. One could argue I should do that every month (and I kind of do), but….there's just something extra special about it when you call it your birthday month.
Also, it just gives you an excuse to eat more cake. Can't argue with such sound logic.
Let's kick it off with paneer butter masala!!!!
So this is basically the easiest, best, takeout knock-off you will ever make at home.
I'm not saying you'll never order anything tikka or butter masala again. You probably will, at least once or twice…but then you'll taste it and realize OMG WHY DID I EVEN WASTE MY MONEY. Restaurant versions of this (in my experience) inevitably end up being overly creamy, too sweet, and way not spicy enough. When you make it at home, you can control all of these factors!!!
This recipe for paneer butter masala is from Meera Sodha's Fresh India cookbook, which I am obsessed with. The recipes are all super approachable and use the minimal amount of spices/exotic ingredients to get the most authentic flavor possible. It makes cooking delicious Indian food at home so easy.
First, you fry paneer cubes in a little bit of oil until they're golden on most sides (I almost never have the patience for all sides, oops). Then you use the same pan to create a rich and luscious tomato sauce that is lightly spiced with fenugreek, cinnamon, cloves, and touch of chili powder. I was wary about the cloves since they're not really my favorite and can be very strong, but they just work here! Promise. The paneer then gets added back in along with peas and a drizzle of heavy cream. Serve over basmati rice or with a large piece of naan to soak up that sauce.
Yay for birthday month, am I right???

Paneer Butter Masala
A rich paneer butter masala curry that will ensure you will never feel compelled to order take-out again!
Ingredients
1-2 tbsp canola oil
1 lb hard paneer, cut into ¾-inch cubes
3 tbsp unsalted butter
1 large onion, diced
1 tbsp minced ginger
6 garlic cloves, minced
28 oz canned crushed tomatoes
1 tbsp dried fenugreek leaves
1 tsp ground cinnamon
¼ tsp ground cloves
½ tsp kashmiri chili powder
2 tbsp honey
1½ tsp salt
1½ cups peas
½ cup heavy cream
Instructions
Place the oil in the bottom of a large frying pan over medium heat. Once hot add the paneer and fry until golden on all sides, a few minutes, turning often. Remove the paneer to a plate.
In the same pot, add the butter over medium heat. Once it is melted, add the onion and fry for 10 minutes or until golden. Stir in the ginger and garlic, sauteeing for 2-3 minutes. Add the crushed tomatoes. Cover with the lid and cook for 12-15 minutes.
Stir in the fenugreek, cinnamon, cloves, chili powder, honey and salt. Once combined, add in the paneer. Cover the pan and cook for another 5 minutes. Add in the peas and cream. Cook uncovered for another 5 minutes.
Serve over steamed rice.