A comforting (but healthy!) cardamom-spiced butternut squash gratin with kale and toasted almonds – creamy crunchy and totally delicious.
Disclosure: This post was sponsored by Blue Apron. As always, my thoughts and opinions are my own. Keep reading to find out how you can get an AWESOME discount on your first order!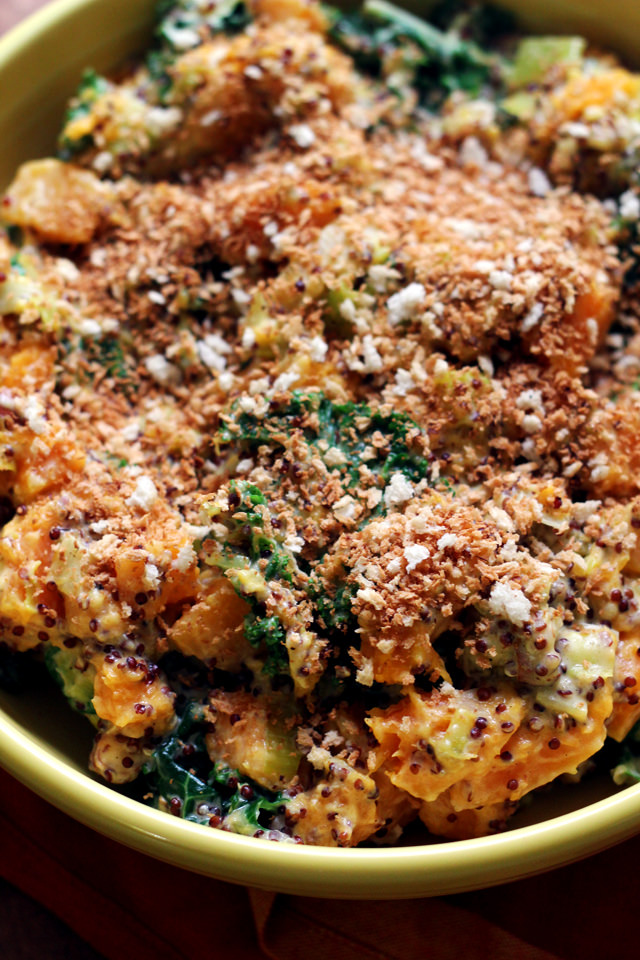 When trying to figure out what to make for dinner feels like the sequel to Goldilocks and the Three Bears.
Every recipe has too much of this, doesn't use up enough of that, and requires a trip to the grocery store for an ingredient that is only sold in 12 pound bottles that may just take you the better part of a decade to use up.
Welcome to EVERY.SINGLE.NIGHT. Or, at least one night a week, but still. That's one night too many.
If you're nodding at me with weary eyes right now thinking YES YES YES! THAT! EXACTLY!
Then (a) obviously we are soulmates and (b) I have to tell you about Blue Apron.
AKA my secret "what's for dinner?!" weapon.
Blue Apron is basically a grocery delivery service that allows you to create delicious, chef-designed recipes at home. Basically, they provide the ingredients and the recipes, and then you do the cooking. The selection of recipes that you can choose from changes every week, with each of them emphasizing seasonal ingredients and flavors. What I love about the recipes is that they are not your run-of-the-mill boring meals. They span a wide range of different cuisines and don't shy from including more esoteric ingredients. For example, my menu included Saba – a thick grape syrup almost like very thick and sweet balsamic vinegar – in a salad dressing, which I had never heard of before. The recipes definitely try to push you out of your cooking comfort zone, at least a little, while guiding you every step of the way so you don't feel totally overwhelmed.
You can choose either the 2-person plan or the family plan, which feeds a family of four. The 2-person plan comes with one delivery a week, each delivering three inventive meals that serve two people (although two of the dishes that I made did seem to serve 3-4 – yay for lunch leftovers!!), while with the family plan you can receive either one or two deliveries per week, each consisting of two meals. For the 2-person plan, you get to choose from 6 different recipes (3 meat/fish and 3 vegetarian), while for the family plan you can choose from 4. The prices for the two plans are $9.99 and $8.74, respectively, per person per meal and shipping is always free.
For the delivery, you can choose from a variety of delivery times – either during the day or after work. The ingredients are delivered in a refrigerated box, so even if they are delivered while you're not home, they will stay fresh. Blue Apron delivers to over 80% of the country (you can check here for the different delivery zones).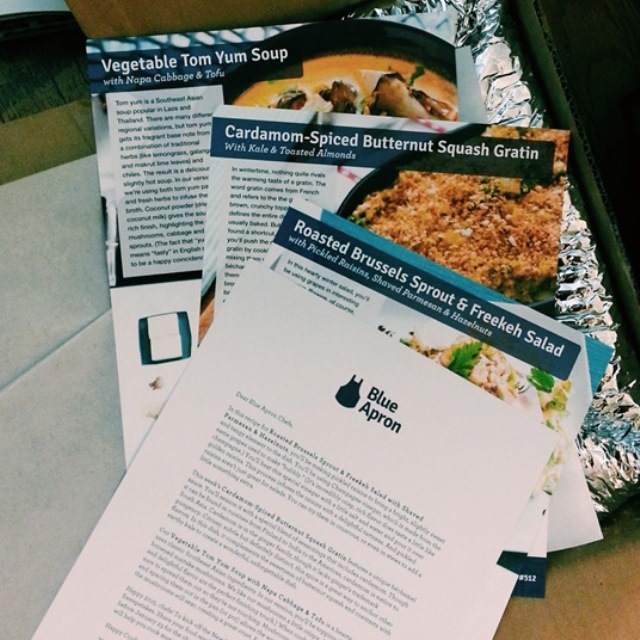 I opted for the 2-person vegetarian plan, so I received the ingredients for three recipes: Vegetable Tom Yum Soup with Napa Cabbage & Tofu, Roasted Brussels Sprouts & Freekeh Salad with Pickled Raisins, Shaved Parmesan & Hazelnuts, and Cardamom-Spiced Butternut Squash Gratin with Kale & Toasted Almonds (featured today). For each recipe, I received a menu card that described the dish, listed the ingredients, and illustrated a few of the key (and/or tricky!) steps involved.
This possibly speaks to my laziness, but I loved that the ingredients were pre-measured so all I had to do was prep and go. I am so bad about getting everything ready before I start cooking and am usually running around trying to find everything I need as I'm cooking (leading me to burn ALL THE THINGS), but with the first step of every recipe being to prep everything, it went so much more smoothly.
The first recipe I choose to try was the cardamom-spiced butternut squash gratin with kale and almonds.
This is likely a surprise to no one because BUTTERNUT and KALE and QUINOA. It's like they created this recipe just for me.
We. Loved. This.
Honestly, I was a little wary of what the.boy would think because BUTTERNUT and KALE and QUINOA. But no. It was definitely love.
The sweetness of the squash is brought out by the creaminess of coconut milk and and a mix of cardamom, saffron, and cayenne. It pairs perfectly with the nutty quinoa and earthy kale, with a little bit of crunch from the breadcrumb topping. It's definitely something I could see myself making again. And again. And again.
Oh, and it definitely made enough to serve 4 people. Which is such a good thing because the leftovers felt so good on so many levels.
Now for the key question – would I use Blue Apron again? YES.
Sometimes you want to make dinner but you just don't want to think about what to make, am I right? Besides, I've been scanning through their recipe list and there are about a gazillion recipe I want to make, like the Fresh Chestnut Pasta with Brussels Sprouts, Ghee, and Poppy Seeds, the Acorn Squash Tempura Tacos, and the Moroccan-Spiced Heirloom Cauliflower Salad, to name a few.
To get you guys SUPER excited about Blue Apron, the first 50 readers to order from Blue Apron (using this link!) will receive two free meals on their first order. WIN. (And JEALOUS.)

Cardamom-Spiced Butternut Squash and Kale Gratin
A comforting (but healthy!) cardamom-spiced butternut squash gratin with kale and toasted almonds - creamy crunchy and totally delicious.
Ingredients
½ cup red quinoa
½ bunch curly kale
1 butternut squash
1 leek
3 tbsp golden raisins
2 tbsp all-purpose flour
2 tbsp panko breadcrumbs
1 (2 oz) packet coconut cream powder
2 tbsp olive oil
1 (1-inch) piece of ginger
½ tsp cardamom
¼ tsp saffron
¼ tsp cayenne pepper
Instructions
Heat two large pots of salted water to boiling on high. Once the first pot of water is boiling, add the quinoa. Cook, stirring occasionally, 18-20 minutes, or until tender; drain thoroughly and set aside.
While the quinoa cooks, wash and dry the fresh produce. Separate the kale stems and leaves; discard the stems and roughly chop the leaves. Peel and halve the butternut squash lengthwise; scoop out and discard the seeds. Medium dice the squash. Trim off and discard the roots and upper, dark green leaves of the leek. Halve the leek lengthwise and rinse thoroughly, keeping the layers intact. Small dice the leek. Peel and mince the ginger. Roughly chop the almonds. In a medium bowl, combine the coconut cream powder and ½ cup hot water. Whisk until thoroughly combined.
While the quinoa continues to cook, add the butternut squash to the second pot of boiling water. Cook, stirring occasionally, 7-9 minutes, or until tender when pierced with a fork. Drain thoroughly and set aside. Rinse out the pot.
While the squash cooks, heat a small, dry pan on medium heat until hot. Add the almonds and toast, stirring occasionally, 2-3 minutes. Transfer to a bowl and set aside. Wipe out the pan. In the same pan, toast the breadcrumbs on medium, stirring frequently, 2-3 minutes, or until browned. Transfer to a bowl and set aside.
In the same pot used to cook the squash, heat 2 tbsp of olive oil on medium until hot. Add the ginger, leek, and spices. Season with salt and black pepper. Cook 3-4 minutes, or until the leek is tender and the spices are fragrant. Add the flour and cook, stirring constantly, 30 seconds to 1 minute, or until thoroughly combined. Add the coconut cream mixture and ¾ cup water. Cook, stirring frequently, 4-5 minutes or until slightly thickened.
Stir the kale, toasted almonds, and golden raisins into the spiced bechamel. Cook, stirring constantly, until the kale has wilted. Stir in the cooked quinoa and squash. Cook, stirring constantly, 30 seconds to 1 minute, until well combined. Remove from heat and season with salt and pepper, to taste. Transfer to a baking dish and top with the toasted breadcrumbs.