A roasted delicata squash salad filled with the fresh flavors of lime juice, mint, feta cheese, pomegranate seeds.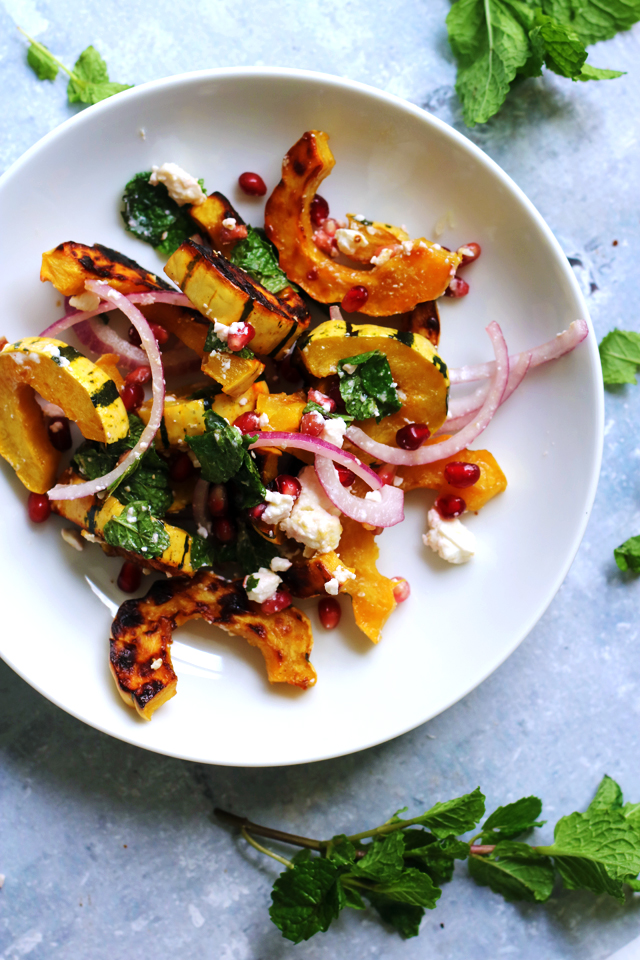 Welcome to my favorite season for salad.
Seems counterintuitive because the weather is getting colder so we should be craving soups and stews. And we are. We are!
But some of us (ahem, THIS GIRL) are also craving big piles of thinly sliced kale and roasted root vegetables all tossed together with crumbles of a bold cheese and a sweet-but-tangy vinaigrette.
What can I say? I know what I want.
If you've been following me on Instagram (in particular, Instagram Stories) or if you live within a twenty mile radius of my apartment, then you've probably heard me shouting my love of the new Sprouted Kitchen Cooking Club from my rooftop.
(Dear landlord: not literally.)
As a self-proclaimed meal planning addict, I've tried my fair share of meal planning services and I have to say – Sara Forte just gets me. She cooks the way I want to cook – simple and vegetable-driven and just good. This is not sponsored at all, but if you're looking for dinner inspiration, then you really should check it out.
Anyway. Back to the salad.
In case you couldn't tell, this roasted delicata salad is taken from a recent Sprouted Kitchen Cooking Club meal plan that was centered around the release of a cookbook called Let's Stay In, authored by another favorite blogger of mine. Delicata is a great squash for salads because it is naturally incredibly sweet and doesn't need much other than a quick jaunt in the oven to turn it into something finger-licking good. Plus the skin gets super soft with roasting so you don't even need to peel it – it just kind of melts in your mouth.
In this salad it is paired with tart feta, thinly sliced raw onions, fresh mint, and sweet-tart pomegranate seeds that are all tossed together in a simple lime juice bath. On the face of it, it is incredibly straightforward but taken together the whole really is greater than the sum of its parts.
I served this salad with grilled cheese sandwiches (to cater to the less refined palates in our household…husband, I'm looking at you) but it would also be great with a simple soup or on its own as a light lunch. You can also feel free to add a grain to give it some extra heft if you're more into that kind of thing, but dare I say it really doesn't need it.
Roasted Delicata Squash Salad
A roasted delicata squash salad filled with the fresh flavors of lime juice, mint, feta cheese, pomegranate seeds.
Ingredients
2 lb delicata squash (about 2 large), halved, seeded, and cut into ½-inch half moons
2 tbsp extra virgin olive oil
¾ tsp sea salt
1 small red onion, thinly sliced
½ cup crumbled feta cheese
½ cup fresh mint leaves
juice of 1 lime
⅓ cup pomegranate seeds
flaky sea salt
Instructions
Heat oven to 425F. Line a baking sheet with parchment paper and set aside.
In a large bowl, toss the squash rings with the olive oil and the sea salt. Arrange on the prepared baking sheet in a single layer and then roast until caramelized, about 30-40 minutes.
Allow the squash to cool on the baking pan for 10 minutes, then toss in a large salad bowl with the onion, feta, mint, lime juice, and pomegranate seeds. Finish with a drizzle of olive oil and flaky salt, then serve.