All the best things about chili night get incorporated into this vegetarian frito chili cornbread slab pie. It's cheesy, spicy, hearty, crunchy and perfect to serve for any winter celebration.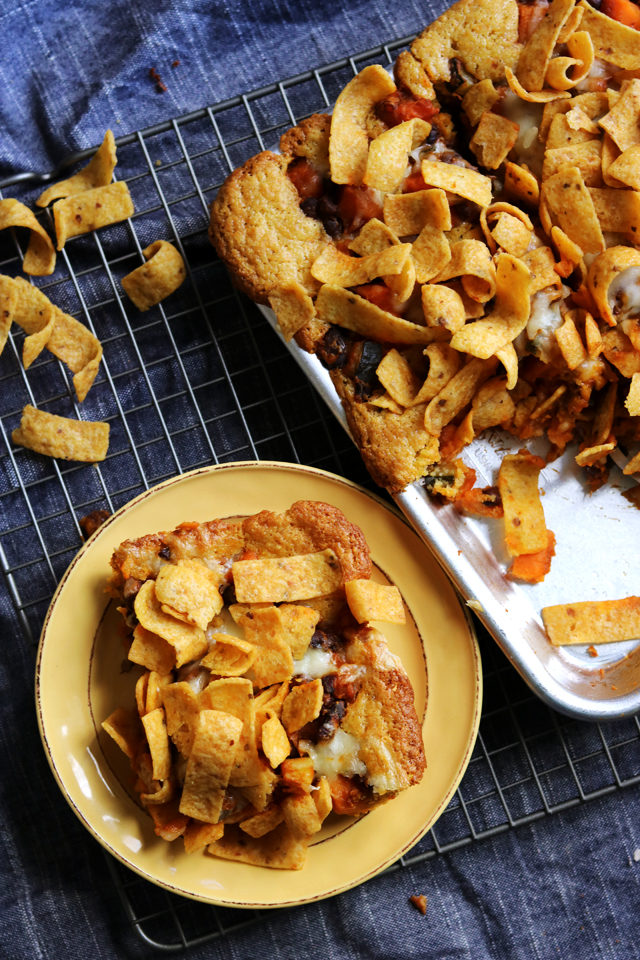 You think you're doing a good thing for your toddler by taking her to the science museum to enrich her mind, make her smarter, tire her out on a Sunday so maybe she'll go to sleep without fighting you until 10PM (especially because she has given up napping on the weekends, cue the violins)…
…and after seeing an exhibit on microbes she comes home terrified that bacteria are going to invade her body.
Literally. Will NOT STOP talking about it, asking what will happen if bacteria go to live in Elmo's body and whether that's why dinosaurs are extinct.
So there we were last night trying to explain the immune system and the gut microbiome and antibiotics to a 3 year old. At 10PM. (So much for that early bedtime we were hoping for.)
I think in the end we convinced her that eating vegetables, sleeping, exercising, and listening to her parents will keep the bacteria at bay. Also we promised her that we would work on putting all the bacteria into a box and locking them away so that no one could ever get sick again.
Welcome to my latest parenting woes. Pull up a slice of chili cornbread slab pie and settle in.
There is so much to love about this slab pie!!
It starts with a base of cornbread batter that gets topped with a black bean chili, then cheese, and then…wait for it….FRITOS. It seems like a bit of a hot mess going into the oven but it comes out as a comfort food masterpiece.
If you had asked me five years ago if I would ever put Fritos on a pie, I would have laughed at you all the way to city hall. But it's 2020, a new decade, and I AM HERE FOR IT.
You will be too.
Vegetarian Frito Chili Cornbread Slab Pie
All the best things about chili night get incorporated into this vegetarian frito chili cornbread slab pie. It's cheesy, spicy, hearty, crunchy and perfect to serve for any winter celebration.
Ingredients
For the chili
3 tbsp safflower oil
1 onion, diced
1 sweet potato, peeled and diced
2 zucchini, peeled and diced
1 (15 oz, 425 g) can black beans, drained and rinsed
¾ cup (180 mL) water
2 tbsp tomato paste
1 tbsp chipotle in adobo (sauce only)
2 tsp chili powder
1 tsp kosher salt
½ tsp smoked paprika
½ tsp ground cumin
½ tsp ground cinnamon
½ cup (50 g) minced scallions
2 tbsp cilantro, finely minced
For the cornbread crust
6 tbsp (85 g) unsalted butter, melted
¾ cup (90 g) all purpose flour
¾ cup (115 g) stone ground cornmeal
1½ tsp baking powder
1 tsp baking soda
1 tsp kosher salt
1 cup (235 mL) buttermilk
2 large eggs, beaten
For the toppings
4 oz (113 g) Monterey Jack cheese, grated
6 oz (170 g) Fritos, slightly crushed
fresh cilantro, lime wedges
Instructions
For the chili
Heat the oil in a large heavy-bottomed pot over medium heat. Add the onions and cook until translucent, about 4-5 minutes. Add in the sweet potato and stir to combine. Cook for 2-3 minutes. Add in the zucchini and toss to combine. Cook until the zucchini begins to soften, about 5 minutes, then stir in the beans, water, tomato paste, adobo sauce, chili powder, salt, paprika, cumin, and cinnamon.
Bring to a boil then lower the heat and simmer for 20 minutes, or until the vegetables are cooked through, stirring occasionally. Stir in the scallions and cilantro and remove the pan from the heat. Let cool.
For the cornbread crust
Heat the oven to 400F (200C). If you have one, preheat a baking steel or stone on the center rack.
Brush a quarter sheet pan with 1 tbsp of the melted butter to grease it.
In a medium bowl, whisk together the flour, cornmeal, baking powder, baking soda, and salt. In a smaller bowl, whisk together the remaining butter, buttermilk, and eggs. Add the egg mixture to the flour mixture and whisk together with a fork. Scoop ½ cup of the batter out of the pan and either discard or save to bake in a small ramekin. Pour the remaining batter into the prepared pan.
Scatter the chili evenly over the top of the cornbread. Top with the grated cheese and then the Fritos.
Slide into the oven (on top of the baking steel if using) and bake until the cornbread starts to pull away from the edges of the pan and the Fritos are golden, about 22 minutes. Serve warm.