Baked tofu with a sweet and spicy peanut sauce, pickled bell peppers, and coconut rice.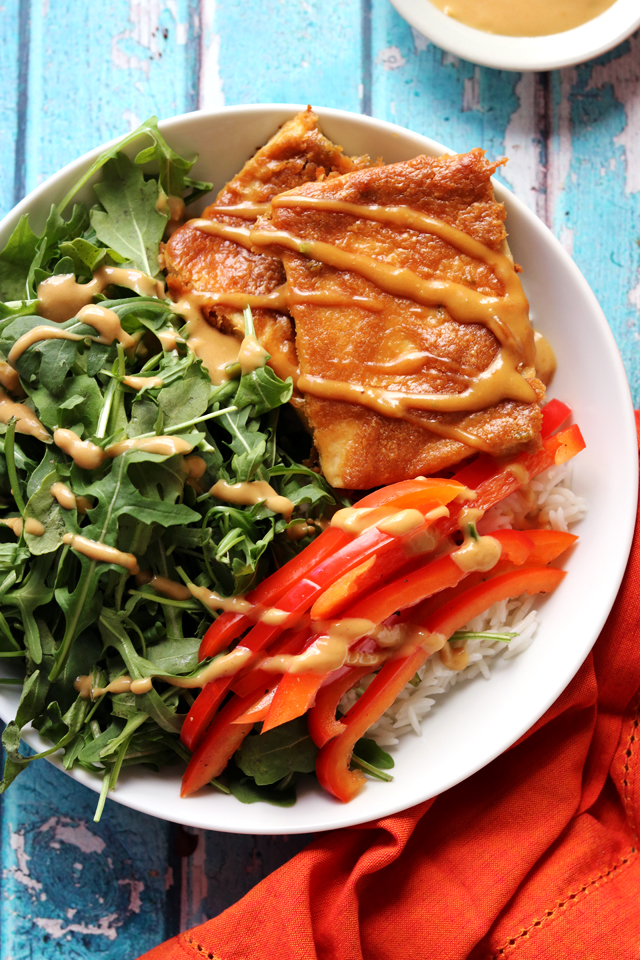 About to declare these baked tofu rice bowls my new favorite thing.
No one is surprised.
I have been OBSESSED with peanut sauce since my college days when the only edible thing in the dining hall was the stir fry counter. The line was always insanely long because they would make the stir fries to order, but also because their peanut sauce was the most addictive, delicious thing in the world.
It was sweet and spicy and savory and probably a gazillion calories but who could care because we were young and free and had the metabolisms of baby horses.
I have been on the hunt for a copycat peanut sauce recipe ever since, but it's been a little difficult to find because no one else but me is out there trying to make MIT's stir fry peanut sauce circa 2005-2009.
This recipe isn't exactly it, but it's pretty close.
This peanut sauce is a mix of peanut butter, miso for umami, soy sauce, minced jalapenos, lime juice, and a touch of honey or maple syrup for sweetness. It gets spooned over your tofu slices and then baked so that it forms a perfect peanut sauce crust on top. The leftovers are loosened up with more lime juice and can then be used as a dressing of sorts to toss with the rest of your rice bowl components.
Also featured in this bowl are quick-pickled pepper slices, a bed of baby arugula (or whatever green your heart desires), and coconut rice.
Feel free to add in other quick-pickled veggies (carrots, radishes, onions come to mind), roasted vegetables, or pretty much clean out your fridge onto your plate and smother whatever you have in peanut sauce. You really can't go wrong.
Baked Tofu with Peanut Sauce, Pickled Peppers, and Coconut Lime Rice
Baked tofu with a sweet and spicy peanut sauce, pickled bell peppers, and coconut rice.
Ingredients
2 tablespoons safflower oil
? cup lime juice (from about 6 limes)
kosher salt and black pepper, to taste
1 red bell pepper, stemmed and thinly sliced
1 cup basmati rice
½ cup full-fat coconut milk
1 cup smooth, natural peanut butter
1 tablespoon red miso
1 tablespoon grated ginger
1 tablespoon soy sauce
1 jalapeno pepper, minced
2 tablespoons honey or maple syrup
2 lb extra-firm tofu, drained and sliced crosswise, ¼-inch thick
3 cups arugula
Instructions
Heat oven to 450F. Spray a half sheet pan with cooking spray or brush with oil.
In a medium bowl, whisk together 4 tbsp of the lime juice with ½ tsp salt. Add in the pepper slices and some black pepper. Toss to combine and set aside.
In a small pot, combine the rice, 1 cup of water, and the coconut milk. Season with salt to taste and bring to a simmer. Cover and cook on medium-low until the rice is tender and all of the liquid has evaporated, 12-15 minutes. Allow to sit, covered, until ready to eat.
In a medium bowl, whisk together 4 tbsp of the lime juice, peanut butter, miso, ginger, soy sauce, jalapeno pepper, 2 tbsp oil, 1 tbsp honey, and ¾ cup water until smooth. Season to taste with salt.
Spread the tofu on the prepared baking sheet in a single layer. Spoon 1-2 tbsp of the peanut sauce over the top of each slice, spreading it to cover the top of each slice and drip over the sides. Roast until the glaze is set and caramelized, about 18-20 minutes.
Meanwhile, add the remaining lime juice and 1 tbsp honey to the rest of the peanut sauce to make the dressing. Stir to combine.
Divide the rice, arugula, pepper slices, and tofu slices between serving plates. Drizzle with the peanut dressing and serve warm.