With an infusion of maple and bourbon, and a rich chocolate crust, this pumpkin pie is bound to be a holiday favorite!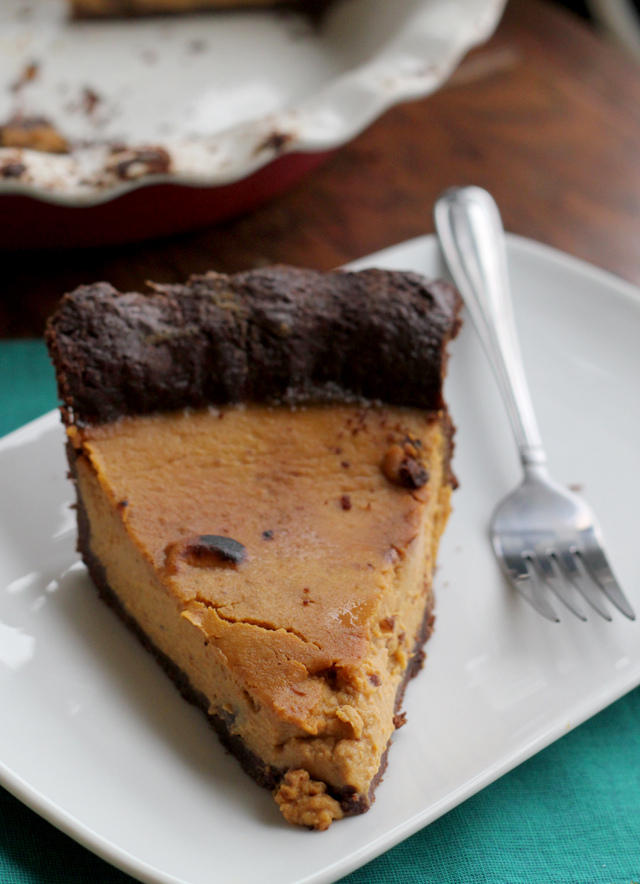 The.Boy and I are making great strides towards ridding ourselves of our trust issues.
Like, for instance, last weekend when he allowed me to bring a blowtorch into our apartment.
And use it. Within a three foot radius of him.
Let's just say that was probably the most tense five minutes of our relationship. Possibly of our lives. Hopefully ever again. Fingers crossed.
But I had seen bruleed pie crust in exactly THREE THANKSGIVING FOOD MAGAZINES.
And the way I feel about crispy crunchy caramelized sugar atop a custardy interior is like what a moth feels about a flame.
In short.
I had to have them. And I was not about to take, "But babe, I really don't think intentionally creating a fire in our apartment is a good idea" for an answer.
A little clickety click on Amazon while his back was turned (so much for honesty) and my adorable little flame thrower arrived two days later. Fueled for action. (Uh, not literally. I had to buy a canister of butane to go with it.)
So bruleeing away I went, while the.boy stood a few arms length back with a fire extinguisher. Just in case.
A little sprinkle of sugar, a little bit of the hot stuff, and there it was. The crispy crunchy caramelized sugar exterior of my dreams.
Except…then I waited for dessert time to actually serve it and it had kind of re-melted and soaked into the filling of the pie so that you couldn't tell it had ever been set on fire. UGH.
But yum. Because it was delicious anyway. Filled with the perfect pairing of maple and bourbon, a hint of tang from the yogurt, and ALL THE FALL THINGS. Surrounded by a chocolate crust. You just can't go wrong.
I NEVER believe in skipping the caramelized sugar, but skip the caramelized sugar and all the stress that comes with it. Trust.

Guys! It's still #PieWeek! Which means we have another AWESOME giveaway for you, along with a whole SLEW of ridiculously fabulous pies. Here goes. Today's giveaway is one of my favorites because it involves the maker of some of my favorite kitchen tools – OXO – AND the brand that I will probably devote most of my wedding registry to – Le Creuset! See below for how to enter!!
Look for more Pie Inspiration? Check out what the other ladies have created:
Lattice-topped Cranberry Blueberry Pie– The Baker Chick
Amish Peanut Butter Pie– Nutmeg Nanny
Whole Wheat Blueberry Hand Pies– Chocolate and Carrots
Chocolate Cream Pie with Meringue Crust (gluten free)- Dessert for Two
Bourbon Maple Pumpkin Pie– Eats Well with Others
Apple Pear Butter Pie with Gingersnap Crust– Bake or Break
Frosted Slab Apple Pie– Tracey's Culinary Adventures
Dulce de Leche Apple Hand Pies– Dinners Dishes and Desserts
Chipotle Southwest Mini Turkey Pot-Pies– Country Cleaver
Biscoff Ice Cream Pie– Carla's Confections
Apple Pie with Apple Pie Moonshine– Foodie with Family
One year ago…Whole Wheat Carrot Gnocchi with Peas, Butternut Squash and Ricotta, Miso Harissa Delicata Squash and White Bean Salad with Swiss Chard Sesame Bulgur
Four years ago…Orzotto with Spinach
Maple Bourbon Pumpkin Pie
With an infusion of maple and bourbon, and a rich chocolate crust, this pumpkin pie is bound to be a holiday favorite!
Ingredients
For the chocolate pie dough
¼ cup plus 1 tbsp Dutch process unsweetened cocoa powder
3½ tbsp sugar
1 tsp salt
1¼ cups plus 1 tbsp all purpose flour
8 tbsp chilled unsalted butter, cut into ½-inch pieces
1 large egg yolk
½ tsp apple cider vinegar
For the pie
4 large eggs
15 oz canned pumpkin puree
¼ cup greek yogurt
2 tbsp bourbon
1 tsp ground cinnamon
½ tsp kosher salt
¼ tsp ginger
¼ tsp nutmeg
¾ cup pure maple syrup
1 tsp vanilla extract
1 cup heavy cream
Instructions
For the pie dough, pulse the cocoa powder, sugar, salt and flour in a food processor to combine them. Add the butter to the processor and pulse until the mixture resembles coarse, wet sand.
In a small bowl, whisk together the egg yolk, vinegar, and ¼ cup ice water. Drizzle into the food processor and pulse until mixture starts to come together. Turn the dough out onto a lightly floured surface and pat it into a 1-inch thick disk. Wrap in plastic wrap and chill for at least an hour but up to 48 hours.
When ready to bake the pie, roll out the pie dough on a lightly floured work surface to a 14-inch round. Transfer to a 9-inch pie plate. Trim so that there is about a 1-inch overhang, folding the overhang under the pie and crimping, if desired. Chill in the freezer for 15 minutes.
Preheat the oven to 350. Line the pie with parchment paper and fill with dried beans. Bake until the crust is dry around the edges, about 20 minutes. Remove the beans and parchment paper and bake for 5 minutes more, or until crust looks dry. Brush the bottom and sides of the crust with a beaten egg. Return to the oven and bake for 3 minutes. Set aside while you make the filling.
In a bowl, whisk together the pumpkin, greek yogurt, bourbon, cinnamon, salt, ginger, and nutmeg. Whisk in the remaining 3 eggs. Set aside.
Pour the maple syrup into a small saucepan, along with the vanilla. Bring to a boil, then reduce heat to medium-high and simmer until mixture thickens, about 3 minutes, stirring frequently. Remove from the heat and slowly stir in the cream, stirring until smooth. Slowly whisk the hot maple cream into the pumpkin mixture.
Place the pie dish on a parchment-lined baking sheet and pour in the filling. Bake the pie, rotating halfway through, until it is set around the edges but the center barely jiggles, 50-60 minutes. Transfer to a wire rack to cool.
Notes
Adapted from
Bon Appetit