A salmon nicoise salad with roasted potatoes and string beans tossed in a mustard vinaigrette.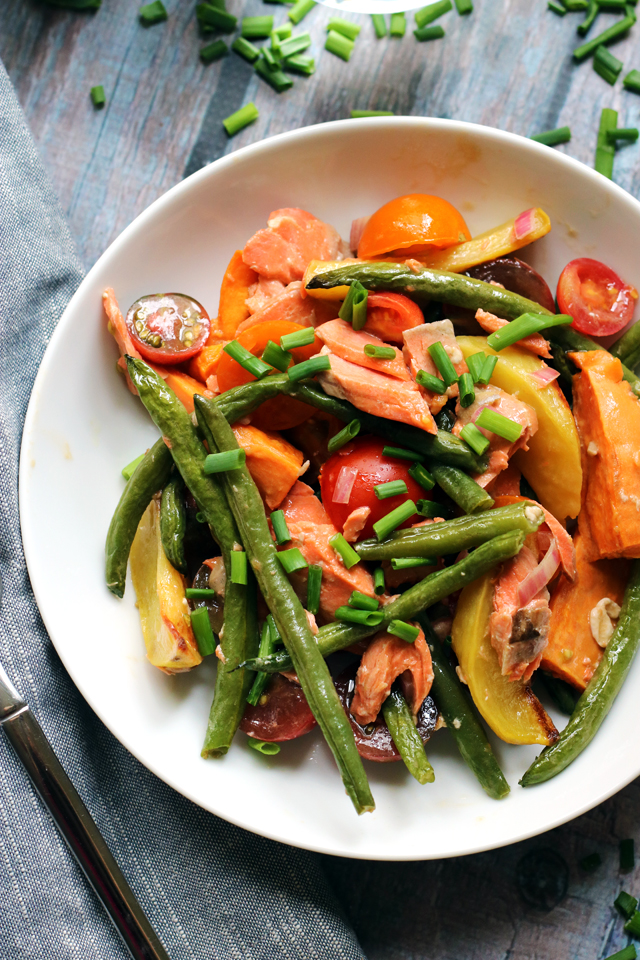 KIDS, you guys.
They reliably wake up at 7:30AM every day and then, BAM.
The one day you're off and actually have the opportunity to sleep in (and yes, 7:30 is sleeping in for me – *tears*), they wake up at frickin 5:30!!!
Ungodly.
This had better be a one-off situation and not the beginning of a new early morning awakening habit. I really don't think that either of us could handle it.
I'm still deciding how to punish my child for this unforgiveable offense (no Elmo for a week? Reasonable??), but on the bright side I felt like I had so much time to get things done today, so maybe it wasn't such a bad thing??
(Just don't tell Remy that.)
So often I intend to make salads for weekly lunches but they are the first thing that gets thrown to the wayside when my meal prep day (aka, my only day off for the week) starts to get too busy. But this weekend I actually got to make one!!!
This is not that salad, but I really ought to add this one to the rotation more often because it has quickly become a family favorite.
The.Boy scarfed it down.
Remy actually ate salmon willingly for the first time in her life.
And I only got to eat it once because my other two dear family members pretty much devoured it while I was on nights and didn't have the wherewithall to hide it in the back of the fridge from their nosy hands. Big regrets there, but nothing that a recipe remake can't fix.
This nicoise stands apart from others in its class in that it features salmon that is roasted on the same sheet pan as the string beans and potatoes, making it SUPER easy to throw together on a weeknight. The dressing, instead of being something that's gloppy and sticky, is a lighter mustard vinaigrette so you can feel good about eating it straight from the salad bowl on late nights (or early mornings, ahem) when finding an extra plate seems like an insurmountable task.
As we do.

Roasted Salmon Nicoise Salad with Mustard Vinaigrette
A salmon nicoise salad with roasted potatoes and string beans tossed in a mustard vinaigrette.
Ingredients
3 medium yellow potatoes, peeled and cut into wedges
1 large sweet potato, peeled and cut into wedges
3 tbsp olive oil
Salt and black pepper, to taste
1 lb green beans, trimmed
3 salmon fillets
8 oz cherry tomatoes, halved
1 bunch chives, minced
For the dressing
1 shallot, minced
4 tbsp red wine vinegar
3 tbsp Dijon mustard
½ cup olive oil
Salt and black pepper, to taste
Instructions
Heat oven to 400F.
In a large bowl, toss together the potatoes, one tablespoon of olive oil, and salt and black pepper to taste. Spread on a parchment-lined baking sheet.
In the same bowl that you used for the potatoes, toss the green beans with another tablespoon of olive oil, salt, and black pepper. Spread on a second parchment-lined baking sheet.
Place both baking sheets in the oven with the potatoes being on the rack closer to the heat source. Roast for 25 minutes.
Brush salmon fillets with remaining tablespoon of olive oil and season the skinless side with salt and black pepper. Once veggies have been roasting for 25 minutes, place the salmon fillets on the baking sheet with the green beans (you can push the green beans over to the side to make room for them). Bake for another 10 minutes then remove both trays from the oven and set aside to cool.
Meanwhile, while the veggies are baking, make the dressing. Whisk together the shallot, red wine vinegar, mustard, and olive oil. Season to taste with salt and black pepper. Set aside.
Once salmon is cool enough to touch, discard the skin if there is any. Use a fork to break it up into bite-sized chunks.
Toss together the salmon, roasted potatoes, roasted green beans, tomatoes, and chives in a large salad bowl along with the dressing. Season again to taste with salt and black pepper. Serve warm or at room temperature.
Notes
An Eats Well With Others Original
More hearty main dish salads: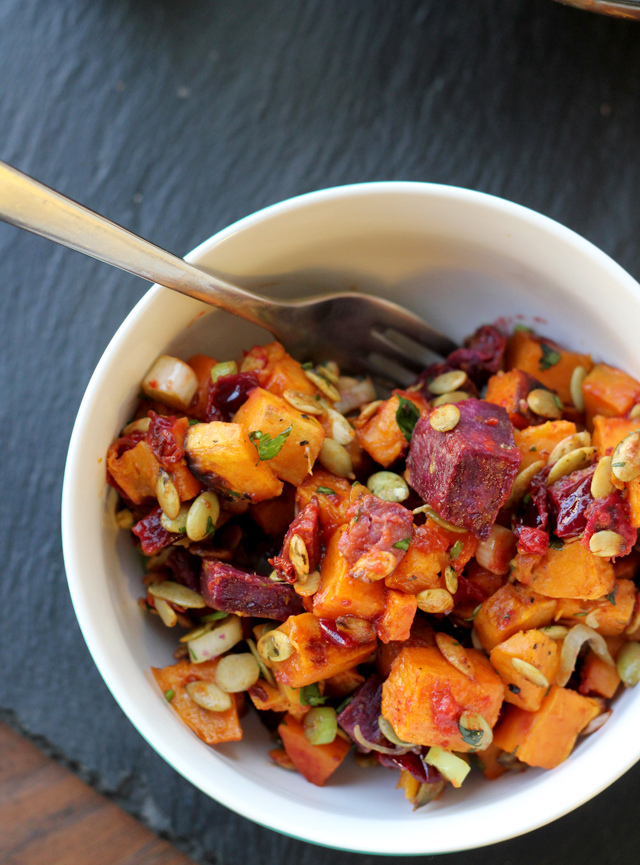 Roasted Sweet Potato Salad with Cranberry-Chipotle Dressing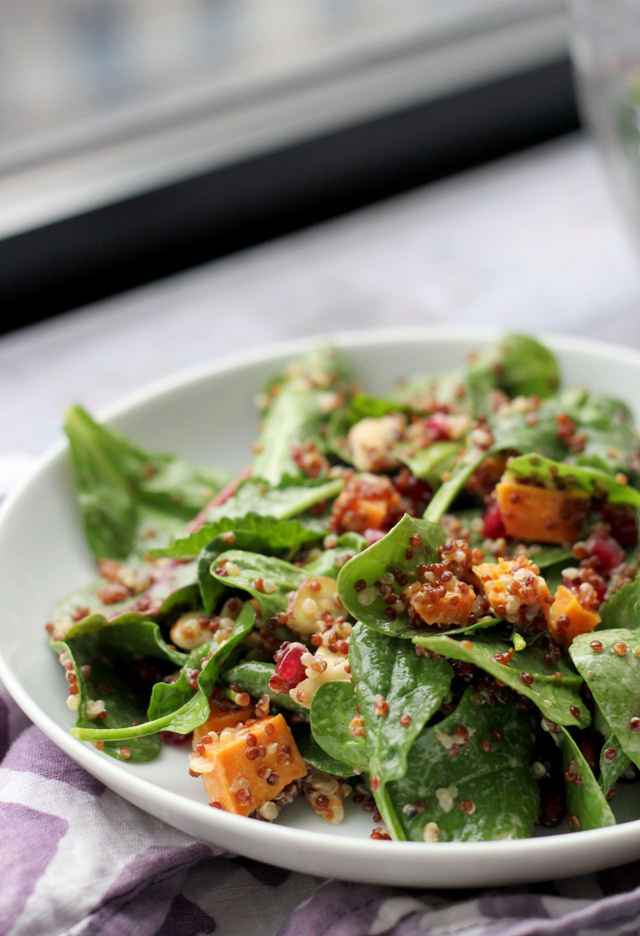 Crispy Quinoa and Power Greens Salad with Smoky Meyer Lemon Vinaigrette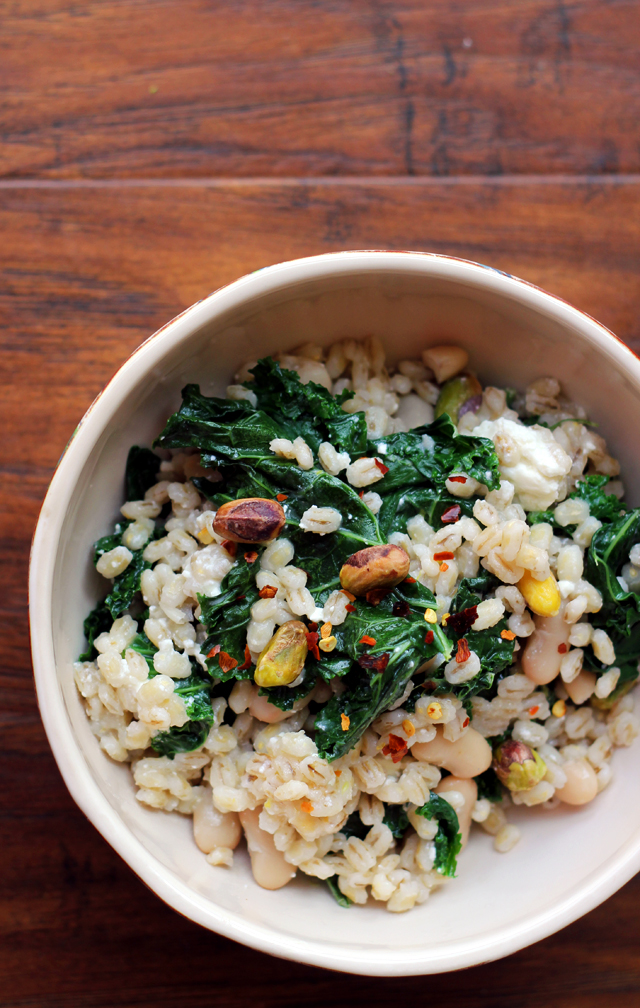 Barley Salad with Kale, Pistachios, and Feta