Sweet fall apples meet savory smoky gouda in this caramel apple smoked gouda galette that is perfect for the holidays!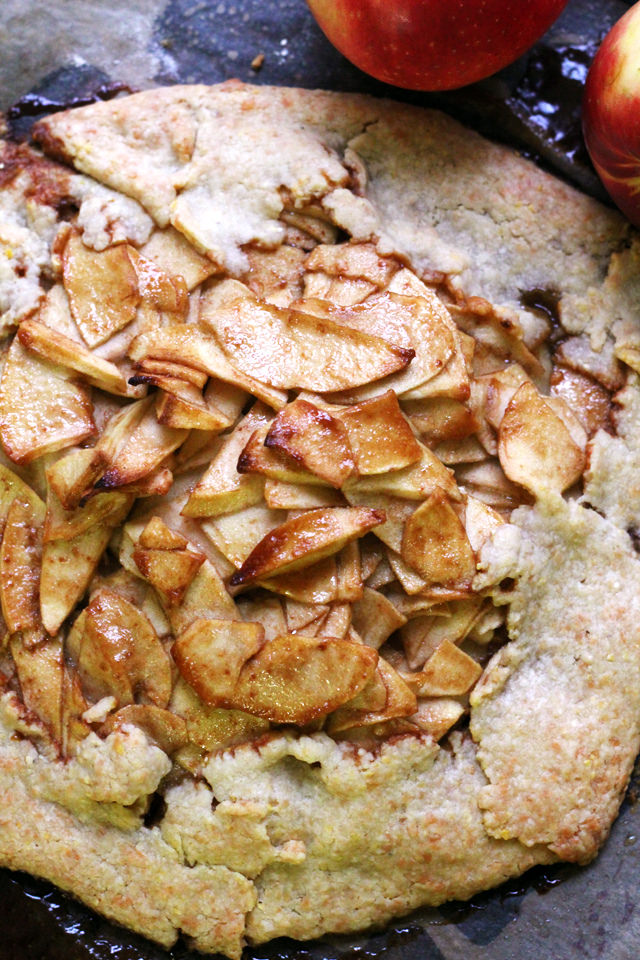 It only took me until four days after the biggest food holiday of the year, but….
PIE MOJO: I think I've found mine.
It's sweet, it's savory, it's caramel apple smothered, and it has what I'm currently considering to be the most delectable crust of all time.
And what's truly the best thing about it?
It's actually a galette!!!!
a.k.a. the rustic, perfect-in-its-imperfections cousin of pie.  It is supposed to be a little bit of a hot mess!! Meaning there is no stress about crimping perfect edges, evenly latticing a top crust, or getting the filling consistency just right. It's just fly by the seat of your pants pie-making.
And it's dang delicious.
The apples turn into tender bites of sweet tartness and their rich flavor is brought out by the caramel drizzle that seeps into them as they bake.  All that sweetness is cut by the buttery flaky hint-of-savory crust that compliments them perfectly.
Now, the smoked gouda addition to the crust may seem a bit freaky to some of you, but you really can't taste it except for the fact that the crust is extra addictive. You can tell that it has a little something something going on, but unless you stare at the ingredient list it's unlikely to be apparent to even the most discerning palate.
Thanksgiving may be over, but I'm betting your December is chock full of holiday get-togethers. And pie is always welcome.
Always.
As with most of my baking creations, I used Bob's Red Mill Organic Unbleached All Purpose White Flour for my crust! I love that I know that every bag is freshly milled from organic hard red wheat and that it is not enriched with any additives. As a result, it is incredibly versatile and can be used in just about any holiday baked goods, from cookies to cakes to PIES. Want to try it out for yourself? Use this coupon to get $1 off any Bob's Red Mill product of your choice!

Caramel Apple Smoked Gouda Galette
Sweet fall apples meet savory smoky gouda in this caramel apple smoked gouda galette that is perfect for the holidays!
Ingredients
For the crust
¾ cups Bob's Red Mill Organic Unbleached All Purpose White Flour
2 tbsp stone-ground yellow cornmeal
1½ tbsp sugar
½ cup grated smoked Gouda
3.5 oz unsalted butter, cubed and chilled
1-2 tbsp ice water
For the caramel
1⅓ cups sugar
¾ cup heavy cream
¼ cup light corn syrup
4 tbsp unsalted butter, cubed
½ tsp kosher salt
For the galette
1½ lb Pink Lady apples, peeled, cored, and thinly sliced
½ cup light brown sugar
Instructions
For the crust, in a food processor, pulse together the flour, cornmeal, and sugar to combine. Add in the smoked Gouda and pulse for another second or two. Add in the butter and pulse until the butter is in pea-sized crumbs. Add in the water, a tablespoon at a time, just until the dough starts to come together. Pat the dough into a flat disc and cover with plastic wrap. Refrigerate for at least 2 hours or overnight.
For the caramel, put the sugar into a heavy saucepan and heat over medium heat. In a separate saucepan, heat the heavy cream and corn syrup over medium low heat to a low simmer.
As the sugar warms, it will start to melt and turn golden. Stir it using a wooden spoon to evenly distribute the sugar as it melts, just until it is all melted and a medium amber color. Add the heavy cream mixture and remove from the heat. When it settles down, return to the heat and stir just until it comes together and is smooth. Add in the butter and salt and stir until smooth. Remove from the heat and pour into a heatproof jar to cool.
When ready to bake the galette, line a baking sheet with parchment paper. In a medium bowl, toss together the apples and brown sugar. Heat oven to 325.
Roll the refrigerated pie crust out into a 13-inch circle on a floured, cool surface. Arrange the apples on the dough, leaving a 1½-inch border around the edges. Drizzle ½ cup of the caramel over the apples.
Lift one side of the dough so that it partially covers the apples and press it down. Repeat around the galette, making 5-6 large pleats, pressing firmly so that they stick together. Refrigerate or freeze for 15 minutes.
Bake for 45-55 minutes, or until the crust is golden and the apples are tender. Let cool completely before serving.
Notes
Adapted from
Sweet
I was selected for this opportunity as a member of Clever Girls and the content and opinions expressed here are all my own.