Savory, lightly spiced chickpea pancakes topped with mango paneer – addictive little bites that are perfect for a light lunch or appetizer.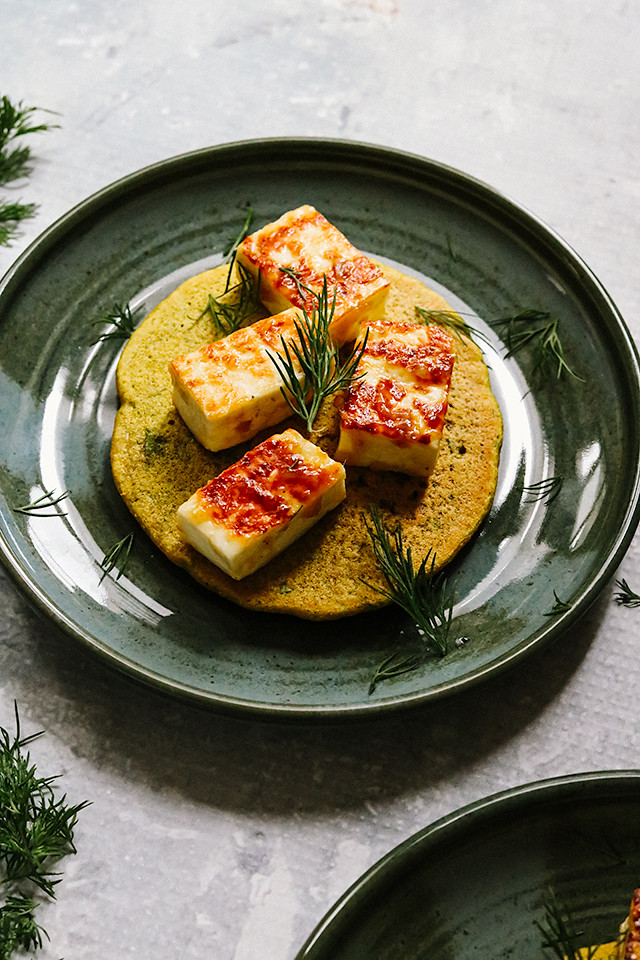 Last December I challenged myself to cook my way through Meera Sodha's Fresh India Cookbook. and I am sooooooooo close to being done. I mostly have a bunch of dessert recipes to make as well as a handful of savory stragglers. It's been a really fun and gratifying experience, especially during this whacko year. We've fallen in love with recipes and ingredients we probably would have never tried and I now have a really well-stocked spice cabinet (lol).
Savory, legume-based pancakes are a staple of Indian cuisine that I've discovered through this cooking process. They come in an innumerable variety of shapes, sizes, flavors, forms, and fillings! It's a whole new world of pancakes that I never knew existed, but I'm loving it.
Because these pancakes are stuffed with protein and fiber, they're more wholesome and filling than the pancakes we typically eat in the western hemisphere. And – bonus! – they're usually naturally gluten free.
The savory pancakes featured here are made from besan or chickpea flour, a handful of spices, water, and fresh herbs. They cook up into the perfect savory little bites and then get stuffed with mango chutney-dressed fried paneer cubes.
Each bite has a little bit of sweetness, salt, and spice. It's so wonderful.
This experience has really just brushed the surface of the many varieties of Indian cuisine and I'm debating whether to dive into another Indian cookbook for my next cooking adventure or to try something new. Indian food is my absolutely favorite, so I'm really torn. If you have any recommendations (preferably of vegetarian cookbooks!) I'm all ears.
Savory Chickpea Pancakes with Mango Paneer
Savory, lightly spiced chickpea pancakes topped with mango paneer - addictive little bites that are perfect for a light lunch or appetizer.
Ingredients
1 cup chickpea flour
½ tsp ground turmeric
1 tsp garam masala
¼ tsp baking powder
salt
8 oz paneer
2 tbsp mango chutney
⅔ cup cilantro, finely chopped
¼ cup dill, finely chopped
canola oil
Instructions
In a medium bowl, whisk together the chickpea flour, turmeric, garam masala, baking powder, and ½ tsp salt. Mix in 1 cup of water and whisk to combine. Allow to rest for 20 minutes.
Meanwhile, cut the paneer into ¼-inch cubes. Put a tbsp of canola oil into a frying pan over medium heat. Once hot, add the paneer and cook until browned all over, turning frequently, about 4 minutes. Pour into a bowl and top with the mango chutney. Season to taste with salt.
Add the cilantro and dill to the batter and stir to combine. In a griddle or nonstick pan, heat a small drizzle of oil over medium heat, turning the pan to make sure it coats it all over. Pour a scant ¼ cup of batter into the pan. Cook for 1 minute, or until the edges start to brown, then flip. Cook for another minute, then flip again. Repeat twice, cooking for 4 minutes in total. Remove from the pan and repeat with the rest of the batter.
Serve the pancakes topped with the paneer and chopped dill to garnish.