Traditional stuffed cabbage gets a makeover in this vegetarian version with a creamy herb, rice, and ricotta filling.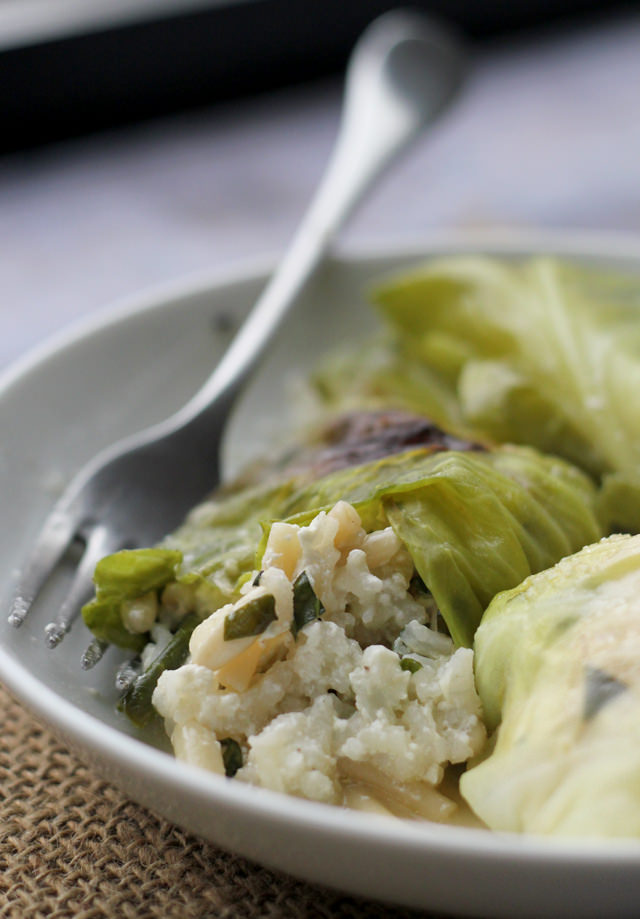 The latest in my never-ending quest to uncover the myriad of ways one can convince a cabbage skeptic to, well, eat cabbage?
Sometimes, you have to fight dirty.
And I mean that in the most provocative of ways.
Say, by uncovering a choice few "scientific articles", all of which point to cabbage as being the aphrodisiac to trump all aphrodisiacs.
The "best natural Viagra", as one stated, or a "warming nutritive sexual tonic", according to the Huffington Post.
I mean, I wouldn't base my thesis off any of these, but lunch or dinner? Totally reasonable.
Just casually scatter a few of these "official documents", with choice selections highlighted, around the apartment, along with a plate or two of these creamy ricotta rice and herb stuffed cabbage rolls. And just wait and see how quickly a pan of these babies gets scarfed down.
Because while your cabbage cynic may take his first bite with the hope of a romantic encounter in mind, his second, third, and fourth bites will all be due to the allure of the rolls themselves. They really are that good.
My only warning is that there might be some, uh, expectations for what will occur after the meal is over.
But if the cabbage really is as "effective" as it's claimed to be, then I don't think that will be a problem.
One year ago…Mexican Vegetable Soup with Avocado
Three years ago…Peanut Butter and Jelly Bars
Stuffed Cabbage with Ricotta and Pine Nuts
This vegetarian version of stuffed cabbage is filled with ricotta, rice, pine nuts, and fresh herbs.
Ingredients
2 tbsp butter
1½ oz skinny noodles
⅞ cup basmati rice
1¼ cups water
salt, to taste
1 medium white cabbage
⅓ cup pine nuts, toasted
¾ cup ricotta
¼ cup grated Parmesan, divided
3 tbsp chopped basil
4 tbsp chopped parsley
3 garlic cloves, minced
black pepper, to taste
1½ cups vegetable broth
1½ tbsp sugar
Instructions
Melt the butter in a small pot over medium heat. Break the noodles into ¾-inch long pieces and add to the pan, stirring constantly, until toasty. Add in the rice and stir to coat with the butter. Add in the water and ½ tsp salt. Bring to a boil and then cover, simmering for 10-15 minutes. Remove from the heat and let sit, covered for 10 minutes.
Meanwhile, cut the cabbage in half lengthwise. Peel off the leaves and place into a pot of boiling water for 6 minutes. Rinse with cold water and apt dry.
Heat oven to 350.
Stir the pine nuts, ricotta, 2 tbsp parmesan, basil, parsley, garlic and salt and pepper to taste into the rice mixture. Scoop the rice into the cooked cabbage leaves, making parcels out of them. Arrange the parcels closely together in an ovenproof dish. Whisk together the broth, sugar, and salt and pepper, to taste. Pour over the cabbage. Bake for 40 minutes, or until liquid has almost totally evaporated. Sprinkle with the remaining 2 tbsp parmesan cheese. Bake for 10 minutes more. Remove from the oven and let sit 5 minutes before serving.
Notes
Adapted from
Plenty: Vibrant Recipes from London's Ottolenghi
Nutrition Information
Serving size:
¼ of recipe