This post was sponsored by Dorot. As always, my thoughts and opinions are my own. This richly spiced Creamy Indian-Spiced Chickpea and Tomato Curry is full good-for-you ingredients and is made creamy with Greek yogurt instead of actual cream.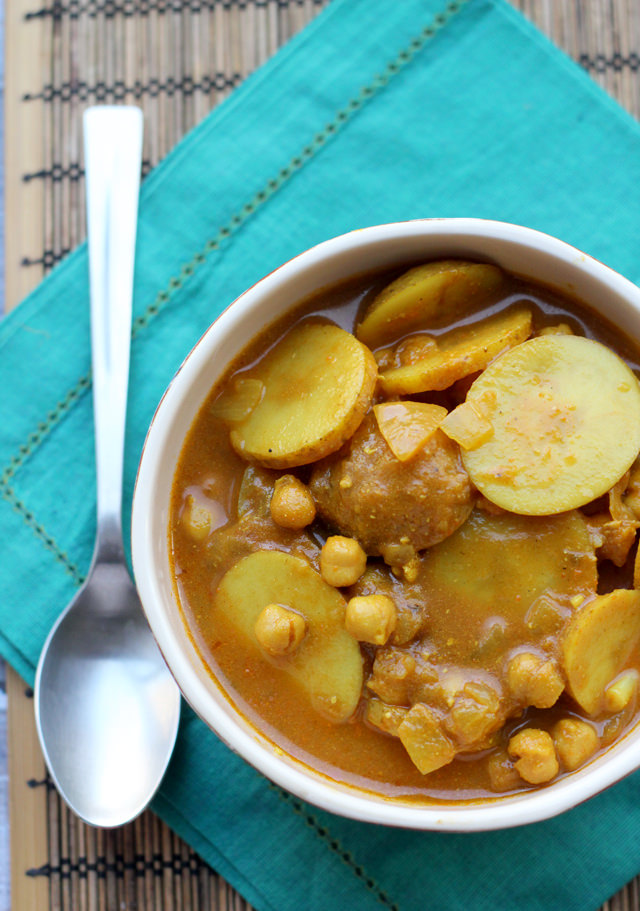 I have a dirty little secret.
And I'm about to share it with you.
Brace yourselves.
I hate chopping garlic.
And mincing ginger.
And dicing chili peppers.
Sometimes I'll even leave them out of a recipe just because I don't feel like doing it.
It's that bad. I'll understand if you excommunicate me. 
Or….you can just hang on a second so that I can tell you about my other dirty little secret, which is Dorot's Frozen Herbs & Spices, found in the freezer section of your local supermarket, and also called Pop & Cook if you buy them at Walmart. These little cubes of frozen spices make life infinitely easier for those of us who are mincing-impaired. All you have to do is pop them out of their little container and into whatever it is you're cooking. And then BOOM. You have a gingery garlicky spicy meal at your fingertips.
Without having to cut a thing/risk losing a fingertip.
It's a win/win for everyone.
The first thing I did when I got my hands on a few packages of these was to make curry! Probably the most spice-filled of ALL THE FOODS.
Having the garlic and ginger pre-minced saved me about 5-10 minutes of time (I am a slow mincer) and it tasted just as fresh and richly flavored as other curries I've made where I minced the garlic and ginger myself. Win.
This curry really hit the spot during winter storm after winter storm that we've been having. Though it seems like it requires a lot of ingredients, most of these are spices you probably have on hand already, and at its core, it's pretty basic. In it, chickpeas and potatoes are simmered in a tomato-based curry sauce that is given a creamy flair from a big scoop of Greek yogurt. It's curry comfort at its finest, which, in my opinion, just can't be beat.
If you want to find out more about Dorot and Pop & Cook frozen herbs and spices, you can find them on Facebook here and here!
One year ago…Linzer Cookies
Two years ago…Spaghetti in Tomato-Apple Sauce, Italian Cream Puffs with Custard Filling
Three years ago…Split Pea Soup
Four years ago…Salmon Poached in Court Bouillon, Red Velvet Cupcakes
Five years ago…Caramelized Sweet Potato, Garlic and Rosemary Mac and Cheese
Creamy Indian-Spiced Chickpeas and Tomato Curry
This richly spiced Creamy Indian-Spiced Chickpea and Tomato Curry is full good-for-you ingredients and is made creamy with Greek yogurt instead of actual cream.
Ingredients
3 tbsp olive oil
½ lb dried chickpeas, soaked overnight and boiled in salted water until tender
1 medium onion, chopped
4 cubes Dorot frozen crushed garlic (or 4 cloves)
6 cubes Dorot frozen crushed ginger (or 2 tbsp)
2 tbsp tomato paste
2 tsp garam masala
2 tsp ground cumin
2 tsp ground turmeric
1½ tsp ground coriander
½ tsp ground cayenne
¾ tsp ground cardamom
6 cups vegetable broth
¾ cup tomato puree
½ cup Greek yogurt
24 oz Yukon Gold potatoes, sliced ¼-inch thick
Instructions
Heat olive oil in a large pot over medium heat.
Add the onion, garlic and ginger to the pot and cook, stirring occasionally, until starting to brown, about 8 minutes.
Add in the tomato paste, garam masala, cumin, turmeric, coriander, cayenne, and cardamom. Cook, stirring constantly for 1-2 minutes.
Add in the chickpeas, vegetable broth, tomato puree, Greek yogurt, and potatoes. Bring to a boil and then simmer, partially covered, for 45 minutes or until sauce has thickened a bit and potatoes are tender. Season to taste with salt and pepper.
Serve atop a bed of rice to soak up the sauce.
Notes
Adapted from
Bon Appetit
Nutrition Information
Serving size:
⅕th of recipe