Pasta with zucchini, tomatoes, pistachios, and feta cheese is a simple pasta dish with Sicilian roots that is full of bright, fresh flavors – perfect for summer eating.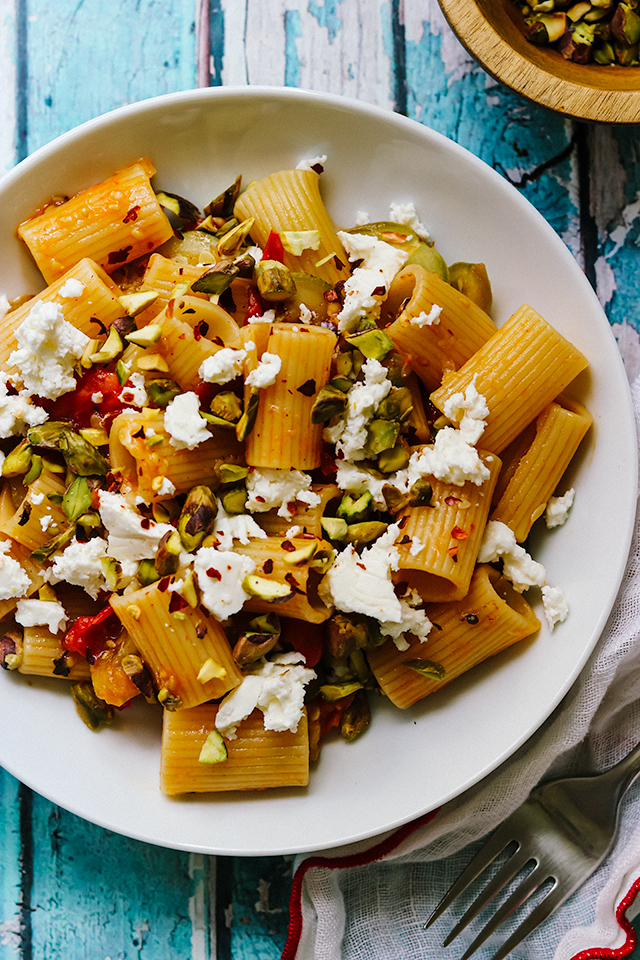 Lightly tomato-sauced pasta with melt-in-your-mouth zucchini and a topping of feta and toasty pistachios is something that I am never disappointed to eat, whether it be a brisk spring day or a sweltering summer eve. 
In fact it's extra perfect for this time when I feel like we have been cooking every meal forever and some days I just don't think I can do one more. I'm bored of all my usual meals but also all of our takeout options and I also don't feel like embarking on new exciting gazillion step recipe adventures. It's so disheartening and uncharacteristic of me, I know, but there it is.
As my husband says (often, when I've made something "weird" that he's not sure he'll like) we can always eat pasta! Yes, we can.
YES WE CAN. 
I'm no stranger to just dumping a jar of pasta sauce on a pound of cooked pasta in desperate (read: lazy) times but this homemade tomato and zucchini pasta sauce is almost as easy and tastes way better than any jarred pasta sauce I've ever had. It can be cooked in the time it takes to boil water and cook your pasta, so while it may interfere with your sitting-on-the-couch-and-scrolling-Instagram time, it won't take any longer to get dinner on the table.
To make this, you start by sauteeing zucchini in a bit of olive oil and garlic until it's soft, lightly golden, and almost dissolves on your tongue. Then you add in the tomato sauce staples – tomatoes (obvi), oregano, red pepper flakes, salt, and black pepper. Simmer away until the tomatoes break down and start to get a little jammy. I used campari tomatoes for this, which are a small-to-mid sized tomato – bigger than cherry or grape tomatoes but smaller than romas or plums. You can really use whatever tomatoes you like here, even canned.
While all of this happening you'll boil a pot of salted water and get your pasta cooking. Once it's done, everything will be tossed together and then topped with feta and pistachios before serving.
The brininess and salty zip of feta cheese with the sweetness of toasted pistachios and all of that carby saucy tomato-and-zucchini pasta goodness….it's like comfort food with a twist and I'm into it. 
Pasta with Zucchini, Cherry Tomatoes, Pistachios, and Feta
Pasta with zucchini, cherry tomatoes, pistachios, and feta cheese is a simple pasta dish with Sicilian roots that is full of bright, fresh flavors - perfect for summer eating.
Ingredients
1 lb zucchini, cut into ¼-inch thick rounds
olive oil
2 garlic cloves, thinly sliced
1 lb campari or other small tomatoes, quartered
1 tsp dried oregano
pinch of red pepper flakes
salt and black pepper, to taste
1 lb rigatoni
¼ cup feta cheese
⅓ cup shelled pistachios, toasted and roughly chopped
Instructions
Heat a drizzle of olive oil in a large skillet over medium heat. Add the garlic and saute until lightly golden, about 1 minute. Add the zucchini and saute until soft, about 7-10 minutes. Add in the tomatoes, oregano, red pepper flakes, salt and black pepper. Cook for 10 minutes, stirring occasionally or until the tomatoes have started to break down.
Meanwhile, bring a large pot of salted water to a boil and cook the pasta according to package instructions until al dente. Drain, reserving ½ cup cooking water.
Add the pasta to the pan with the zucchini and tomatoes. Stir together, adding some pasta water as needed to make a sauce. Season to taste with more salt, pepper, and red pepper flakes.
Divide among serving bowls and top with the feta cheese and pistachios.