Balsamic roasted strawberry, basil, and mozzarella caprese toasts are the perfect easy summer appetizer!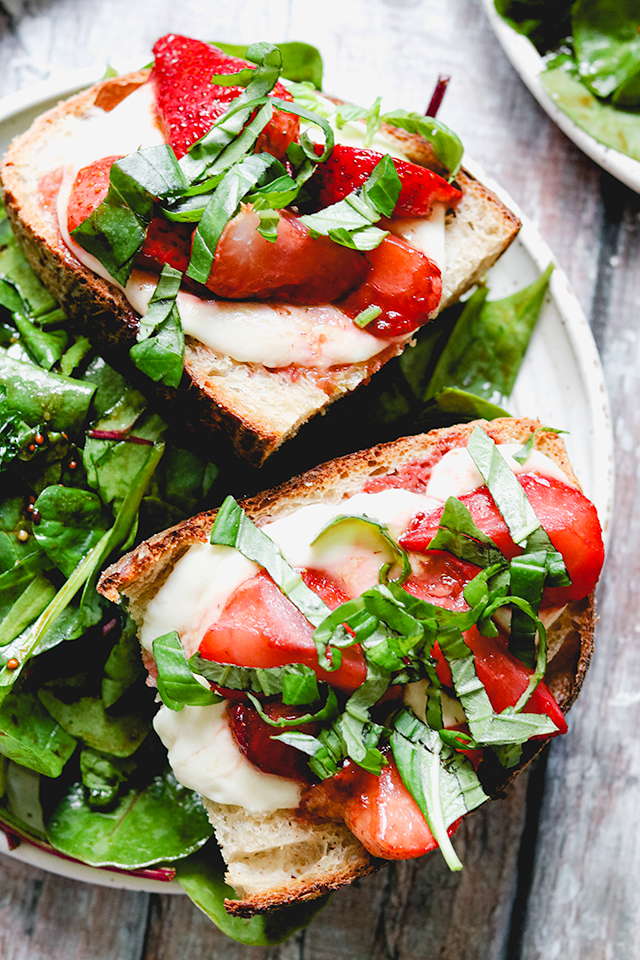 Looking for an easy, fresh, mind-bogglingly delicious summer appetizer?
You've come to the right place!!
I am a HUGE proponent of stuff on toast, whether it be for breakfast, a quick snack, a light meal, or an appetizer. 
HUGE.
Especially now that I'm (still, forever, you can't stop me) making sourdough at least once a week. We need a way to use up all that bread and what better way is there than topped with cheese, produce, and fresh herbs?!
That being said, you don't need homemade bread to make this. Anything crusty with a satisfying interior chew will do.
I've made summer toasts many, many, many times before and they all follow the same basic formula: something creamy + something bright and fruity + something fresh and herby.
Honestly, with that combination you can pretty much never go wrong. 
In fact, as I was making this I thought it tasted kind of familiar and I realized I had made something super similar before, but with a few subtle differences, the main one being that the previous version uses whipped ricotta instead of mozzarella. Both versions are amazing, so you can totally mix and max the strawberry preparations, which also differ a bit, based on what cheese you have on hand or are craving.
These toasts are a play on caprese salad, which is probably the most ubiquitously loved and well-known Italian salad in all of history. Made with the classic trio of tomatoes, mozzarella, and basil this salad is on every Italian restaurant menu and has been featured at every single Eats Well With Others family (and probably every other Italian-American family's) summer dinner for all of time. 
It is believed to have originated on the island of Capri (where it gets its name) where it was made in homage to the colors of the Italian flag, which is red, white, and green.
The original is pretty excellent as is, but I don't think any of us need a recipe for layering three ingredients on a serving platter and then drizzling them with balsamic vinegar. 
I've also (and here is where my ancestors turn over in their graves) long felt that the caprese could be improved upon with a few small changes. My first issue is that tomatoes are truly wonderful for just a short season, and yet my mother (and restaurants everywhere) serve this salad YEAR-ROUND when it should really be a seasonal offering. More often than I care to remember, I've eaten it with hard, flavorless tomato slices AND PAID MONEY FOR IT. Tsk tsk. 
Also, there is no dainty way to eat a caprese salad. Usually it involves spearing both the tomato and the mozzarella with fork, dangling the whole thing over your mouth like bait on a fishhook, and biting, as tomato juices drip down your chin. If only there existed a vehicle to hold all of that juicy, cheesy goodness and transport it to your mouth (insert pensive emoji). 
So here's where I've gone rogue:  I swapped the tomatoes out for balsamic-roasted strawberries and melted the mozzarella to gooey cheese perfection atop toasty bread slices. The result was a burst of sweet, intense strawberry flavor with a hint of tang from the vinegar that gets soaked up in all that cheese and carb glory. It's a flavor revelation and so perfect for these in-between months when nothing is quite perfectly in season but you feel like it should be. Even subpar strawberries turn delicious when roasted, with the balsamic vinegar working to bring out their inner flavor goddesses even more. 
Balsamic Roasted Strawberry, Basil, and Mozzarella Caprese Toasts
Balsamic roasted strawberry, basil, and mozzarella caprese toasts are the perfect easy summer appetizer!
Ingredients
1 lb strawberries, hulled and halved
1 tbsp olive oil
1 tbsp sugar
1 tbsp balsamic vinegar
pinch of salt
1 lb fresh mozzarella, thinly sliced
¼ cup thinly sliced fresh basil
1 loaf sourdough bread, cut in half lengthwise and then into 1-inch thick slices
Instructions
Heat oven to 400F.
In a medium bowl, toss the strawberries with the olive oil, sugar, balsamic, vinegar, and salt. Spread in an 8x8-inch baking sheet and roast for 15-20 minutes or until the strawberries are starting to break down and release their juices.
Arrange the sourdough slices on a sheet pan. Top each with a slice of mozzarella and place in the oven. Roast for 5-10 minutes, or until the mozzarella is melted and the bread is toasted..
Remove from the oven and spoon the roasted strawberries on top of the mozzarella. Top with the fresh basil and serve immediately.
Notes
An Eats Well With Others Original