Two southern delicacies combine to make one awesome summer meal in this bowl of fried green tomatoes with goat cheese basil grits.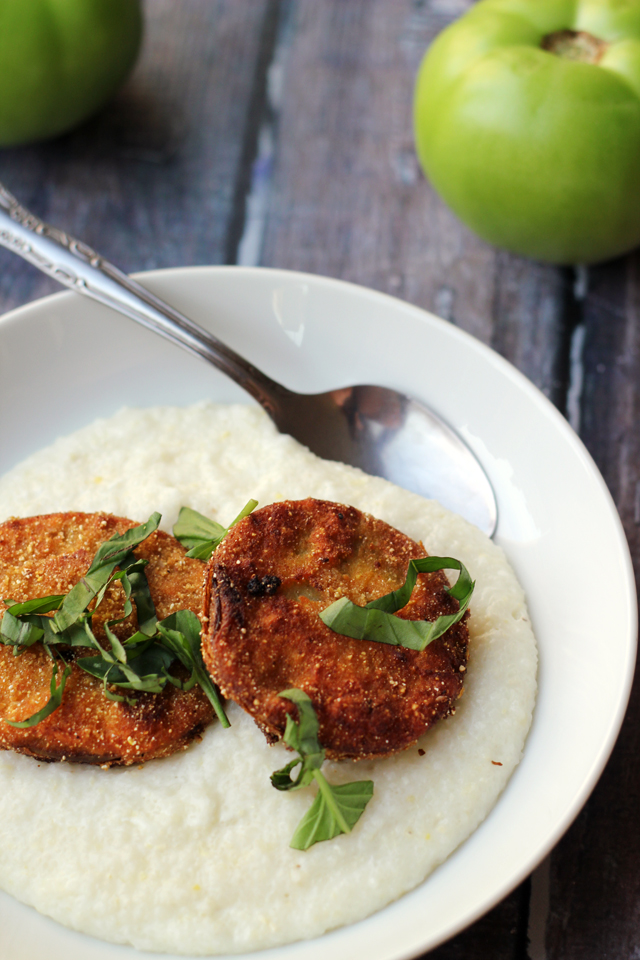 Whoever said you can't teach an old dog new tricks.
Or…an old(er) food blogger how to heat oil to unimaginable temperatures and then stick stuff into it at the risk of losing her limbs all to make it more delicious.
Hi, my name is Joanne and I have a fear of frying.
And flying. But that's another support group for another day.
But when life hands you green tomatoes (and by that I mean, when you impulse buy them at the farmer's market because CUTE), what else can you do but fry them?
(Other than pickle them, saute them, pie them…)
Frying is a life skill I've largely appreciated not having because the less capable I am of doing it, the less fried food I'll consume. And I'll get to keep all my epidermal layers while I (don't) do it. WIN/WIN!
But after eating my first fried green tomatoes in Charleston last year, I knew I wouldn't be able to live myself if I didn't try to make them myself at least once.
And of course, because I was feeling all sorts of overly ambitious, I decided to teach myself how to make fried green tomatoes and grits all in the same day.
Go big or go home. I feel like my southern relatives would approve.
I can't claim a single ounce of authenticity for either of these two recipes, other than the fact that they are largely based on those found in the Tupelo Honey Cafe cookbook, which features recipes from the eponymous restaurant in Asheville, North Carolina. And if they're good enough for them, they're good enough for me.
It doesn't hurt that the fried green tomatoes came together in a painlessly easy way, and were perfectly crispy smoky on the outside and warm and tart on the inside, while the grits were like liquid cream. In the interest of full disclosure, I should note that the.boy was not that into them but he claims to not like cooked tomatoes, so I'm fairly certain his opinion should be disregarded.
Fried Green Tomatoes over Basil-Goat Cheese Grits
Two southern delicacies combine to make one awesome summer meal in this bowl of fried green tomatoes with goat cheese basil grits.
Ingredients
For the fried green tomatoes
2 large green tomatoes or 4 smaller green tomatoes
1 cup white cornmeal
½ cup all purpose flour
1 tsp smoked paprika
1½ tsp salt
½ tsp black pepper
1 egg
⅓ cup milk
1 cup vegetable oil
For the grits
3 cups water
1 tsp sea salt
1¼ cups quick-cooking grits
1 tbsp unsalted butter
2 tbsp milk
4 oz goat cheese
2 tbsp chopped basil, for garnish
Instructions
For the tomatoes, core the tomatoes and then slice off each end so that they are flat on top and bottom. Cut the tomatoes into 4 round slices each and set aside.
In a small bowl, whisk together the cornmeal, flour, paprika, salt, and black pepper. In a separate bowl, whisk together the egg and the milk. Dredge each tomato slice in the flour mixture, then dip it into the egg wash and then dredge in the flour again.
In a heavy saute pan, heat the oil until bubbling. Place the battered tomatoes in the pan and cook for about 1-2 minutes per side, or until golden brown. Drain on a paper towel. Serve atop the grits.
For the grits, in a large pot, bring the water and salt to a boil. Whisk in the grits and butter and then allow to return to a boil. Add in the milk. Lower the heat and simmer for 5 minutes, or until creamy. Remove from the heat and whisk in the goat cheese until thoroughly combined. Serve garnished with the basil and the fried green tomatoes.
Notes
Adapted from
Tupelo Honey Cafe: Spirited Recipes from Asheville's New South Kitchen
Nutrition Information
Serving size:
¼ of recipe
For more summer-worthy meals, check out these: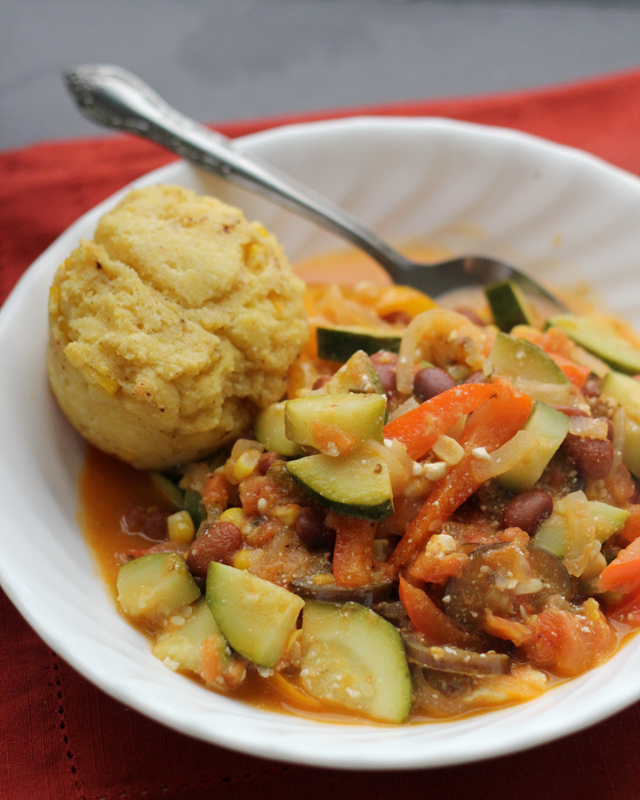 Summer Vegetable Stew with Brown Butter Cornbread Muffins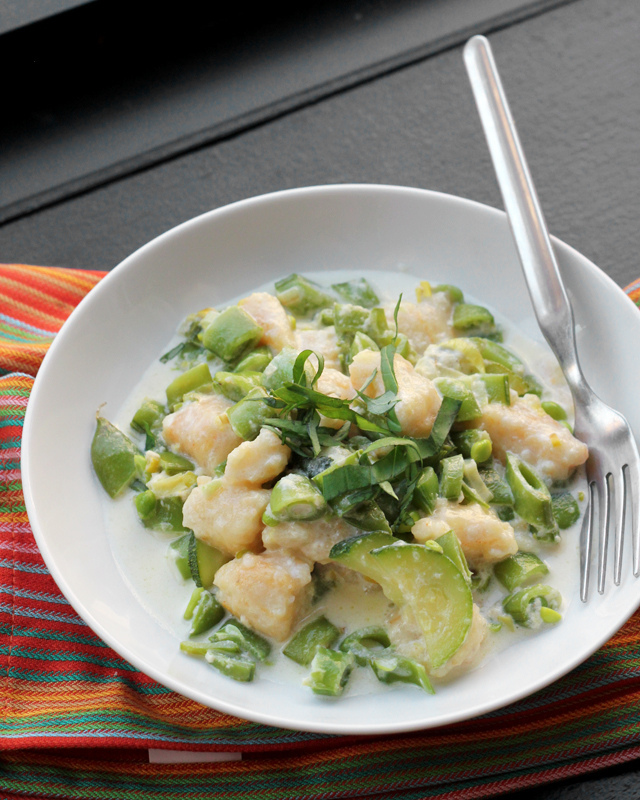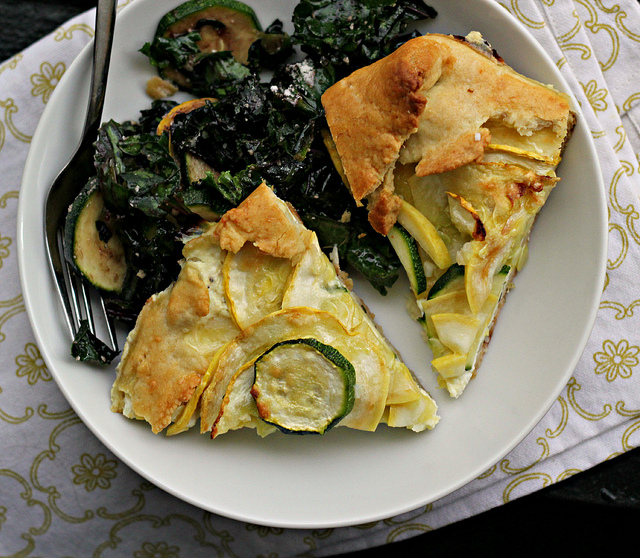 Summer Squash and Ricotta Galette
From Around the Web:
Chili Lime Cucumber Noodles on Salted Watermelon from The First Mess
Summer Lemon Cake from Chasing Delicious
Spiralized Greek Cucumber Salad with Lemon and Feta from Skinnytaste
Tomato and Peach Salad with Buttered Bread and Pistachios from Joy the Baker
Creamy Summer Corn and Potato Chowder from The Wicked Noodle