A lemony cornmeal muffin made a bit decadent by the nutty flavor of pistachio.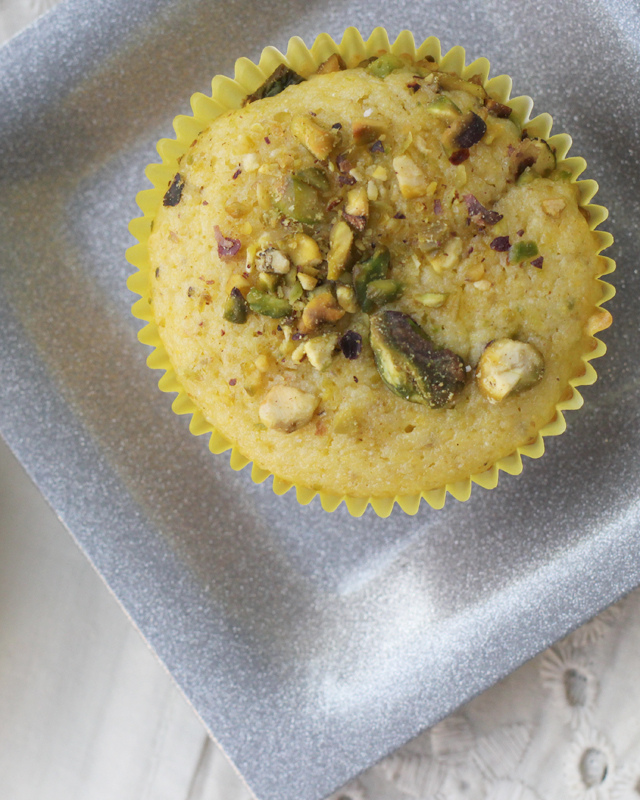 Do you guys know what a Monet is?
Okay, obviously the French impressionist painter but we're going more of the urban dictionary route here. You know. The Clueless definition.
To directly quote Cher, it's something that "from far away [looks] okay, but up close it's a big old mess".
That's what I've always felt corn muffins taste like.
Good in principle with their fine crumb that has just a hint of texture from the gritty cornmeal but kind of anti-climactic when you get all up close and personal with that first bite and realize that whatever you just ingested was so not worth the calories. Blech.
In short.
They are long overdue for a makeover.
So like Cher with Tai, I put them in a pretty new pistachio-infused dress, added a few drops of lemon, and all of a sudden they're getting catcalled left and right.
The true test, of course, is that first bite and let me tell you, something magical happens when you ground up pistachios to a fine powder and throw them into the corn muffin mix. All of a sudden what was once a plain Jane breakfast good is now a total Betty. Decadent, rich, and absolutely worthy of your morning indulgence. Dare I say, even the girls of Beverly Hills High School would approve.
One year ago…Latin Corn Soup
Two years ago…Unstuffed Cabbage with Chickpeas, Zucchini, Swiss Chard and Bulgur, Whole Wheat Zucchini Chocolate Chip Banana Bread
Three years ago…Peanut Butter Oatmeal Chocolate Chip Cookies, Maple Brown Sugar Cookies
Lemon Pistachio Cornmeal Muffins
A lemony cornmeal muffin made a bit decadent by the nutty flavor of pistachio.
Ingredients
½ cup shelled pistachios, divided
2 large eggs
¾ cup greek yogurt
2 tsp lemon juice
zest of ½ lemon
3 oz unsalted butter, melted and cooled
¾ cup all-purpose flour
1¼ cups yellow cornmeal
1 cup granulated sugar
1 tsp salt
2 tsp baking powder
Instructions
In the bowl of a food processor, pulse the pistachios until they are coarsely chopped. Set aside ¼ cup of the pistachios, but continue to process the rest of them until they are powdery.
Heat the oven to 400. Line a standard muffin pan with cupcake liners.
In a medium bowl, whisk the eggs. Add in the greek yogurt, lemon juice, lemon zest, and butter. Whisk until combined. Set aside.
In a large bowl, whisk together the flour, cornmeal, sugar, salt, pulverized pistachios, salt and baking powder. Make a well in the middle of the dry ingredients and pour the wet ingredients into it. Fold the dry ingredients into the wet ingredients until just combined.
Fill each muffin cup about ¾ full. Sprinkle the tops with the coarsely chopped pistachios. Tap the bottom of the pan against a flat surface (counter or table) to make sure the batter is level and there are no air pockets. Bake for 12-15 minutes or until a toothpick inserted comes out clean. Let cool for 10-15 minutes before removing from tin.