Ginger macarons team up with pumpkin bourbon buttercream to make a sandwich cookie that is perfect to round out any fall feast!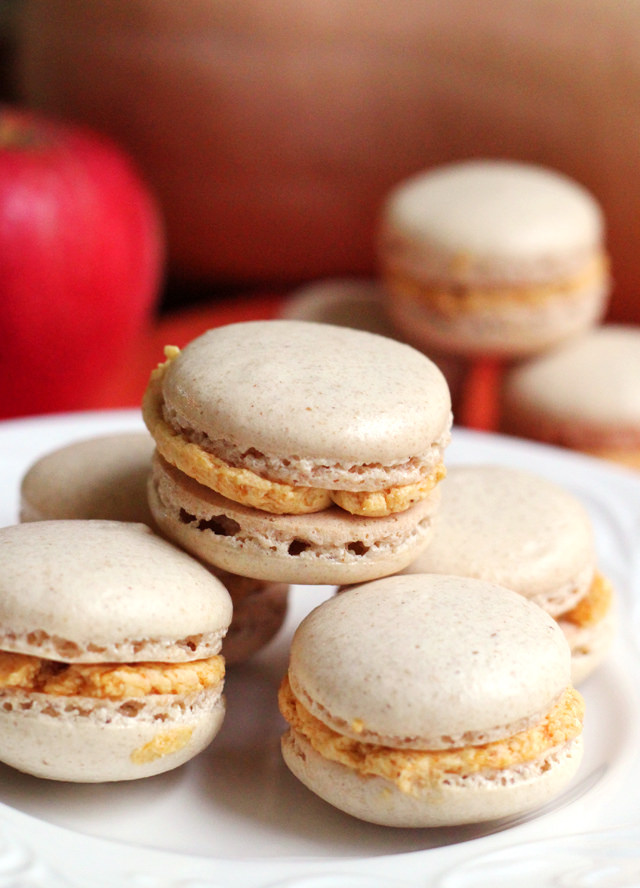 If you thought crepes sent me straight into hot mess territory, then you obviously haven't seen me make macarons.
My crepe-making self is really more of  a lukewarm mess in comparison.
Basically I lose all sense of place and time, forget about comparatively inconsequential things like dinner and sleep, and obsess over whether a fraction of a milligram of extra almond flour is going to prevent my feet from forming.
It didn't. Evidently.
But it could have. It really could have.
Not that that stops me from making them. I mean, that would just be silly.
When pondering what kind of fall macaron I most needed in my belly life, I immediately thought of ginger. Ginger kind of gets the short end of the stick in the realm of fall baking, don't you think? I mean, cinnamon would totally be the front runner for "Fall Spice MVP", but I kind of think ginger deserves some time in the spotlight also. I love how it heats your tongue without actually being hot hot and hurts, but kind of in a good way?
I can assure you that these ginger macarons stuffed with a pumpkin bourbon buttercream (with REAL pumpkin in it! that pretty much means it's health food) are not painful at all to eat. In fact, they are dangerously painless to stuff in your mouth after a midnight baking session.
Not that I would ever engage in such perverse recreational activities. I'm a (flour-covered maniacal feet-obsessed) lady.
Ginger Macarons with Pumpkin Bourbon Buttercream
Ginger macarons team up with pumpkin bourbon buttercream to make a sandwich cookie that is perfect to round out any fall feast!
Ingredients
For the macarons
115 g blanched almond slices, ground, or almond flour
230 g powdered sugar
1 tbsp ground ginger
144 g egg whites
72 g granulated sugar
2 g kosher salt
For the buttercream
3 egg whites
pinch of cream of tartar
1 cup sugar
¼ tsp fine sea salt
2½ sticks cold unsalted butter, cut into 1-inch cubes
1 tbsp bourbon
1 cup canned pumpkin puree
1 tsp ground cinnamon
1 tsp ground ginger
½ tsp ground nutmeg
Instructions
If using almond slices, grind in a food processor with the powdered sugar for at least three minutes, but before the almonds start to become almond butter.
Sift together the almond flour, powdered sugar, and ginger into a large bowl. If there are almond flour slices that won't pass through the sifter, then grind them again until they do.
In the bowl of a stand mixer fitted with the whisk attachment, combine the egg whites, sugar and salt. Beat on medium (speed 4) for 3 minutes. Increase the speed to medium-high (speed 6) and beat for another 3 minutes. Increase the speed to 8 and beat for another 3 minutes. Increase it to 10 and beat for one more minute. When you lift the whisk, the meringue should be stuck to it. Lightly tap it against the side of the bowl until it falls off.
Pour the dry ingredients into the meringue. Fold them into the meringue using the "fold-and-smash" method (fold and then subsequently smash and smear against the side of the bowl). Mix until the batter is lavalike and when you spoon some of the batter out and drop it back in, it completely incorporates within about 20 seconds.
Transfer half of the batter to a piping bag fitted with a ½-inch round tip. Line two baking sheets with parchment paper. Pipe the macarons into evenly sized and spaced circles, making sure to keep the piping bag straight up and down as you do so.
Rap the baking sheet hard against the counter, twice. Turn ninety degrees and rap another two times. Let rest for 45-60 minutes.
Meanwhile, preheat the oven to 275F.
Bake the macarons, one tray at a time, on the rack farthest from the oven's flame for 18 minutes. Allow to cool completely on the pans.
Repeat with remaining batter.
For the buttercream, put the egg whites and the cream of tartar in the bowl of a stand mixer fitted with the paddle attachment. Set aside.
In a medium saucepan over medium-high heat, bring the sugar and ¼ cup of water to a boil. Heat until the sugar mixture reaches 238 degrees Fahrenheit.
While the sugar syrup is cooking, whisk the egg whites on medium speed until they form soft peaks, about 2 minutes. When the syrup reaches the desired temperature, slowly pour it down the side of the mixer bowl while the mixer is running. Continue to beat until stiff peaks form and the bowls cool down, about 8 minutes.
Add the salt and butter to the mixer bowl and whisk on high speed until the meringue emulsifies and becomes smooth and fluffy, about 4-8 minutes. Add the bourbon, pumpkin, cinnamon, ginger, and nutmeg and whisk until the buttercream returns to its smooth and fluffy state.
Pipe the buttercream onto half of the macaron shells and top with a second shell. Store in the refrigerator until ready to eat.
Notes
Macarons and buttecream adapted from
Les Petits Macarons: Colorful French Confections to Make at Home
For more macarons, check out these: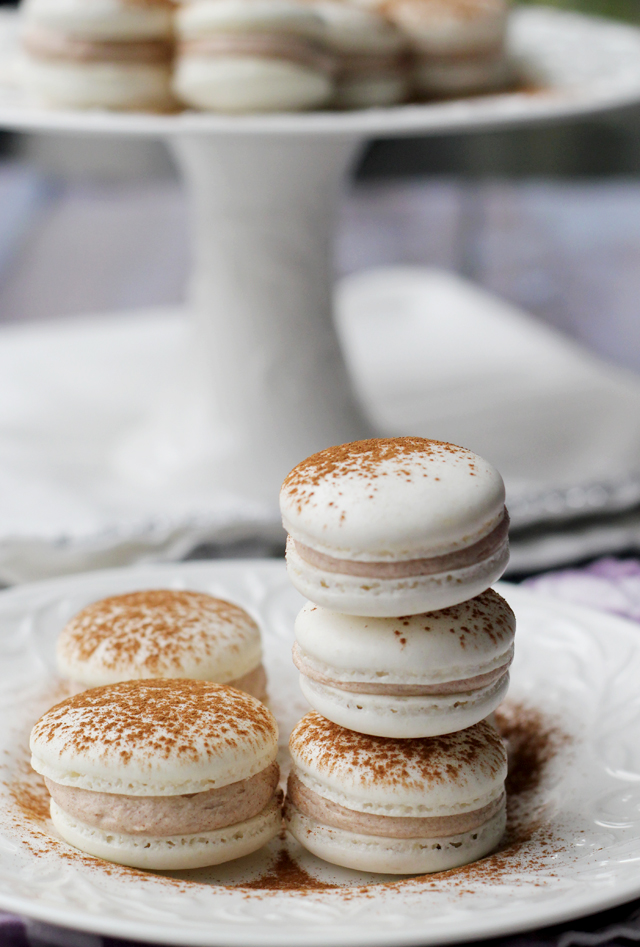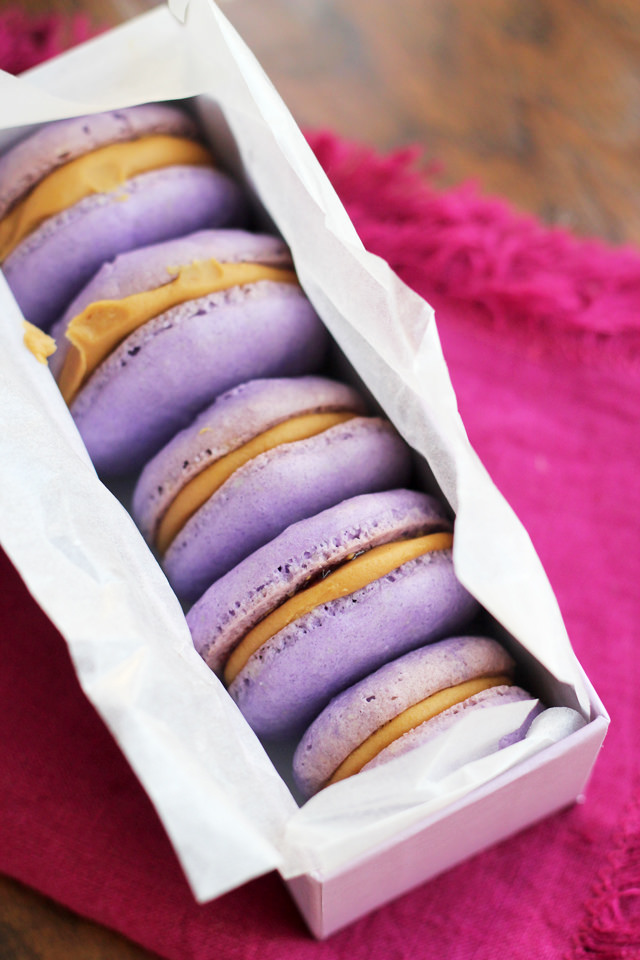 Peanut Butter and Jelly Macarons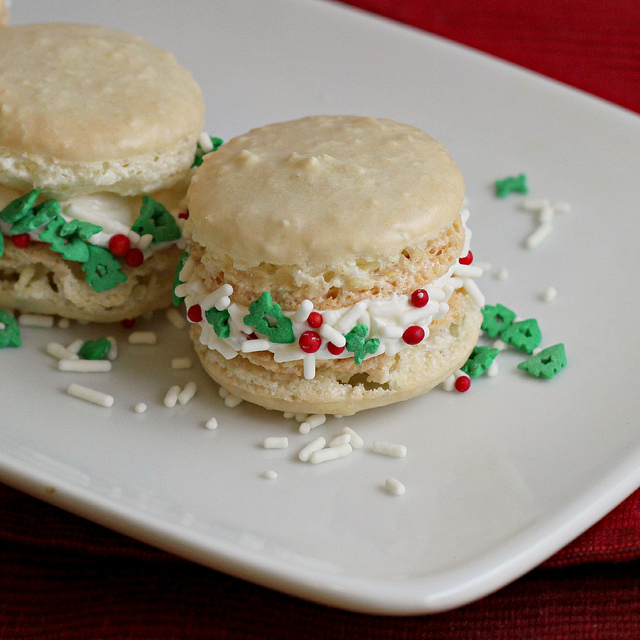 From Around the Web:
Red Velvet Macarons from An Edible Mosaic
Strawberry Colada Macarons from Taste and Tell
Chocolate Biscoff Macarons from The Novice Chef Blog
Coffee Macarons from Bakers Royale
Tim Tam Slam Macarons from The Moonblush Baker