The flavors of fall shine in these chickpea-rosemary crepes stuffed with a sweet potato goat cheese filling and topped with a fresh and crunchy red pepper relish.
Disclosure: This post was sponsored by Silk. As always, my thoughts and opinions are my own. Thank you for supporting the brands that keep me inspired in the kitchen!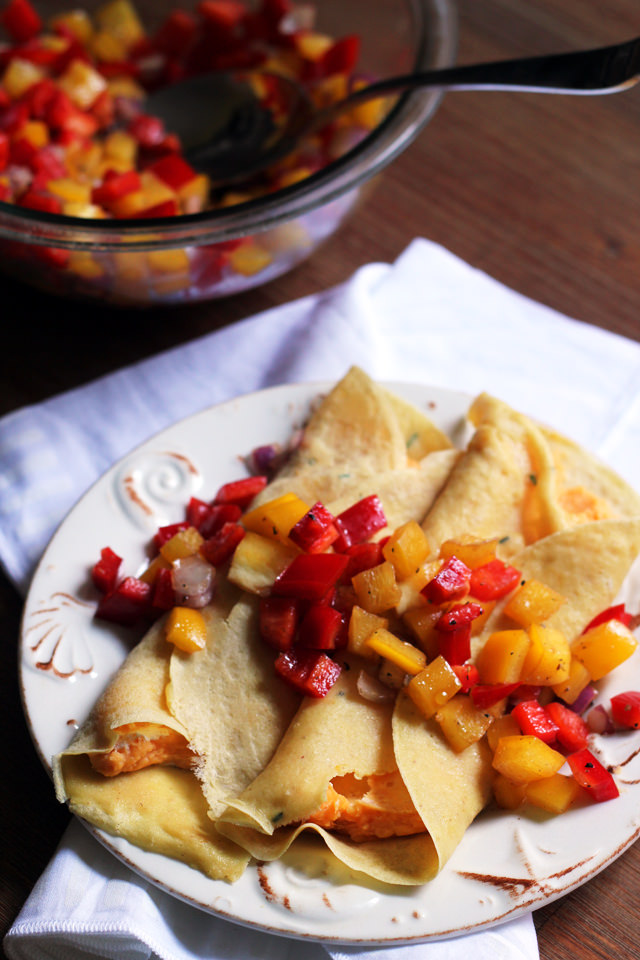 Some people are afraid of heights. Others faint at the sight of blood.
I cower in fear at the thought of making crepes.
Totally normal.
In my defense, the flip is one of the scariest things ever.
EVER ever.
It doesn't take a statistician to tell me that with each new crepe, there's a greater than 75% chance it will land on the floor and a less than 0% chance that it will not fold onto itself in a hot mess.
Sometimes, when you know, you know.
And now you know why I keep the crepe making around here to a minimum. I have totally average blood pressure and I'd like to keep it that way, thank you very much.
So why put myself through the stress of making crepes at all, you ask?
To which I reply: you must have never had a crepe before. Poor thing.
They are like surprise inside pancakes that have been stuffed with even more deliciousness. Sometimes nutella. Occasionally peanut butter. On special occasions both.
Or when we really want to go crazy and mix it up, they can even go savory. Why walk on the wild side when you can run?
Exactly.
A few weekends ago, I was in the mood to challenge myself when I spied a recipe for chickpea-rosemary crepes in my October issue of Cooking Light. The crepe base was made almost entirely of chickpea flour and the thought of that earthy flavor combined with rosemary was intoxicating. I had to have them.
Even though the original crepe batter recipe used water as the main liquid source, I opted instead to to use Silk Unsweetened Original Almondmilk, making the crepes extra tender and just the right amount of fluffy. If you haven't tried Silk yet, then you absolutely must! When you sign up on the Silk website, you will receive some free coupons, and will have no excuse not to give it a go!
I wasn't too jazzed about the original recipe's filling, either, so I swapped it out for something a bit more my style – sweet potatoes and goat cheese FTW. Topped with a simple, fresh red pepper relish, these are at once light, creamy, and crisp.
And only slightly strenuous.
Just how I like my fall meals.
Chickpea-Rosemary Crepes with Sweet Potatoes and Goat Cheese
The flavors of fall shine in these chickpea-rosemary crepes stuffed with a sweet potato goat cheese filling and topped with a fresh and crunchy red pepper relish. Perfect for breakfast or brunch, the crepes themselves can be made ahead of time and filled to order.
Ingredients
For the crepes
3.13 oz (about ¾ cup) chickpea flour
3 tbsp all purpose flour
2 tsp chopped fresh rosemary
1 tsp lemon zest
¼ tsp kosher salt
⅛ tsp baking soda
¾ cup Silk Original Almondmilk
2 tbsp olive oil
2 large eggs, lightly beaten
For the filling
2 cups cooked mashed sweet potato, warm
4 oz goat cheese
For the pepper relish
1 yellow bell pepper, seeded and diced
1 red bell pepper, seeded and diced
½ small onion, diced
1 tsp olive oil
½ tsp balsamic vinegar
salt and black pepper, to taste
Instructions
For the crepes, in a large bowl, whisk together the chickpea flour, all-purpose flour, rosemary, lemon zest, salt, and baking soda. Whisk in the almond milk, olive oil, and eggs until just combined. Let stand for 30 minutes while you prepare the filling and relish.
In a medium bowl, stir together the warm sweet potatoes and the goat cheese. Season to taste with salt and black pepper.
In a separate medium bowl, toss together the bell peppers, onion, olive oil, and balsamic vinegar for the relish. Season to taste with salt and black pepper.
To make the crepes, heat an 8-inch crepe pan or nonstick skillet over medium-high heat. Pour about 2 tbsp of batter into the pan, quickly tilting the pan in all directions so that the batter evenly covers the skillet. Cook for 30 seconds. Flip crepe when it can easily be loosened from the skillet just by shaking it, and the underside is lightly brown. Cook 10 seconds more on the second side. Repeat with remaining batter.
Divide the sweet potato filling evenly among the crepes and serve topped with the pepper relish.
For more crepe inspiration, check out these: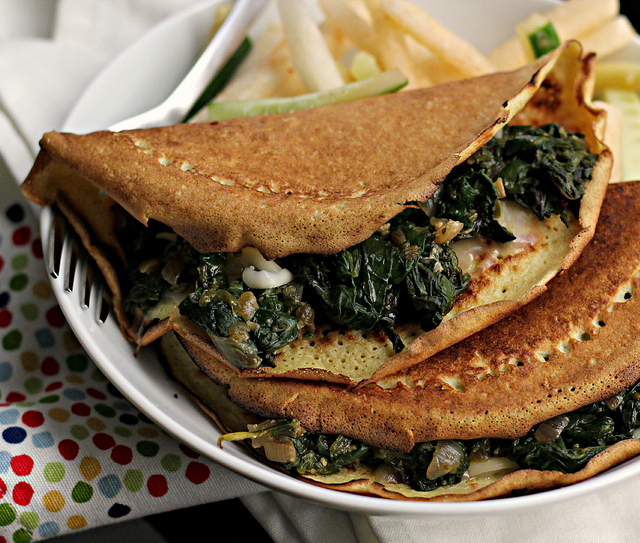 Masa Crepes with Chard, Chile and Cilantro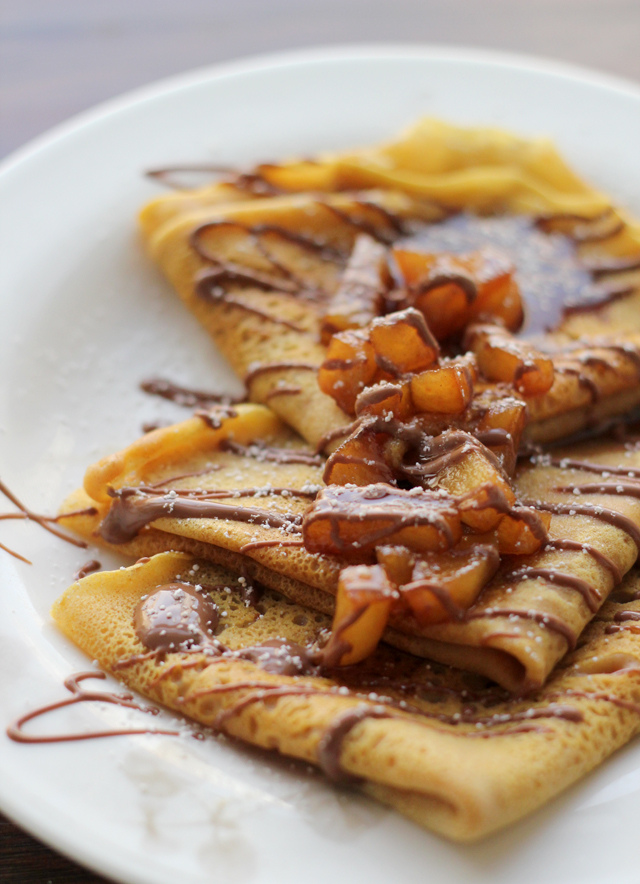 Pumpkin Crepes with Beer and Cinnamon Apples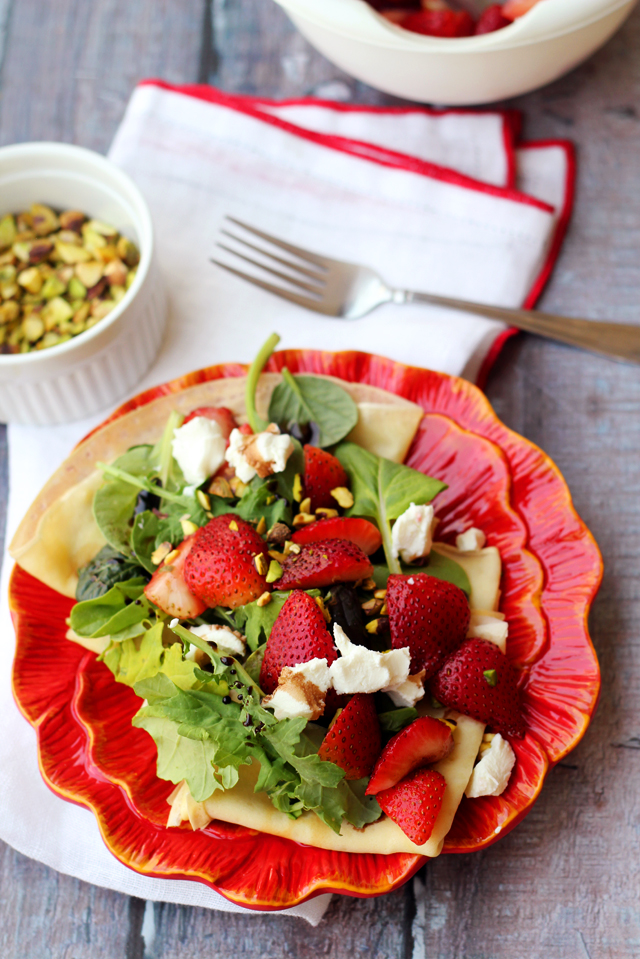 Strawberry, Pistachio and Goat Cheese Crepes
From Around the Web:
Roasted Ratatouille Crepes from Healthy Delicious
Spinach Crepes with Ricotta, Tomato and Basil from Cinnamon Spice and Everything Nice
Bananas Foster Crepes from Diethood
Rye Crepes with Sorghum-Bourbon Strawberries from Naturally Ella
Spinach Artichoke and Brie Crepes with Sweet Honey Sauce from Half-Baked Harvest
This conversation is sponsored by Silk. The opinions and text are all mine.