This is a sponsored post written by me on behalf of Pompeian Grapeseed Oil Spray. This rich, hearty soup with it's bright pesto topping comes together in mere minutes and would make for a delicious first course at a holiday meal, alongside a batch of these easy-to-make fluffy dill-infused rolls!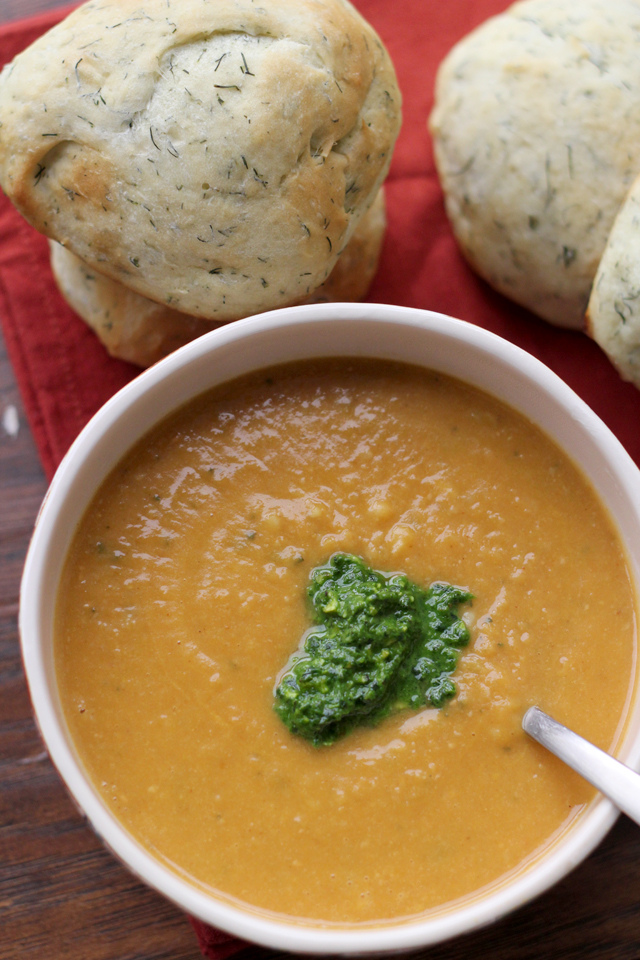 You guys have probably picked up on this, but I'm a pretty even-keeled person.
Especially when you ignore my flair for hyperbole, love of gossip/drama (so long as it doesn't involve me), and propensity to shriek in a high-pitched tone at absolutely everything/absolutely nothing (depending on how you look at it).
And now I am exactly eight days into wedding planning and have morphed into someone with absurdly strong opinions, who yells at her fiance about exposed brick and why it is a necessary component of any wedding venue worth it's salt into the wee hours of the night (morning?), and screams at her shiny new wedding Pinterest board in the middle of lab (when she shouldn't even be pinning at all!) because she has either stumbled across something absolutely adorable or absolutely horrendously absurd – there's no filter.
And did I mention that I have no idea what I'm making for Thanksgiving or even where I"m spending it?
I need a breather, a bowl of soup, and a hefty dose of dill roll.
Doctor's orders.
STAT.
This pumpkin white bean bisque is actually especially perfect for nerve-calming because it tastes like you're slurping the creamiest thing EVER. When really, it's all protein and fiber from the white beans. With a bright splash of herbalicious pesto on top. Can't go wrong with that.
And because soup pretty much requires some kind of bread to go with it, I whipped up a batch of these dill rolls from the latest issue of Bon Appetit. It was actually a two-for-one kind of deal because they were also auditioning for a spot on whatever Thanksgiving table I'll be sitting at.
Verdict: fluffy, hint of sweet, mostly savory, slightly buttery, with big dill flavor.
So if you're into dill, which we are, I highly recommend them and if not…then I'd probably steer clear.
I always like to bring some kind of bread/carb to my family's Thanksgiving feast, either to have something to nosh on while everyone is late getting there (always happens), or to go with the actual main event. Thanksgiving dinner is not exact the most healthful meal you can have, some I'm also always looking for some quick fixes to lighten things up.
Enter the new Pompeian Grapeseed Oil Spray – an awesome alternative to other cooking sprays out there. It's a light, all natural cooking spray with a high smoke point that can be used for pretty much any and all culinary applications, from stir frying to grilling to sauteing and, obviously, baking. To celebrate the launch of this new cooking spray, Pompeian has partnered with Duff Goldman (the celebrity pastry chef at Charm City Cakes) to host the Better for Baking Challenge! The details go like this – from November 4th to December 6th, you can enter the challenge by following @Pompeian on Instagram and uploading a photo to Instagram, accompanied by the hashtag #Bake4Better and tagging @Pompeian, that shows how you are using the grapeseed oil spray to make your holiday baking better! The most snazzy, innovative photo taker will be crowned by Duff Goldman himself, and will win a $5,000 donation in their name to their local food bank and a Pompeian gift basket. It's such a great and easy way to take a few minutes to give back this holiday season.
One year ago…Thai Tofu and Winter Squash Stew, Roasted Red Pepper Goat Cheese Alfredo Pasta
Four years ago…Butternut Apple Cranberry Bake
Pumpkin and White Bean Bisque with Sage Pesto
This rich, hearty soup with it's bright pesto topping comes together in mere minutes and would make for a delicious first course at a holiday meal!
Ingredients
1 tbsp butter
1 shallot, chopped
2 tbsp chopped fresh sage, divided
5 garlic cloves, minced
¼ tsp cayenne pepper
¼ tsp ground cumin
2½ cups vegetable broth
2 cups cooked or canned white beans
14 oz canned pumpkin
1 cup reduced fat milk
¾ tsp salt
2 tbsp cider vinegar
1 cup baby spinach
1 cup basil
2 tbsp pistachios, toasted
2 tbsp parmesan cheese
2 tbsp olive oil
2 tbsp water
Instructions
Melt the butter in a large pot over medium heat. Add the shallot, 1 tbsp sage, and garlic to the pan. Saute for 4 minutes or until lightly browned. Add in the cayenne and cumin and saute for 1 minute more, stirring constantly. Stir in the vegetable broth, stirring to scrape up any browned bits. Stir in the beans and pumpkin. Puree with an immersion blender. Stir in the milk and salt. Simmer for 5 minutes, stirring occasionally, and then stir in the vinegar. Season to taste with salt and pepper.
For the pesto, combine the remaining sage, spinach, basil, pistachios and parmesan cheese in the bowl of a food processor. Pulse until coarsely ground. Add in the water and olive oil. Pulse until smooth. Season to taste with salt. Serve each bowl of soup with a dollop of pesto on top.
Dill Rolls
Rolls stuffed with herby dill flavor make the perfect accompaniment to soup, salad, or Thanksgiving dinner!
Ingredients
½ cup reduced fat milk
2 tbsp sugar
1 tbsp active dry yeast
½ cup buttermilk
2 tbsp finely chopped fresh dill
1½ tsp salt
2½ cups all purpose flour, plus more as necessary
4 tbsp unsalted butter, melted, divided
Instructions
Heat the milk in the microwave for 30 seconds to a minute, until it is warm to the touch. Stir the sugar and yeast into the milk and let sit until foamy, about 5 minutes.
In the bowl of a stand mixer fitted with the bread hook attachment, combine the flour, salt, and the dill, whisking to combine. Stir in the milk mixture, buttermilk, and 2 tbsp of the melted butter. Stir on medium speed until a sticky dough forms, adding more dough as needed. Stir on medium speed for 5 minutes, or knead until the dough is smooth and elastic.
Transfer the dough to a bowl sprayed with cooking spray and cover with plastic wrap. Let rise in a warm area until doubled in size, about an hour. Punch down the dough and let rise again for another hour. Punch down the dough and divide it into 8-12 pieces, depending on the size of the rolls that you want (I made 8).
Line a baking sheet with parchment paper and spray the top with cooking spray. Roll each piece of dough into a ball and then place on the baking sheet, at least 2" apart from each other. Brush tops with the remaining butter and cover loosely with plastic wrap. Let rise about 20-30 minutes, or until doubled in size.
Preheat the oven to 400.
Bake the rolls until puffed up and deep golden brown on top and bottom, about 15-20 minutes. Let cool on a wire rack before serving.
Notes
Adapted from
Bon Appetit
I'm submitting this to Deb for Souper Sundays over at Kahakai Kitchen!.
For the Baking for Better official rules, please visit http://www.pompeian.com/bakebetter.  Coupons for Pompeian products can be found at http://www.pompeian.com.
This is a sponsored post written by me on behalf of Pompeian Grapeseed Oil Spray. As always, my thoughts and opinions are 100% my own.