These sweet tart Meyer lemon cranberry poppy seed muffins with streusel topping would be the perfect holiday breakfast treat!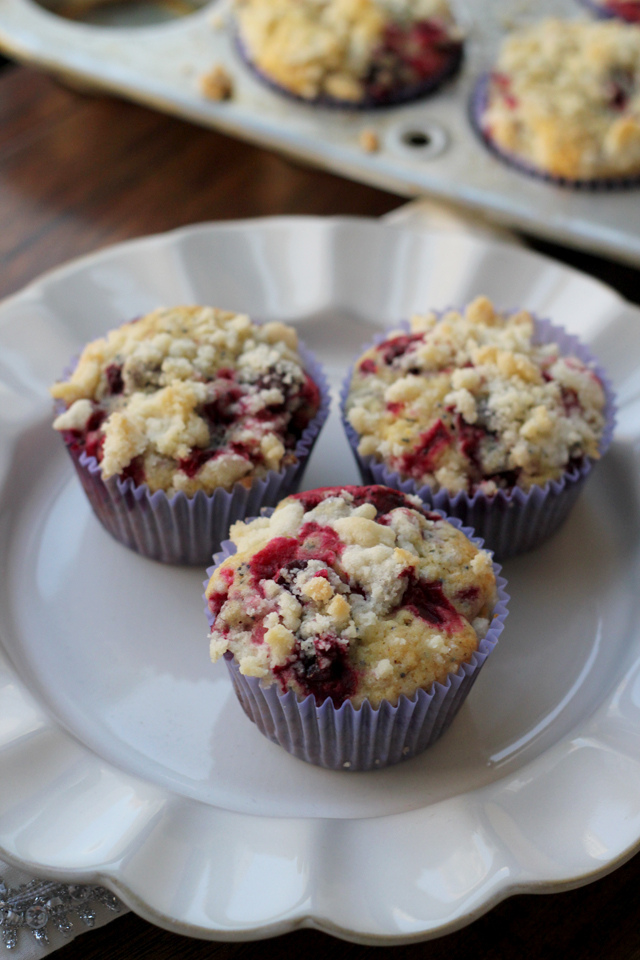 Disclaimer – No worms, slugs, or caterpillars were harmed in the making of these muffins.
I wish I could say the same for a broccoli, white bean, and cheddar gratin that I made on Thursday…
…but I like to keep it real between us.
And that means telling you the absolute, whole, and unaltered truth about ALL THE THINGS, so help me you, god.
I also wish I could say that after chopping up two heads of broccoli that I had ordered from Fresh Direct, steaming them, and opening the lid of my pot to discover two very purple, very dead worms/caterpillars/slugs (I have no idea what they were, even after much gag-inducing google searching), I didn't scream, almost-vomit, scream again, pluck them out…
…and then forge ahead with the recipe nonetheless.
But I did.
And then I tried to feed it to us for dinner. To say it did not go over so well…is an understatement.
It's hard to say whether the dish just wasn't good or whether we were subconsciously (or, you know…very consciously) imagining all the worm juices/excrement we may or may not be ingesting with every bite.
I venture to guess, both.
The.Boy actually wasn't too thrilled with these muffins either (I suspect they weren't cupcake-like enough for him), but my coworkers and I loved them. Like, SERIOUS love.
They are sweet (but not too sweet) and almondy and bursting with juicy tartness from the fresh cranberries. Oh, and did I mentioned they also have brown butter and a streusel topping.
All of the above. Yes.
I see these in your/my/everyone-but-the.boy's holiday breakfast future. Or weekend breakfast future. Or whenever-you-feel-like-it breakfast future.
Basically, I support any and all futures that involve these muffins. And absolutely no futures that involve wormy broccoli.
Capisce?
One year ago…Kale and Brussels Sprout Salad with Butternut Squash
Two years ago…Pumpkin Biscuits with Cranberry Curd, Turkish Eggplant Pie
Three years ago…Spiced Pumpkin Pancakes Topped with Cinnamon Maple Greek Yogurt
Four years ago…Whole Wheat Pumpkin Pie Brioche
Meyer Lemon Cranberry Poppy Seed Muffins
These sweet tart Meyer lemon poppy seed cranberry muffins would be the perfect holiday breakfast treat!
Ingredients
7 tbsp unsalted butter
⅓ cup lowfat milk
1 large egg
1 large egg yolk
1 tsp almond extract
1½ cups all purpose flour
¾ cup sugar
1½ tsp baking powder
¾ tsp salt
1 tbsp meyer lemon zest
1 tbsp poppy seeds
1½ cups fresh or frozen cranberries
For the streusel topping
3 tbsp unsalted butter
½ cup all purpose flour
3 tbsp sugar
Instructions
Preheat oven to 375. Line a cupcake tin with cupcake liners. Set aside.
Melt the butter in a small saucepan over medium heat. Stirring occasionally, cook until it starts to brown, keeping a close eye on it. As soon as it starts to brown, immediately pour it into a separate bowl because it will burn quickly. Set aside to cool slightly.
In the meantime, in a medium bowl, whisk together the milk, egg, egg yolk and almond extract. In a large bowl, whisk together the flour, sugar, baking powder, and salt. Stir the butter into the milk/egg mixture. Fold the wet ingredients into the dry ingredients.
Stir in the meyer lemon zest, poppy seeds, and cranberries until just combined.
Divide the batter among the muffin tins, filling about ¾ full.
To make the streusel, combine the butter, flour and sugar in a bowl. Using your fingers, rub them together until crumbly. Sprinkle over the muffin batter.
Bake muffins for 18-25 minutes, or until golden on top and a toothpick inserted in the center comes out clean. Allow to cool for 15 minutes before removing from the muffin tins.