Pistachio-chocolate chip meringue cookies that are crunchy on the outside, chewy on the inside, and majorly tasty.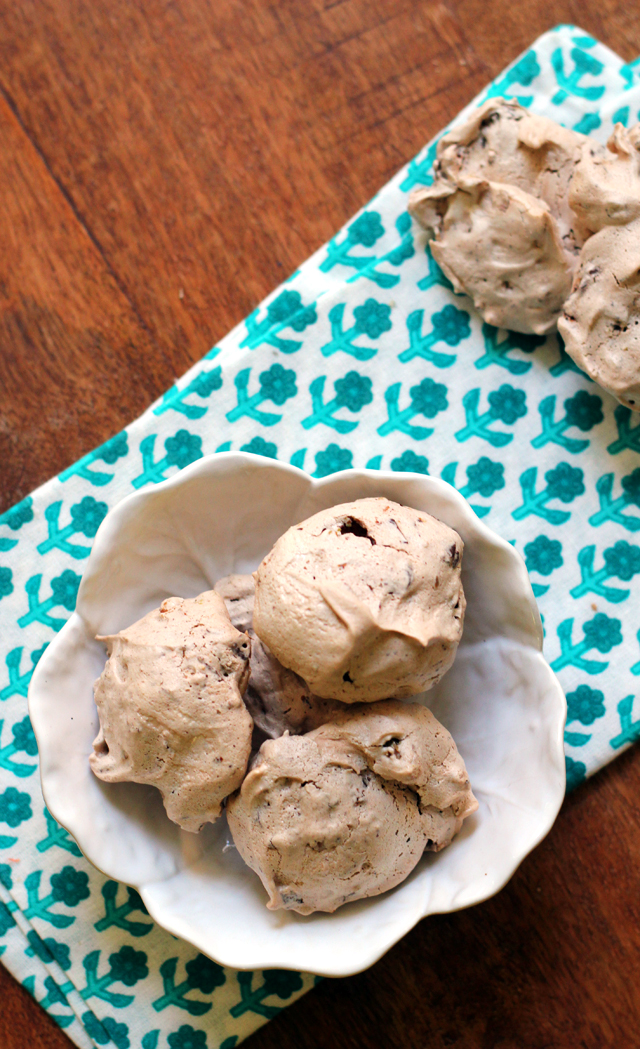 I told you – they're pretty ugly.
But thankfully, when it comes to cookies, there's nothing that a pretty bowl and a cute linen can't fix. If only that were true for all of life's trials and tribulations, specifically the myriad experiments I've tried to do and failed so far in the new year…if.only.
Anyways. Cookies. That's what we're really here for.
If you've ever had meringues from the supermarket, I BEG YOU to leave those memories behind and focus on the here and now. Homemade meringues are not even the same species as those dry chalky cardboard puffs.
No, these are crispy on the outside, chewy and chocolatey on the inside with some serious pistachio crunch. They'll melt in your mouth and not in your hand.
Over and over and over again as you keep sneaking over to the cookie tray to pop one in your mouth.
Go ahead. I'll look the other way.
Pistachio-Chocolate Chip Meringue Cookies
Pistachio-chocolate chip meringue cookies that are crunchy on the outside, chewy on the inside, and majorly tasty.
Ingredients
3 tbsp all purpose flour
1 tbsp unsweetened cocoa powder
¼ tsp ground cinnamon
4 large egg whites
1 cup sugar
1 tsp vanilla extract
1½ cups (185g) shelled pistachios, coarsely chopped and toasted
8 oz dark chocolate chips or chunks
Instructions
Heat oven to 350F. Line two baking sheets with parchment paper.
In a medium bowl, whisk together the flour, cocoa powder, and cinnamon.
In the bowl of a stand mixer, whisk together the egg whites and sugar until combined. Place over a pot of simmering water and heat until warm to the touch and sugar has dissolved, whisking constantly, 4-6 minutes.
Transfer the bowl back to the mixer and, using the whisk attachment, beat until mixture is glossy and slightly stiff peaks form. Add in the vanilla and mix until combined.
Switch the mixer to the paddle attachment. Add the flour mixture to the bowl and beat until just incorporated. Scrape down the sides of the bowl and then mix for another 5 seconds.
Fold the pistachios and the chocolate chunks into the batter.
Using a small ice cream or medium cookie scoop, drop the batter onto the prepared baking sheets, leaving about 2 inches between cookies. Bake for 15 to 20 minutes, or until the cookies are hard and starting to crack on top, rotating the pans halfway through baking.
Allow to cool on the pans on a wire rack for 5 minutes. Transfer to the racks to cool completely.
Notes
Adapted slightly from
Baked Occasions: Desserts for Leisure Activities, Holidays, and Informal Celebrations
 More cookies!!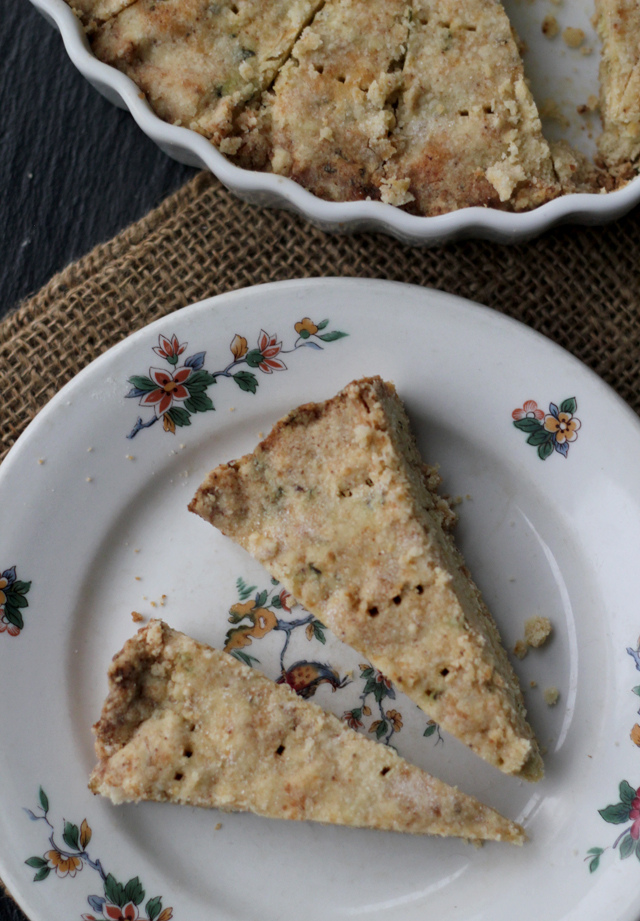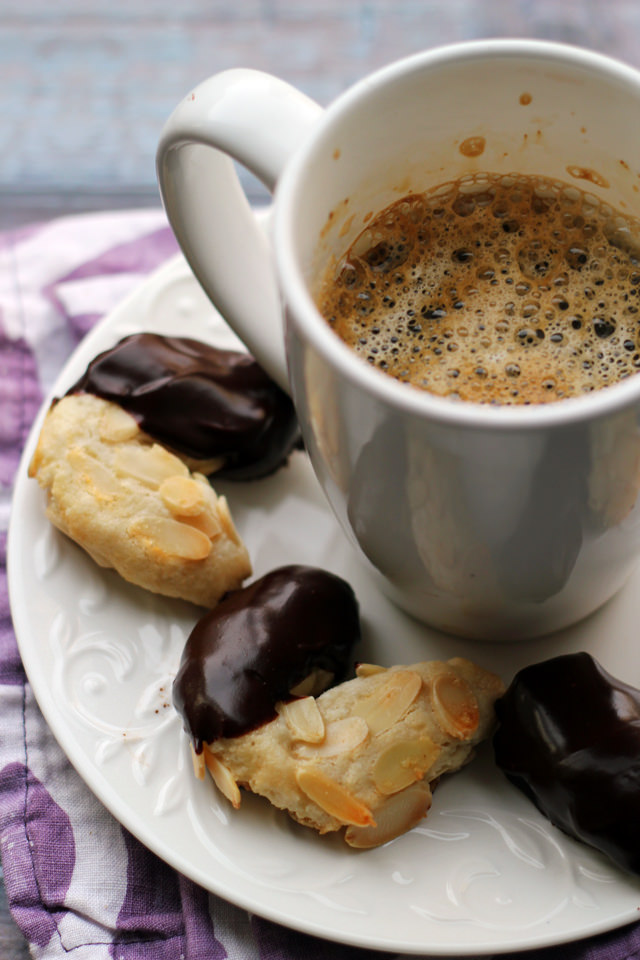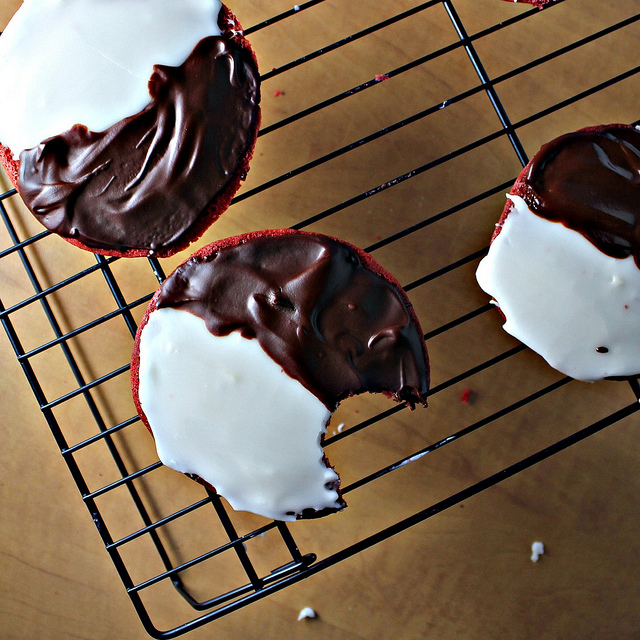 Red Velvet Black and White Cookies
From Around the Web:
Swirly Blackberry Meringues from London Bakes
Maple Shortbread Cookies from The Sugar Hit
Red Velvet Cream Cheese Thumbprint Cookies from Foodiecrush
Matcha Sables from Evan's Kitchen Ramblings
Coffee Sugar Cookies from I Am Baker