A beautifully spiced banana bread cake roll filled with cream cheese frosting – a fun alternative to banana bread!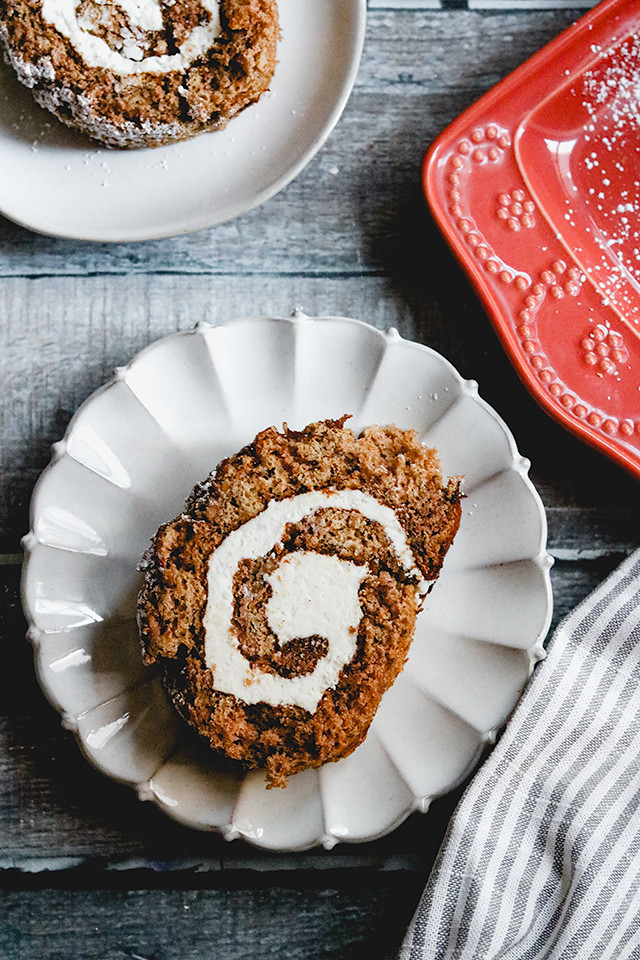 Banana bread cake roll!!!
Striking fear into the hearts of former Great British Bake Off contestants everywhere. 
To all the rest of us "normal bakers", don't you fret. I made this at 9PM on a Friday after a glass of wine and lived to tell the tale (and gleefully eat it the next morning). SO CAN YOU!
Actually, I don't really know why people freak out so much about cake rolls. They're not like macarons where the slightest change in the phase of the moon can completely derail your success. As long as you follow the instructions (mostly with regards to pre-rolling your cake layer while it's still warm to train it to take that shape again later) you'll be fine.
Sure, maybe you won't have quite as many swirls as Paul Hollywood would prefer but WHATEVER. It's still gonna taste freaking good. 
The "cake" of a cake roll is typically made of a sponge cake that is light, airy, and flexible. Most recipes will call on you to do one of my least favorite things in life, which is to separate eggs. NOT THIS ONE. Deb Perelman, from Smitten Kitchen fame, understands how onerous and annoying this task is (like, I'll do it for macarons and homemade ice cream, but for NOTHING else) and in trying to figure out how to *not* do it discovered that beating the eggs for a really long time produces similar results.
I'm into it.
This cake is filled with banana bread flavor and is so perfectly spiced that I honestly moaned the first time I bit into it.
IT IS HEAVEN. 
A thick (and I mean thick) layer of simple cream cheese frosting in the middle makes it that much better.
Call it breakfast (ahem, I'm here for it), call it dessert, call it a midday snack. Whatever you call it, just overnight me a slice okay?
Banana Bread Cake Roll
A beautifully spiced banana bread cake roll filled with cream cheese frosting - a fun alternative to banana bread!
Ingredients
For the cake
oil, for the pan
3 large eggs
⅓ cup (65 g) dark brown sugar
⅓ cup (65 g) sugar
⅔ cup (150 g) mashed very ripe bananas
1 tsp vanilla extract
2 tsp bourbon
1 tsp baking soda
¾ tsp cinnamon
pinch of nutmeg
pinch of ground cloves
¼ tsp kosher salt
¾ cup (100 g) all purpose flour
powdered sugar
For the filling
8 oz (225 g) cream cheese, room temperature
2 tbsp (30 g) unsalted butter, room temperature
¾ cup (90 g) powdered sugar, plus more for sprinkling
1 tsp vanilla
Instructions
For the cake
Heat oven to 350F. Line a 10x15-inch baking pan with parchment paper. Spray with baking spray or oil. Set aside.
To make the batter, beat the eggs until foamy. Add the sugars then beat for another 5-10 minutes, or until thick. Add in the bananas, vanilla, and bourbon. Beat until combined. Add in the baking soda, spices, and salt, then beat again to combine. Add in the flour and mix until it is just combined.
Spread batter into the prepared pan. Bake for 10-12 minutes, rotating halfway through, or until lightly brown all over and springs back when touched.
Place on a wire rack and allow to cool for 5 minutes. Run a knife around the edges of the cake to loosen it from the pan. Sprinkle the top of the cake lightly with powdered sugar. Top the cake with a second piece of parchment paper, then place a cooling rack on top of it. Flip it over so the top of the cake is now face down on the parchment paper-lined cooling rack.
Peel away the parchment paper from the bottom (now the top!) of the cake. Sprinkle with more powdered sugar. Starting from the short side, roll the cake and the remaining parchment paper into a log. Rest it seam side down on the cooling rack and let cool for 45 minutes. This will prevent it from cracking and breaking when you roll it later.
For the filling
Beat together the cream cheese, butter, ¾ cup of powdered sugar, and vanilla until light and fluffy.
To assemble.
Once the cake is completely cool, unroll it. Spread the cream cheese over the top of the cake in an even layer. Re-roll the cake with the frosting inside, removing the bottom layer of parchment paper as you go.
If you have time, allow it to rest in the fridge to set up more.
Sprinkle with more powdered sugar before serving.