A hearty pot of borracho beans is perfect for a simple meal of rice and beans or for use in tacos, enchiladas, tostadas…the options are endless!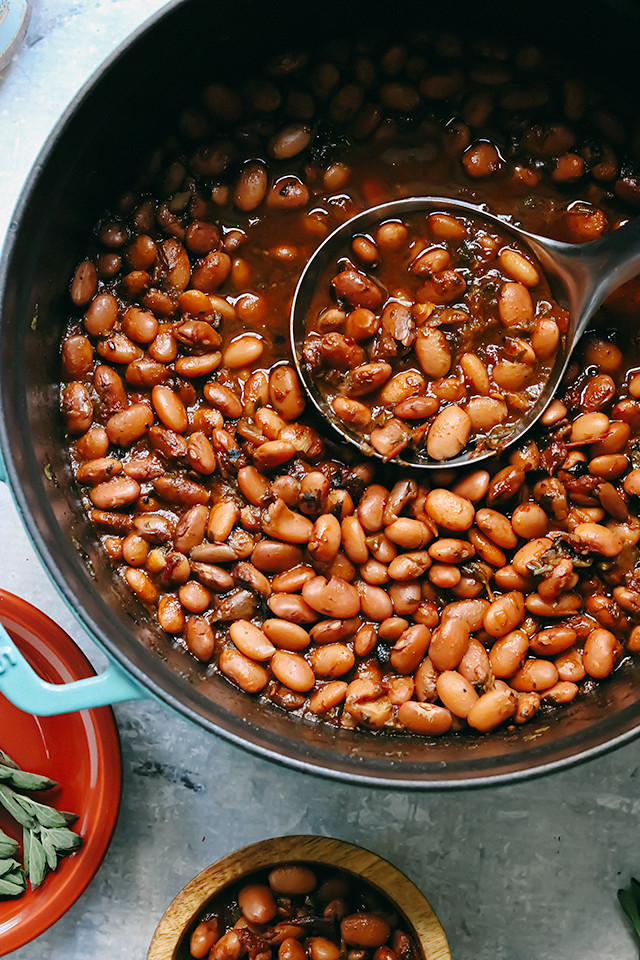 One of my favorite (even pre-pandemic) pastimes is to cook a big pot of dried beans on the weekend. They make for such a healthy, inexpensive meal and can be used for so many diverse meal options, such as tacos, pasta, salads, soups, curries…the list is truly endless.
Most of the time I take the lazy route of making them in my electric pressure cooker. It takes a little bit less time, but the true benefit of it is that I can literally set it and forget it…until the timer goes off to remind me that it's done. It's super easy and accounts for the fact that my short term memory is total crap. So there's that.
HOWEVER, since I'm home now with nowhere to go and endless hours of time that could either be filled with playing PJ Masks with my toddler for the millionth hour in a row or making beans on the stovetop…well, I think you know what I chose.
Borracho or "drunk" beans get their name because they're simmered in a whole lot of Mexican beer. This makes their broth extra rich and imparts great flavor to the beans. Also in the pot goes a toasted ancho chile pepper, onions, garlic, cumin, cilantro, and fresh oregano. If you're a meat eater, you can add some crispy bacon as well, but I can tell you from experience that these are delicious even without it.
The dried beans are simmered down in this magical mixture until their bean broth is thickened and they are super tender. Once done, you can use them for all of your dinners for the week. Since Cinco de Mayo is on the horizon, I have plans to use them in enchiladas and tacos and burritos. Oh yes, we are celebrating all week long, with a margarita in one hand and a bowl of beans in the other, and I can't even be sorry about it.
Borracho Beans
A hearty pot of borracho beans is perfect for a simple meal of rice and beans or for use in tacos, enchiladas, tostadas...the options are endless!
Ingredients
1 lb dried cranberry or pinto beans, soaked overnight
1 pasilla or ancho chile
2 tbsp olive oil
salt, to taste
1 onion, chopped
1 serrano pepper, stemmed, seeded, and minced
2 large garlic cloves, minced
2 tomatoes, diced
½ tsp cumin
1 bunch fresh cilantro (leaves only), minced
4 cups Mexican beer
2½ cups water
a few sprigs fresh oregano
Instructions
Drain the beans and set aside.
Using tongs, toast the dried chile over an open flame until softened and fragrant, about 1 minute. Let it cool slightly then stem it and seed it. Tear it into small pieces. Set aside.
Heat 2 tbsp olive oil in a large Dutch oven or heavy-bottomed pot over medium high heat. Add the salt, onion, serrano, and garlic to the pot. Saute until the onion is translucent, 3-4 minutes. Add in the tomatoes, cilantro, cumin, and toasted chile. Stir to combine. Add in the drained beans, beer, and water. Season to taste with salt.
Tie the oregano together with kitchen string and drop it into the pot. Bring to a boil and then lower the heat to a simmer. Simmer, partially covered, until the beans are tender and the broth has thickened, stirring occasionally. This will take anywhere from 1.5-2.5 hours depending on how fresh your beans are.
Serve warm.