A lovely sweet roasted pepper, kale, and goat cheese shakshuka that is richly spiced and a great option for brunch or breakfast-for-dinner.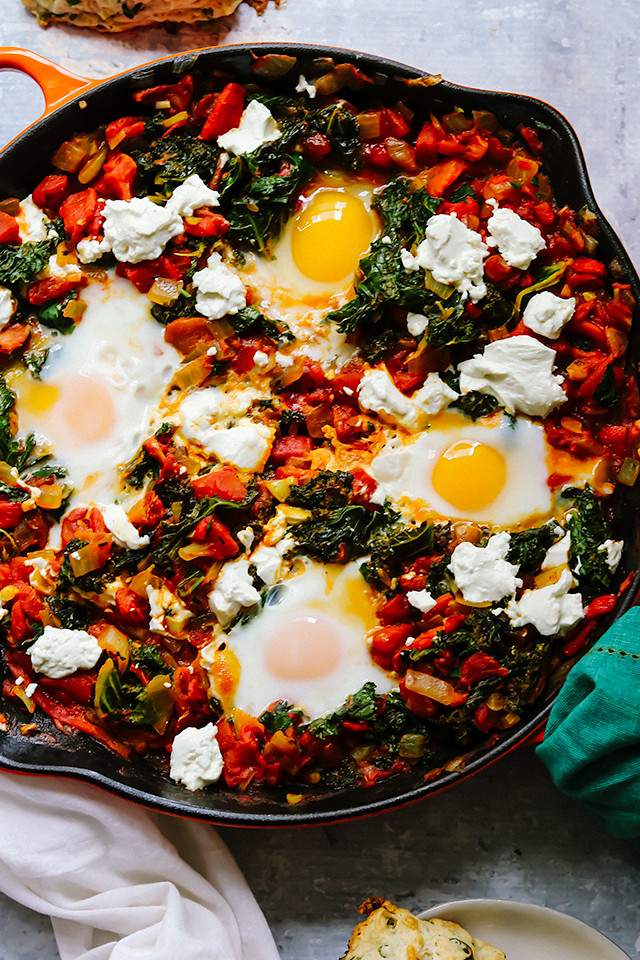 I was hoping that by having our entire family glued to each other's hips for going on two months straight, some of my food preferences would have started to rub off on my extremely opinionated peanut gallery.
Yet, NO.
My husband still needs his egg yolks to be fully cooked through and Remy will only eat eggs "the way they make them at school", which I think is cheese omelet that's been reheated in the microwave-style, but who can say for sure. Whenever I try to ask her any specific questions about it, she tells me we will just ask the school lunchlady when she goes back and I don't have the heart to tell her she probably won't.
But because I'm not a short order cook, I just keep cooking eggs the way I like them (sunny side up, FTW) and everyone keeps refusing to eat them.
Honestly, it usually works out in my favor because MORE FOR ME.
This was especially true in the case of this shakshuka because it was just so dang good!!!
Except the joke was on me, because my husband actually did eat his fair share and then some. Remy, on the other hand, is a lost cause and she even refused to eat the biscuits I served with it, so I think we can all agree there's no hope for her taste buds.
I've tried a lot of shakshuka's before and, honestly, many have not lived up to the richly spiced ideal I have in my mind.
So it was with great trepidation and a whole lot of doubt that I tried the recipe from Melissa Clark's newest cookbook, Dinner In French, but guys, it's the real deal. Between her generous hand with the spices, the sweet smoky flavor of roasted bell peppers, and the creamy goat cheese on top to balance it all out…this is just fabulous.
I made a few changes along the way based on what I had on hand, using smoked paprika in place of sweet and adding in handfuls of kale just because I could. Clark's original recipe also calls for making this solely with egg yolks and leaving out the whites but I already had a glut of leftover whites in my fridge and I couldn't, in good conscience, add more to the mix.
If you're looking for a savory meal to add to your brunch repertoire (or for this upcoming Mother's Day, ahem) then this is a great option. Maybe not so much if live in a house divided when it comes to egg preferences, but then again who knows? Maybe you'll win someone over to the runny yolk side.
Sweet Pepper, Kale, and Goat Cheese Shakshouka
A lovely sweet roasted pepper, kale, and goat cheese shakshuka that is richly spiced and a great option for brunch or breakfast-for-dinner.
Ingredients
2 tbsp olive oil
1 large white onion, diced
4 garlic cloves, minced
28 oz canned diced tomatoes
2 roasted red or orange bell peppers, seeded and diced
1 tsp dried thyme
1 tsp kosher salt, plus more to taste
¼ tsp freshly ground black pepper, plus more to taste
1½ tsp ground cumin
1 tsp smoked paprika
½ tsp ground turmeric
⅛ tsp cayenne pepper
1 bunch curly kale, stems removed and leaves coarsely chopped
1 tbsp minced fresh parsley leaves
1 tsp minced mint leaves
4 oz goat cheese
4 large eggs
Instructions
In a 12-inch cast-iron or nonstick skillet, heat the oil over medium heat. Add the onion to the pan and saute until starting to brown, about 7-10 minutes.
Stir in the garlic and cook until fragrant, about 1 minute. Stir in the tomatoes, roasted peppers, thyme, salt, black pepper, cumin, paprika, turmeric, and cayenne pepper. Simmer until the tomato liquid is reduced by about a third, 15-20 minutes. Stir in the kale and cook until wilted, about 5 minutes. Season to taste with salt and black pepper.
Stir in the parsley and cilantro. Sprinkle the goat cheese over the top of the sauce. Make four wells in the sauce with a large spoon and crack an egg into each of them. Cover with a lid or baking sheet and simmer over medium heat for 7-10 minutes, or until the egg whites are cooked through but the yolks are still runny. Serve immediately.