Addictive sweet and salty double chocolate chewy cookies – these are the ultimate chocolate cookie!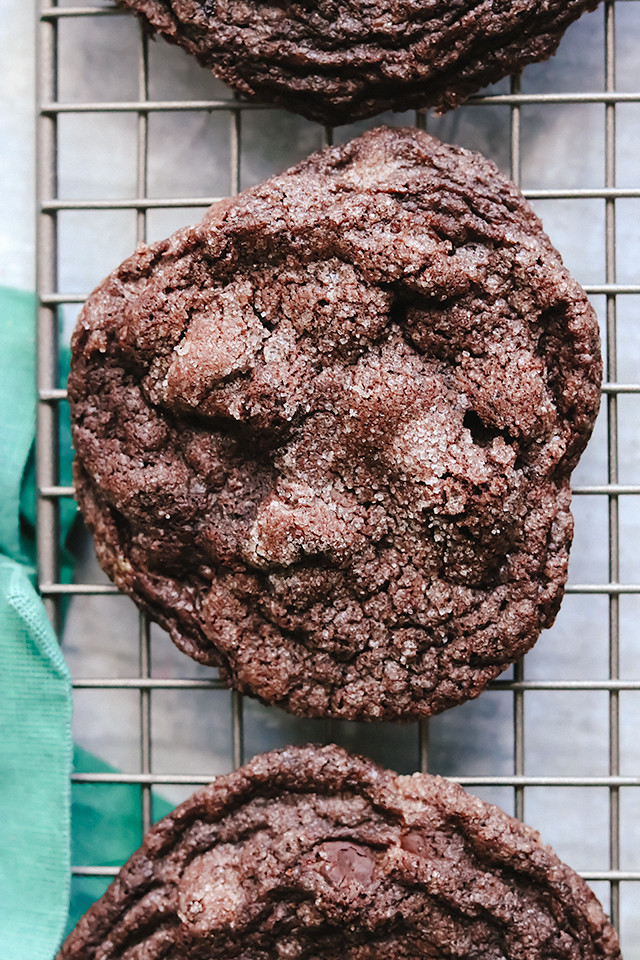 So we're all going to a spa this mother's day?
HAHAHAHAHAHAHAHAHAHAHAHAHA.
Maybe if you count your four year old walking on your back every day because she thinks it's SO HYSTERICAL as "a spa experience".
Honestly, at this point I find the idea of a stranger massaging me alternately fascinating (OMG I CAN'T BELIEVE WE USED TO LET PEOPLE TOUCH OUR BODIES AND DIDN'T EVEN WORRY ABOUT ALL THE VIRAL PARTICLES THEY WERE UNDOUBTEDLY PASSING TO US) and disgusting.
Don't even get me started on steam rooms.
ew.
So despite the fact that if ever there was a year that I NEEDED a spa getaway, it's not happening.
Plan B:
make cookies. hide in bathroom. eat cookies.
That sounds much more realistic. And sanitary.
If ever you've had dreams about the perfect chocolate cookie, then this is it!
It's crispy and chewy and salty and sweet, with shards of bittersweet chocolate melting in your mouth in every bite. I'm not even that much of a chocolate cookie fan, but I had a really hard time resisting these and eventually had to gift some to our doormen just to prevent our family of three from eating all forty. In retrospect, I probably should have frozen half the batch to have emergency cookies on hand for those nights that just require a hit of warm melty chocolate straight to the face.
And now you know my weekend plans!
Have a safe and happy mother's day!

Sweet and Salty Double Chocolate Chewy Cookies
Addictive sweet and salty double chocolate chewy cookies - these are the ultimate chocolate cookie!
Ingredients
2 cups (256 g) all purpose flour
¾ cup (72 g) Dutch-processed cocoa powder
1 tsp baking soda
1 tsp Maldon or other flaky sea salt
½ tsp fine sea salt
1 cup + 4 tbsp (282 g) unsalted butter, at room temperature
1 cup (225 g) dark brown sugar
1 cup (200 g) granulated sugar + ½ cup for coating cookies
2 tsp vanilla extract
2 large eggs
8 oz (225 g) bittersweet chocolate, finely chopped
Instructions
In a medium bowl, whisk together the flour, cocoa powder, baking soda, and both types of salt. Set aside.
In the bowl of a stand mixer fitted with the paddle attachment, cream together the butter, sugars, and vanilla on medium speed until light and fluffy, about 3-4 minutes. Add in the eggs one at a time, beating well after each addition. Decrease the mixer speed to low and slowly add in the flour mixture. Add in the chopped chocolate and mix until just combined.
Cover and chill in the fridge for 1 hour.
When ready to bake, heat the oven to 350F (180C). Line two baking sheets with parchment paper. Pour the remaining ½ cup sugar into a small bowl.
Divide the chilled dough into heaping tbsp of dough. Roll into balls and then roll in the sugar so that they are completely coated. Place on the prepared baking sheets, spacing them at least 2 inches (5 cm) apart.
Bake until the edges of the cookies are set but the centers are still soft, about 12 minutes, rotating the baking sheets halfway through. Cool for a few minutes on the baking sheets then transfer the cookies to wire racks to cool completely.