A light and tender pistachio and raspberry crumb cake that is just the thing to get you out of bed in the morning.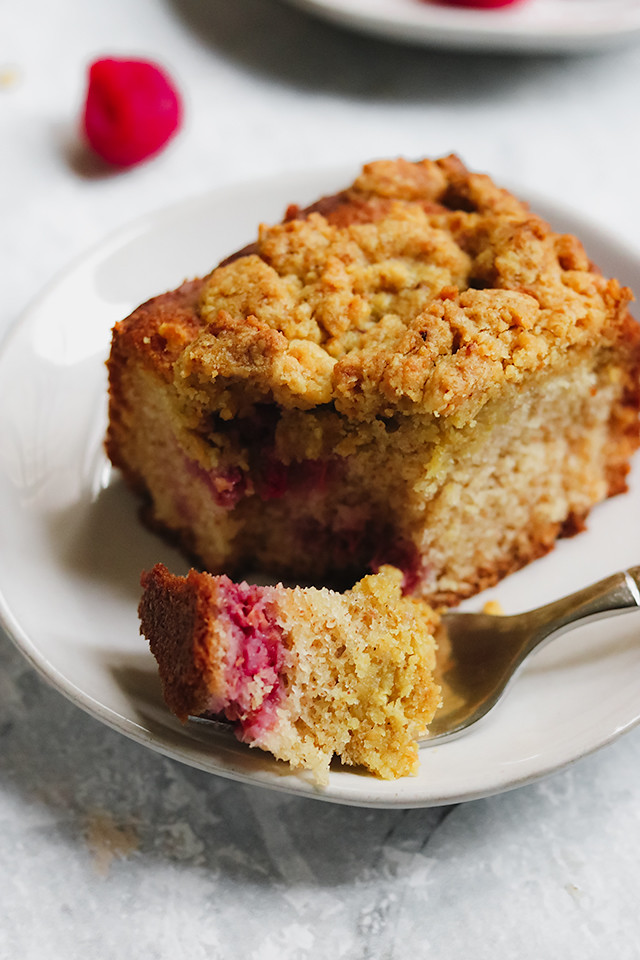 Let's just call this Mother's Day brunch goals, and by that I mean please hand me this cake, a fork, and lock me in the bathroom alone for the WHOLE DAY (and then, yeah, just throw away the key).
Can you even imagine a better Mother's Day gift than that?
Husbands/children of the world, I hope you're listening – cake and total silence. That's all we need.
I'll take mine raspberry-studded with a light and tender crumb and pistachio crumble topping.
Hello lover (/bathroom buddy).
This is SO worth hoarding your eggs and flour for!!
The cake is buttery and fluffy in the way that all coffee cakes should be with two raspberry filled layers that add the perfect amount of tart juiciness to the mix.
And we also have to talk about the crumbles. (!!!!)
THHHEEE CRRUUUUMMMBBBBLLEEESSS.
They are the absolute BEST PART. They're made with pistachio flour and are basically like the best shortbread ever.
In an ultimate fit of laziness, I actually bought pistachio flour to make this but you can totally DIY it with shelled pistachios and a food processor or blender. I just really hate cleaning my food processor and apparently really like impulse buying random (expensive) nut flours.
We'll just add that to the list of Mother's Day things I plan on gifting myself because, let's be real, that day of silence is never going to happen. At least we can still have cake.
Pistachio and Raspberry Crumb Cake
A light and tender pistachio and raspberry crumb cake that is just the thing to get you out of bed in the morning.
Ingredients
For the topping
1 cup plus 2 tbsp (101 g) blanched pistachio flour
½ cup (80 g) powdered sugar
½ cup (70 g) all purpose flour
pinch of kosher salt
7 tbsp (100 g) unsalted butter, melted and cooled
For the cake
9 tbsp (125 g) unsalted butter, softened
1½ cups (210 g) all purpose flour
½ tsp baking powder
½ tsp baking soda
¼ tsp kosher salt
⅓ cup (80 g) heavy cream, room temperature
¼ cup (58 g) full fat Greek yogurt, room temperature
1 tsp vanilla extract
¾ cup + 1 tbsp (163 g) sugar
2 large eggs, room temperature
1⅔ cup (200 g) fresh raspberries
Instructions
For the topping
Stir together the pistachio flour, sugar, flour, and salt. Pour the melted butter into the dry mixture and stir until large crumbs form. Set aside.
For the cake
Heat oven to 350F (175C). Grease an 8-inch square baking pan and line with parchment paper, leaving an overhang. Set aside.
In a large bowl, whisk together the flour, baking powder, baking soda, and salt. Set aside.
In a small bowl, whisk together the cream, yogurt, and vanilla. Set aside.
In the bowl of a stand mixer fitted with the paddle attachment, cream together the butter and sugar at medium-high speed until light and fluffy, 3-5 minutes. Add in the eggs, one at a time, mixing well after each addition. Scrape down the sides of the bowl. Add in the cream mixture and beat until well combined, about 2 minutes. Turn the speed down to low. Add in the flour mixture and mix until just incorporated, about 1 minute. Scrape down the sides of the bowl and mix a few times by hand just to incorporate any dry flour still at the bottom of the bowl.
Pour two thirds of the batter into the prepared pan. Top with two thirds of the raspberries. Spoon the remaining batter on top and spread it evenly. Top with the remaining raspberries and press them into the batter. Sprinkle the crumble topping on top.
Bake for 55-60 minutes, or until a wooden toothpick inserted in the center comes out clean. Allow to cool for 10 minutes, then lift out of the pan. Allow to cool completely on a wire rack.