A cheesy roasted brussels sprout and ricotta pizza that is topped with sweet and spicy jalapeno honey – each bite is full of flavor and just incredible!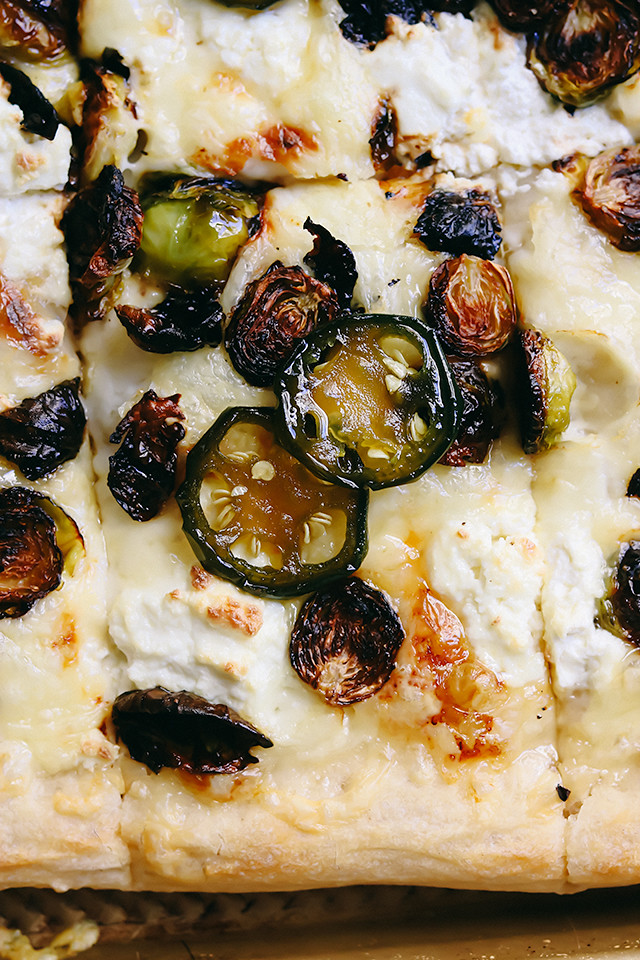 My favorite part of pizza night?
Getting to make all sorts of out there, kinda weird, mega delicious pizzas that you could NEVER find in your neighborhood pizza joint. 
Ironically, that may be husband's least favorite part. He reserves a *lot* of skepticism for my homemade pizza experiments. Not gonna lie, there have been a few misses, but also a whole lot of WINS. 
Like this!
My ideal pizza is veggie-topped, cheese-heavy, and topped with something surprising and unexpected but completely amazing.
Roasted crispy brussels sprouts? CHECK.
Mozzarella and ricotta by the bucketfuls? CHECK.
Spicy sweet jalapeno honey? CHECK CHECK CHECK CHECK CHECK.
All on my favorite thick and airy and super flavorful homemade pizza crust. YES.
Let's talk jalapeno honey because that is really the secret magic ingredient here. I want to pour it all over everything and since this recipe makes extra, get ready to see a lot of it in the future. 
If you've ever made candied jalapenos or cowboy caviar before, it's a little bit like that but more wholesome because instead of using tons of sugar it uses honey! Which still has sugar in it, obviously, but also a whole lot of other nutrients. The jalapenos soak up the honey so when you bite into them the spicy honey kind of oozes out of them. It's amazing. I somehow ended up with extra large (like…half a foot long) jalapenos so if you have smaller ones, you will probably want to use more than just the two I've called for.
Also, you should note that the pizza dough recipe I use needs to be made the day before as it requires an overnight rest in the fridge. This allows more flavor to build in the dough and makes it extra tasty. I like to start it around 6PM the night before I need it so that it's ready to bake for lunch or dinner the next day. Lately I've been doubling the dough recipe to make two pizzas (one more traditional style for Remy and one fun crazy pizza like this!). It also freezes well, so if you're going to put in the effort to make it, might as well get the most bang for your buck.
Roasted Brussels Sprout, Ricotta, and Jalapeno Honey Pizza
A cheesy roasted brussels sprout and ricotta pizza that is topped with sweet and spicy jalapeno honey - each bite is full of flavor and just incredible!
Ingredients
For the pizza dough
400 grams (1⅔ cups warm water)
4 grams (1¼ tsp) active dry yeast
500 grams (3⅔) cup bread flour
15 grams (2½ tsp) fine sea salt
For the pizza toppings
2 tbsp olive oil
1 lb brussels sprouts, halved
kosher salt and black pepper, to taste
1 cup honey
2 large jalapenos, thinly sliced
6 oz mozzarella, grated
8 oz fresh ricotta
flaky sea salt, to garnish
Instructions
For the pizza dough
Mix together 350 grams (about 1.5 cups) of the warm water and the yeast in a large bowl. Let it sit for at least 5 minutes or until the yeast begins to grow and bubble, and the water becomes foamy. Add the flour to the water/yeast mixture and stir until it comes together and all of the flour has been incorporated. Cover with plastic wrap and rest at room temperature for 30-40 minutes.
Next, fold the dough. To do this, wet one of your hands and dig it under the bottom of the dough, scooping it from the side (between the dough and the bowl). Stretch and fold that piece of the dough up and over itself onto the center of the dough. Rotate the bowl a quarter turn and repeat until you have gone 360 degrees and are back where you started. Cover again with plastic wrap and rest for another 30-40 minutes.
Whisk together the salt and the remaining 50 grams (~3 tbsp) warm water. Pour this over the top of the dough. Repeat the stretch-and-fold method above, trying to incorporate as much water as possible into the dough. To do this you will likely need to go around for at least 1-2 more 360 turns and even then some of the water may still rest at the bottom of the bowl. Cover again and rest for 30-40 minutes.
Wet your hand and fold using the above method one last time, doing only one 360 degree turn, this time being more gentle so as not to deflate the bubbles that are starting to form. Cover the bowl with plastic wrap and let it rest in the refrigerator for 12-36 hours.
When you are ready to make the pizza, let the dough come to room temperature for 1 hour to come to room temperature.
For the pizza toppings
Heat oven to 500F, with a pizza stone or steel in the oven if using.
In a medium bowl, toss the brussels sprouts with the olive oil, salt, and black pepper. Spread on a parchment-lined baking sheet and roast for 10 minutes.
Meanwhile, make the jalapeno honey. Combine the honey and jalapenos in a small saucepan and heat over medium-high heat. Once the honey begins to boil and the jalapenos start to become tender and shrivel, remove from the heat. Allow to cool.
Grease a half sheet pan with olive oil and spread the dough until it reaches the edges of the pan, nudging it with your fingers, trying as much as possible not to deflate all of the bubbles.
Scatter the mozzarella over the top of the pizza. Top with dollops of the ricotta and the brussels sprouts. Place in the oven and bake for 20-25 minutes, rotating the pan halfway through.
Remove from the oven and drizzle with the candied jalapenos and honey. Sprinkle lightly with flaky sea salt. Allow to rest for five minutes, then slice and serve.
Notes
An Eats Well With Others Original
*This recipe will make more jalapeno honey than you need. Store leftovers in the fridge in a sealed container for up to a month.