This post was sponsored by Dorot. As always, my thoughts and opinions are my own. Roasted spring vegetables are tossed with a delicious bright-flavored caper vinaigrette in this hearty bean and grain bowl.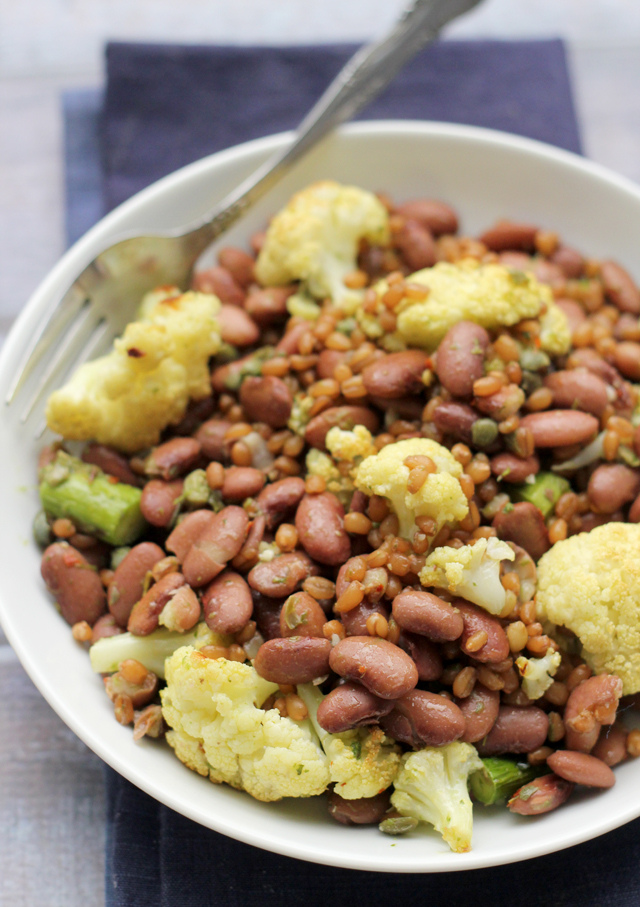 So, adult food.
But with a delicious twist because even though we are officially the kind of people who do/pay our taxes FOR REAL (in a heartbreaking kind of way), almost by ourselves (but with some hardcore guidance from our significant others and a tax consultant).
We are still (and ever shall be) the type of people whose most listened to Spotify playlist is the Billboard Top 100.
John Legend on repeat.
#ThisIs27
But seriously, How To Do Your Taxes For Dummies When You Are A Student And Freelance Recipe Developer/Food Photographer/Eater.
Instant best seller. You heard it here first.
Now, just because the government is forcing us to do grownup things doesn't mean we always want to eat grownup things.
Like, all our veggies, grains, beans, fiber, health stuff.
But what if we roast them to caramelized veggie perfection and then bathe them in an herbalicious caper vinaigrette?!
Total gamechanger.
I went all lazybones easy peasy with my vinaigrette and used Dorot and Pop & Cook frozen herb cubes, because after a long day of signing away all my money, the thought of mincing anything was too much for me to bear.
Thankfully, these little cubes retain all the flavor of fresh herbs without all the fuss. All you need to do is pop them out of their casing and give them a few minutes to come to room temp, and you would swear they had just been plucked from the ground that very day, making for a super flavorful salad dressing.
Look for Dorot's Frozen Herbs & Spices in the frozen section of your supermarket and for Pop & Cook at you local Walmart! Or you could always check them out on facebook here and here, respectively.
Roasted Cauliflower, Asparagus, and Wheat Berry Bowl with Caper Vinaigrette
Roasted spring vegetables are tossed with a delicious bright-flavored caper vinaigrette in this hearty bean and grain bowl.
Ingredients
1 lb dried pinto or kidney beans, soaked overnight
1 cup dried wheat berries, soaked overnight
1 head cauliflower, chopped into florets
1 bunch asparagus, cut into 1-inch pieces
2 tbsp + ¼ cup olive oil, divided
1 tsp red pepper flakes
3 cubes parsley (or 1 tbsp chopped parsley)
3 cubes basil (or 1 tbsp chopped basil)
2 tbsp drained capers, chopped
Instructions
Combine the beans and wheat berries in a large pot. Add water to the pot, filling it so that the water is about 2 inches above the beans. Salt the water generously and bring to a boil. Lower to a simmer and cook, covered, until beans and wheat berries are tender, about an hour. Drain and set aside.
Heat oven to 400.
Toss the cauliflower and asparagus with 2 tbsp olive oil and salt, to taste. Spread on a parchment-lined baking sheet and roast for 20 minutes, or until tender and starting to brown.
Meanwhile, in a small bowl, whisk together the red pepper flakes, parsley, basil, capers, and remaining ¼ cup olive oil. Season to taste with salt.
In a large bowl, toss together the beans, wheat berries, cauliflower, asparagus, and dressing. Season to taste with salt and pepper.
Notes
An Eats Well With Others Original
Nutrition Information
Serving size:
⅙th of recipe